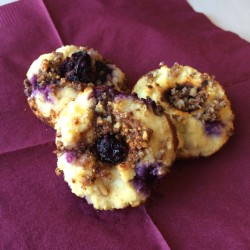 Start the New Year with healthy -and lucky- food!
People around the world have special traditions to welcome in the New Year. Some of these traditions include eating specific "lucky foods" that are thought to bring happiness and prosperity to those who eat them.
The following is a list of lucky foods, with some healthy ways to prepare them to ensure you ring in the New Year on a "healthy" foot!

Lentils
In Italy, lentils are served because they symbolize an abundance of wealth and, supposedly, their tiny round size resembles coins and prosperity. Luckily, lentils are a wonderfully healthy food. They are rich in fiber, protein, minerals and other nutrients, which will help keep you satisfied during the long evening of New Year festivities. If you are full, you will be less tempted to snack on sugary treats and the fiber will regulate your blood sugar levels elevated by alcoholic holiday drinks.
Here are a couple of delicious healthy recipes using lentils for you to try:
Balsamic Kale and Black Lentils
Lentil Butternut Squash Soup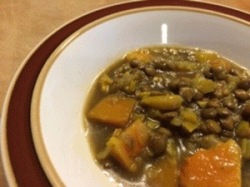 Black-eyed Peas
Lentils aren't the only lucky legumes. Black-eyed peas are also considered lucky, especially in the Southern United States. They are believed to be lucky because during the American Civil War the residents of Vicksburg, Mississippi survived on a diet of black-eyed peas, their only food source while under attack from the North. In addition, because black-eyed peas are an abundant and inexpensive source of good nutrition, they are thought to symbolize humility and thus invite good fortune. Still others believe that since these dried beans are readily available in the cold winter months, they symbolize good things to come: the promise of new growth when planted, and increasing significantly in size when cooked. Whatever the reason, they are a good source of fiber and nutrients and are a welcome addition to a lucky and healthy New Year's meal.
You might like to try this healthy version of this Southern Classic dish
Hoppin' John and these other dishes that feature black-eyed peas:

Black Eyed Peas Salad

Hearty Black Eyed Peas by Martha Stewart
Grapes and Pomegranates
In Spain, it is traditional to eat 12 grapes to ring in the New Year, one for every chime of the clock at midnight. The lucky dozen also represent the twelve months of the year. Supposedly, every sweet grape symbolizes a sweet month, but beware the sour grape, because it might be a warning of bad luck that month!
Martha Stewart suggests a fun modern twist on how to welcome in the New Year by threading grapes onto skewers, and serving each in a glass of Champagne just before the countdown.
In Turkey, the pomegranate is another fruit that is considered good luck because of its red color and the abundance of the seeds, which represent money and prosperity. In Greece, a pomegranate is rolled and smashed against the front door of the house. The numerous seeds released welcome in the New Year and symbolize the release of the positive prospects for the upcoming months. The more seeds scattered on the floor, the luckier the year will be. 1
Why not add pomegranates to your champagne toast? They add a wonderful tartness and surprising "crunch" to the drink. Not only that, but the dance on the champagne bubbles. Check out the action in this drink.
If you would like to get a little bit more adventurous, you can try this wonderful dish that combines the tart sweet of the pomegranate with chicken.

Pomegranate Glazed Chicken over Roasted Kale
Cooked Greens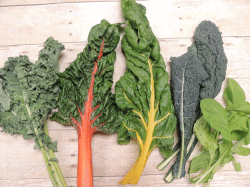 My favorite tradition would have to be the inclusion of cooked green leafy vegetables in the New Year meal. Collards and other greens representing the color of money and folded dollar bills are considered a sign of good fortune. Reportedly, the more greens you eat the larger your fortune will be in the coming year. Although, I can't guarantee wealth, I am sure your health will benefit from this practice. Green leafy vegetables are considered some of the most nutrient dense foods in the world, giving us the most nutrition without empty calories of any food source. It is the perfect health food. They are essential to maintaining our health, strengthening our immune system, detoxing our bodies, and keeping our energy levels up. No wonder they are a lucky food!
Here are some of my favorite greens recipes:
Garlicky Collards
Braised Swiss Chard with Raisins and Cashews
Green Power Tower Salad
Collard green coleslaw
Sauteed Green Cabbage with Carrots and Thyme
Pork
It isn't just plant foods that are considered lucky either. Certain meats are also considered lucky too. Pork, because of its fat, is thought to bring a New Year rich with happiness. Some cultures also view the pig as an animal that is relentlessly pushing ahead as it eats, unlike the backwards scratching of chickens and turkeys, and so are considered a symbol of progress. A pork dish is sometimes paired with sauerkraut, also considered lucky because it is made from the green leafy vegetable cabbage and its long strands are believed to symbolize long life.
Here is a great no-fail slow-cooker recipe for Pulled pork and others. Look below for a great recipe for Deconstructed Stuffed Cabbage. It has all the flavor of the traditional recipe without the time consuming step of stuffing the cabbage.
Crockpot pulled pork
Mushroom and Apple Stuffed Pork from Paleo Leap
Fish
Fish is another food that can be found on the table for luck, especially cod. Maybe this is because silvery scales can be thought of overlapping coins. Ideally, the fish should be served whole, but that might be a little much to prepare. Below are a few of my favorite fish dishes. One also has the added benefit of lucky leafy greens, but that doesn't mean you can't serve it with a side dish from made from the recipes above.
You may already enjoy eating crispy fish skin. It is rich in healthy fats. But what about those scales, you might ask. Even though the scales are thought to bring good luck, you may be a little squeamish about cooking a fish with them on. But I learned that you can eat them too. They have nutritional value (collagen and calcium that is good for healthy skin and bones). I won't go out of my way to eat the scales (although there are recipes for making them into soup and jelly.) But I enjoy crispy-skinned salmon made on the grill and don't always have the scales removed. Knowing this allows me to enjoy my meal without the hassle of having scales sticking to everything in my kitchen.
Here are a few of my favorite fish dishes. Also check out my favorite Maple and Ginger Glazed Salmon below.
Fish: coconut kale sesame crust salmon merc
Parchment Baked Halibut with Pesto, Zucchini and Carrots
No Fuss Salmon Cakes
Round Foods
And finally, round foods are considered good luck! The shape is thought to be a symbol of coming full circle. But, don't go running for the donuts and bagels just yet, although these foods are included in the round food category. Remember that I am listing HEALTHY foods that are lucky. Unfortunately, these don't qualify, unless you are making a baked donut with healthy ingredients. And, as luck would have it, I have the perfect recipe made with anti-aging blueberries (they are round too!) I use a Babycakes nonstick donut maker that bakes the doughnuts instead of frying, but you can also use a doughnut pan to make these.

Paleo Anti-Aging Blueberry Muffins
And remember, grapes are round, as are apples and oranges, so you can include these in your lucky food list too.
With all these foods, you are sure to have a New Year filled with luck and health!
I wish you the very best New Year and look forward to hearing how you plan to start it out right!
Yours in health,
Evey


---
Deconstructed Stuffed Cabbage with Pork

Serves 4-6
Ingredients
1 lb ground pork


2 tbsp olive oil
1 large onion, chopped
4 cloves garlic, minced
1/2 cup tomato paste
1/2 cup tomatoes, diced (or 1 can diced organic tomatoes)
1 cup quinoa, rinsed
1 tsp cayenne pepper
salt and pepper to taste
1 tsp dried mint (or 1 tbsp fresh mint, chopped)
2 lbs cabbage, roughly chopped
juice of one lemon, about 2 tbsp
1 1/2 cups hot water
1/2 cup of fresh parsley, chopped
2 eggs, beaten
1/4 cup red wine vinegar
1/2 cup raisins


Directions
Preheat oven to 350°F. Lightly grease 9" by 13" casserole dish with olive oil.

Heat a medium size sauté pan over medium heat. Add ground pork or beef and sauté until cooked through, breaking up any large pieces.

Add olive oil, onion, garlic, and cook until onions are soft and translucent, about 5 minutes.

Stir in tomato paste and tomatoes.

Add quinoa, cayenne pepper, mint, salt and pepper. Mix until well incorporated.

Transfer quinoa mixture to the prepared casserole dish. Add remaining ingredients- lemon juice, water, parsley, beaten eggs, vinegar and raisins. Mix well.

Place covered casserole dish in oven and bake for 20 minutes. Remove cover. Add water if dry. Continue baking for 20 minutes more or until quinoa is tender and all water is absorbed.
---
Maple and Ginger Glazed Salmon
Serves 3-4
Ingredients
1 lb salmon, preferably wild
1/4 cup pure Grade B maple syrup
1/4 cup organic tamari sauce
1 tsp fresh grated ginger (or about 1 tsp dried), add more if you like ginger!
Directions
Wash and dry salmon. Place in a small shallow glass casserole dish.
In a bowl combine maple syrup, tamari sauce and ginger. Pour mixture over salmon and allow to sit in the refrigerator for about 1/2 hour.
Preheat oven to 400°F.
Transfer fish to a baking pan and bake for 15 minutes. OR
Grill fish for about 8 minutes over medium heat. Test for doneness.