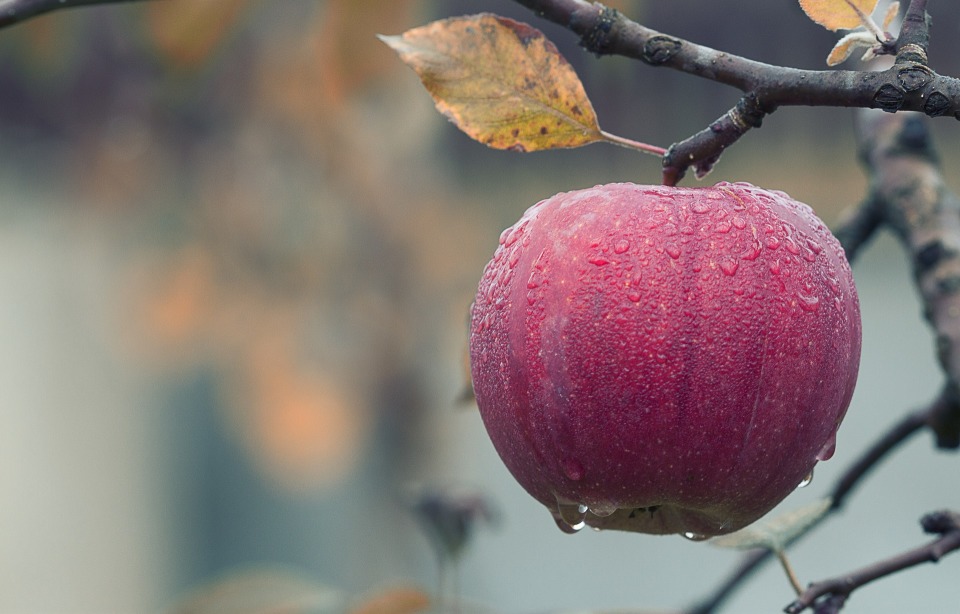 An apple a day…
Keeps the doctor away, of course! Everyone knows that.
The expression was first recorded in print in 1913, but the original thought can be traced back to 1866 in Wales: "Eat an apple on going to bed and you'll keep the doctor from earning his bread."
But do you know why? How is it that our ancestors knew that apples were good for them? I am guessing experience told them that people who ate apples tended to stay healthier through the winter months.
But just what is it about apples that makes them so healthy for us?
Apples are a wonderful source of nutrition: they contain fiber, important for maintaining healthy digestion and feeding beneficial microbes that live in our gut. These organisms help us absorb nutrients and "crowd out" unhealthy pathogens that might otherwise compromise our immune system.
Apples also contain many of the vitamins and minerals that our body needs to run smoothly, especially Vitamin C, which supports our immune system. But just as importantly, apples contain phytochemicals known as polyphenols. These compounds are present in the fruit to protect it from pests and disease, and they perform a similar function for us when we ingest them, and have been shown to have cancer-fighting properties. Keep in mind, many of the antioxidants in an apple (and other fruits and vegetables) are found near the surface, in the skin, so avoid peeling whenever possible!
Looking for ways to add apple goodness to your diet?
Lucky for us, apples are in season! Which means, there are many varieties available for us to choose from, at GREAT PRICES. And produce in season is at its peak of nutrition and flavor.
Does that make apples even healthier for us? I would think so.
I just got back from buying a flat of organic Gala apples and was just looking for ways to use them. While there are a million ways to bake apples into dessert (okay, I am exaggerating, but you know what I mean,) I thought I would experiment with using apples in a main entrée. I just happened to have pork tenderloin in the freezer from my Butcher Box order, and I decided to combine these two ingredients. Pork and apples just naturally go together.
You're going to love the Instant Pot (or slow cooker) recipe for Pork Tenderloin with Apples and Onions (okay again, I love it and so does my husband, who is my recipe taste tester.) I paired it with yet another seasonal food: Roasted Acorn Squash.
I had some apples left over, so I also made up a batch of one of my favorite apple recipes, Chai Apple Butter, and experimented with raw Fermented Apple Chutney. As an added nutritional bonus, fermenting the apples improves their digestibility, supplying microbes that boost your immune system, reduce inflammation, and curb sugar cravings.
Wow, all this from the humble apple!
I hope this inspires you to try some seasonal apples! Let me know if you make any of the recipes! I would love to hear your thoughts.
Yours in Health,
Evey
---
Pork Tenderloin with Apples and Onions
Ingredients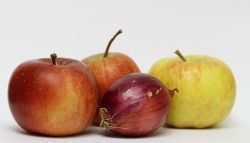 1 medium onion, chopped
1 tbsp olive oil
1 pork tenderloin, about 2 lbs (I get my Heritage pork delivered from Butcher Box)
2 garlic cloves, minced
2 apples, cored and chopped
1 cup apple sauce, unsweetened
¼ cup butter, melted (I like to use Kerrygold brand)
2 tsp Worcestershire sauce (I like to make my own Paleo recipe, or use an organic brand like Annie's)
1 Tbsp fresh ginger, minced
1 tsp black pepper
Directions
If using Instant Pot:
Turn on sauté function. When hot, add oil. When oil is hot, add onion and cook until just softening. Push to side and add pork tenderloin, adding a bit more oil if necessary.
Brown tenderloin on all sides.
Add garlic and apples. Let sauté 1-2 minutes.
Cancel sauté function.
Mix apple sauce, butter, Worcestershire, ginger, and pepper in a small bowl. Pour over meat mixture.
Pressure cook 15 minutes. Then use quick release.
Serve meat with roasted acorn squash and salad. Spoon sauce and cooked apples into hollow of squash if desired.
Photo:
Roasted Acorn Squash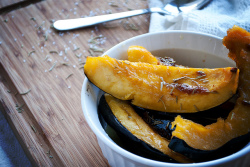 Preheat oven to 400°F. Half squash down the middle lengthwise. Remove seeds with a spoon.
Place squash halves cut side up in a small casserole dish. Fill hollows with a bit of olive or avocado oil, salt and pepper. Loosely cover with foil.
Bake for 20 minutes, remove cover and bake 15-20 minutes more, or until fork tender.
Remove and serve beside Pork Tenderloin with Onions and Apples.
Photo: Roasted Acorn Squash, Rebecca Simmons via Flickr/BY CC
Chai Apple Butter
I make this recipe with the skins on; feel free to peel your apples if you want a smoother butter. I use coconut sugar because it has a low glycemic index, but you can use other sweeteners such as honey or maple syrup for a different flavor profile.
The recipe uses the Instant Pot, but you can use the slow cooker or stove top method as well.
Serves 6
Ingredients
4 apples, roughly chopped
1 teaspoon fresh lemon juice
1 Tbsp coconut sugar
½ teaspoon cinnamon
¼ teaspoon ground ginger
⅛ teaspoon ground cardamom
⅛ teaspoon ground cloves
⅛ teaspoon ground nutmeg
⅛ teaspoon salt
½ teaspoon vanilla extract
½ cup water
1/4 cup raisins
Directions
Place all ingredients except raising in the base of the Instant Pot.

Cook over high pressure for 8 minutes. Quick-release or slow-release when finished.

Add raisins, cover and let sit 15 minutes.

Remove cover. Using a potato masher or wooden spoon, mash the apples to desired consistency.

Transfer to a bowl and let cool completely. Enjoy!

Slow Cooker Method: Place all ingredients in slow cooker and cook on low for 6 hours. Mash, cool and serve.
Stove Top Method: Place all ingredients in medium sauce pot or Dutch oven, with lid. Cook on low heat for 1-2 hours or until apples are soft, stirring occasionally. Mash, cool and serve.
Adapted from https://www.fruitsandveggiesmorematters.org/the-everyday-chef-perfectly-spiced-homemade-chai-applesauce/
Lacto-Fermented Apple Chutney
This is not your typical chutney. It has an unexpected texture and flavor all its own.
It is not cooked, so it is lighter in texture. It is not overly sweet, and has a bit of tang and salt from the fermenting process. The coriander and cumin add unexpected flavors! If you don't like the pop of the coriander and cumin seeds, you can use ground!
Sugar is added to this recipe to provide food for the microbes. The amount of sugar decreases as the fermentation takes place. I like to use coconut sugar because of its low glycemic index.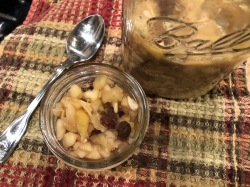 Makes 1 quart
Ingredients
3 cups fresh cut apples (I like Gala)
½ cup water
Rind and juice from 2 lemons
1/8 cup of coconut sugar
2 tsp sea salt + 1 tsp (see directions)
1/4 cup whey (drained from yogurt) or use the powder from 2 probiotic capsules
1/4 cup sunflower seeds or chopped pistachios
1/2 cup raisins
2 small cinnamon sticks
1/2 tsp cumin seeds, whole or ground
2 tsp coriander seeds, whole or ground
½ tsp fennel seed
Directions
Mix all the ingredients together, except apples. Add 2 tsp of salt and taste. Add a bit more if preferred. (Salt hinders growth of molds. Sometimes I just sprinkle a bit of salt on top of the mix after transferring to Mason jar.) Add the cut apples and mix well.

Pour into glass quart jar, pushing mixture down firmly, making sure it is submerged below liquid. Make sure there is at least 1 inch of space between top of apples and the lid.

Let jar sit at room temperature for about 3-5 days (depends on room temperature, fermentation will occur more rapidly in higher temperatures.) The chutney should be nice and fizzy, and have a nice tartness when tasted. Let sit until desired taste is achieved. Place in refrigerator to store.
Chutney can be stored in refrigerator for up to 2 months or more.
Adapted from: https://www.sewisewomen.com/resources-articles/item/fermentation-basics-lacto-fermented-apple-chutney