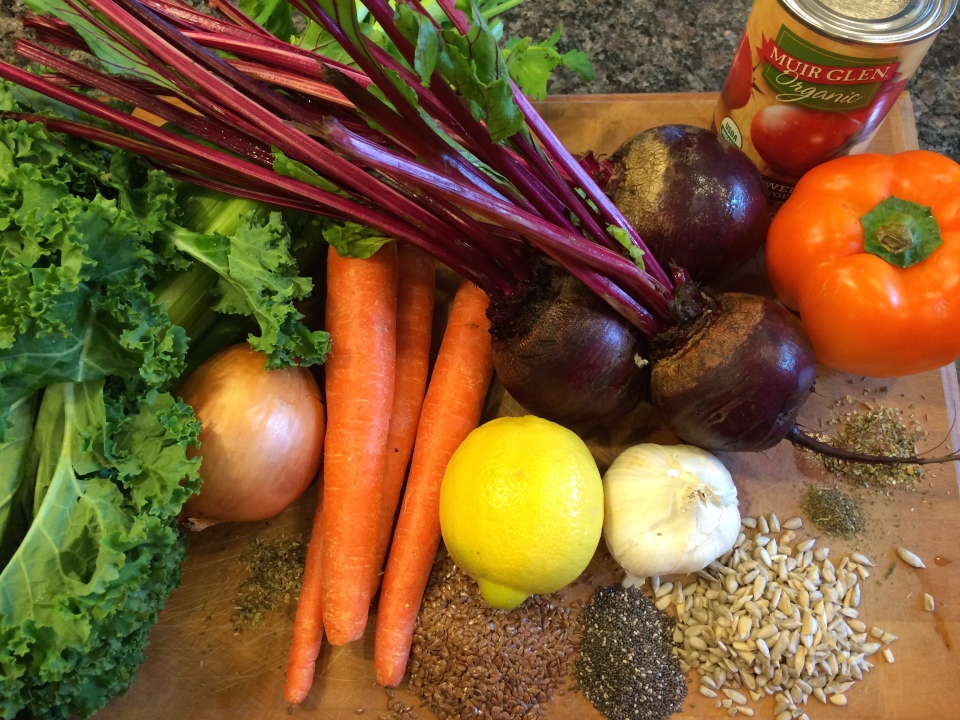 Ah, summer… the season of wonderfully sweet, juicy, flavorful veggies and fruit! The farmers' markets and grocery stores are bursting with fresh produce everyday. The choices are endless!
Are you one of the many that are a little overwhelmed with all this selection? Do you find you tend to buy the same vegetable or fruit because it is familiar and you know how to prepare it? It's great to buy what you like, but are getting a good variety in your diet, and just as importantly, are you getting enough?
Let's take a quick look at how much we should be eating of these healthy foods each day. I will even supply two examples of daily menus that include the recommended amount by the United States Department of Agriculture (USDA) AND include recipes that use seasonal vegetables and fruit, ensuring you are getting the maximum variety and nutrition in your summertime meals!
(Find out why seasonal foods are so good for you here.)
The simplest rule, and one I try to follow every meal, is to fill ½ to ¾ of your plate with veggies and fruit. Usually I will have half a plate filled with salad or a cooked green veggie. I might have some roasted root veggies with these (about ¼ of the plate.) The rest is my healthy lean protein (but that is for another article.)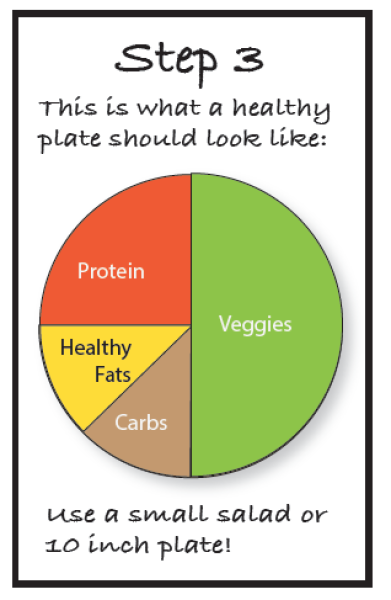 While this simple tool helps us achieve our goal of getting in 8-9 servings of veggies and fruits a day, let's get a little more specific, shall we?
First of all, what ARE the daily recommendations?
As I mentioned, the USDA recommends that on average individuals should consume 8-9 servings of vegetables and fruits a day.
But what do serving sizes that look like?
In order to reach this amount, the average adult (consuming 2,000 calories per day) should be eating about 2 ½ cups of vegetables (about 4-7 servings) and 2 cups (2 servings) of fruit per day. According to the USDA, this varies quite a bit from what the typical American is eating, which averages about 1 ½ cups of veggies and 1 cup of fruit per day!
Below are some quick reference guides for serving sizes.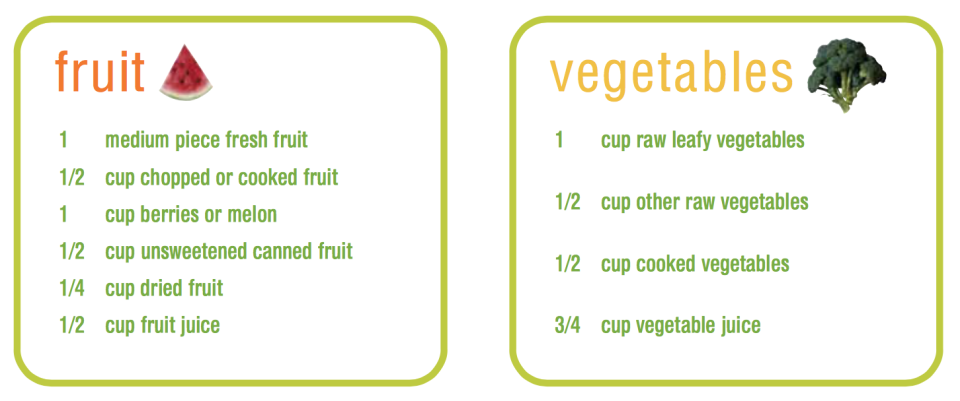 Source: clipped from Bloomsburg University of Pennsylvania http://intranet.bloomu.edu/documents/wellness/WeekOne.pdf
If you are more visual, you might find these estimates helpful.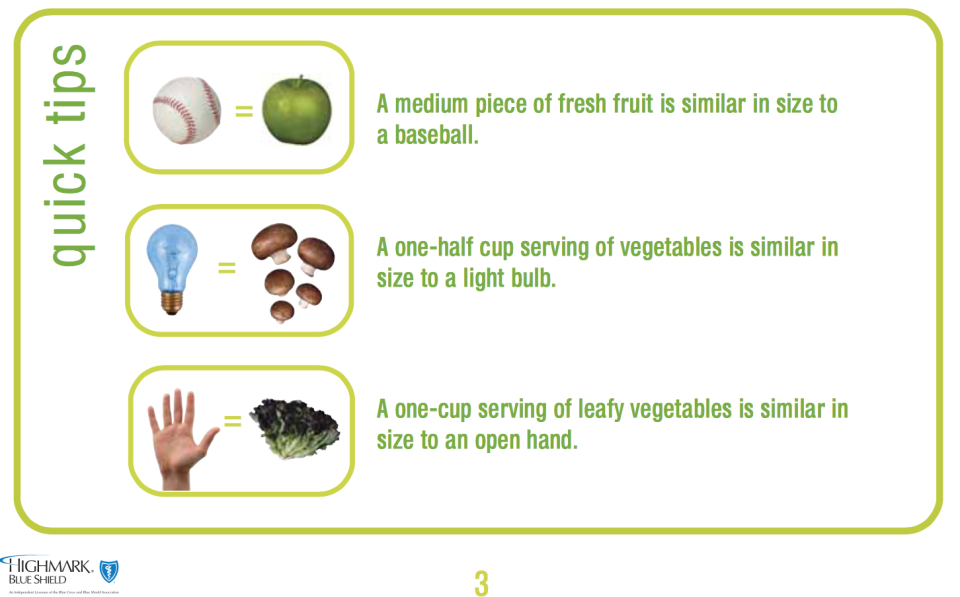 Source: clipped from Bloomsburg University of Pennsylvania http://intranet.bloomu.edu/documents/wellness/WeekOne.pdf
More on Veggies
Based on their nutrient content, vegetables are organized into 5 groups: dark-green vegetables, starchy vegetables, red and orange vegetables, beans and peas (legumes,) and other vegetables.
Of these groups, dark-green veggies are the powerhouse of nutrition. Try to get as many of those in as possible. In my opinion, you can never get enough of them!
But, don't forget, variety is important too. Why? Because every fruit and vegetable has its own nutrition profile. Each possesses a different combination of vitamins and minerals, such as folate, magnesium, potassium, fiber and vitamins A, C and K; and different phytonutrients, chemicals made by plants that keep us healthy by supporting our immune system, preventing cardiovascular disease, and protecting us from cancer. They also help us look and feel young by keeping our skin supple and glowing, and maintaining a healthy heart to supply our organs and muscles with the oxygen they need to function properly.
How do you know you are getting a variety of these important phytonutrients?
By eating a variety of produce of varying colors. Color indicates the presence of phytochemicals and each color benefits a different part of the body.
More on Fruit
When it comes to fruit, variety is important too. Just make sure you are eating mostly whole fruit and not fruit juices. While the USDA recognizes the health benefits of real juice, many Americans are consuming too much (50%) of their daily fruit intake as juice. Juice does contain some vitamins and minerals, but it lacks important fiber. Not only that, but juice contains much more sugar by volume than the whole fruit. On average most Americans consume too much added sugar in their diet. Over time, this excess of sugar leads to chronic inflammation in the body causing illness such as heart disease, obesity and diabetes. Our goal should be to limit added sugars as much as possible. And one way to do this is to consume whole fruits instead of juices.
Keep in mind, too, that dried fruit is another form of concentrated sugar. While it still contains fiber and many of its nutrients, it is much easier to eat, say, a handful of raisins than a bunch of grapes. Fresh grapes that have more volume due to its water content, also take longer to chew and are more filling.
Need some inspiration for new veggies and fruits?
Check out this handy list! It might inspire you to try something new. Ever had Bok Choy, Daikon Radish, Dandelion greens, Eggplant, Jicama? I have several recipes using these items under my recipe tab if you want to explore ways to use them. Or contact me with a veggie or fruit you would like to try and I can send you some recipes!
Source: clipped from Bloomsburg University of Pennsylvania http://intranet.bloomu.edu/documents/wellness/WeekOne.pdf
Now put it into Action!
One of the best ways to create a new healthy habit is to track your progress. Here is a handy downloadable chart to track your daily intake of vegetables and fruit.
It is always easier to make healthy choices when you have a plan.
Here are two daily menu plans with recipes (recipes provided below are indicated with an *) for a recommended dose of healthy eating and produce!
Sample Day 1
V=Vegetable F=Fruit
Breakfast

Oatmeal topped with blueberries and nuts

OR

Omelet with spinach, peppers, onions, and mushrooms

Servings

1 F

OR

1 V

Lunch

Green salad with a variety of greens (spinach, arugula, kale, bean shoots, etc.)

½ cup mixed chopped veggies such as carrots, cucumbers, avocado, peapods, bean sprouts, etc.)


2 V

1 V

Afternoon snack

Apple or other piece of seasonal fruit with 1 Tbsp Almond butter or 12 almonds

1 F

Dinner

Side salad with veggies

Roasted Chicken with Kale and Cherries*

Cauli-rice (1/2 cup)

Fresh peaches drizzled with honey, almonds and mint*

1 V

.5 F

1.5 V

1 V

1 F

Total

6.5 OR 7.5 V

2 OR 3 F
Sample Day 2
Breakfast

Green smoothie with fruit and avocado (a fruit)*

Servings

1-2 V

2 F

Lunch

Metabolic Vegetable Soup*

Small side salad

2 V

1 ½ -2 V

Afternoon snack

Hummus with carrots, red peppers, and celery

1.5 V

Dinner

Creamy Thai Chicken with Swiss Chard*

Cauli-rice (optional)

1.5 V

1 V

Total

9 V

2 F
Do you have any suggestions for some fun veggie or fruit recipes? Would you like to share? It's always fun to hear what others are creating!
I hope you are enjoying the wonderful summer weather and finding some time to enjoy the outdoors!
Yours in Health,
Evey
*Recipes
Chicken with Cherries and Kale
It is cherry season at the local farmers market. I got a great deal on some ripe Montmorency cherries and made them into this delicious dish. If you don't find them at your market, you can also use canned! I have made this dish with chicken breasts and thighs with great success.
Serves:4
Ingredients
4 skinless, boneless chicken breasts or thighs
2 tablespoons olive oil
1 yellow onion, chopped
1½ cups fresh Montmorency cherries or 1 can tart cherries
2 tablespoons balsamic vinegar
1 tablespoon Dijon mustard
1 bunch kale, chopped well
1 small Delicata or Butternut squash, cut into 1" cubes
2 tablespoons olive oil
Sea salt and pepper to taste
Directions
Pre heat oven to 400°F. Lightly coat casserole dish with olive oil or line with silicon sheet.

Heat oil in medium sauté pan over medium heat. Add chopped onion and sauté for 4-5 minutes.

Add cherries, balsamic vinegar, and mustard. Mix together and remove from heat.

In prepared casserole dish, add squash and kale with olive oil. Toss to mix.

Place chicken pieces over kale and squash. Pour cherry sauce over all.

Loosely cover dish with foil or silicon sheet. Bake in oven 30 minutes.

Uncover and bake an additional 10 minutes or until chicken is done (internal temperature of 165°F.)

Serve hot.
Juicy Peaches Drizzled with Honey, Almond and Mint
Serves 2
This is a great last-minute dish to serve to guests (or to save all for yourself!) It takes advantage of the great flavor peaches have right now. You may find you don't even need the honey! The mint adds a nice refreshing light flavor to the dish.
Ingredients
2 fresh peaches, medium size
1 Tbsp almond slices
2 Tbsp mint, finely chopped
1 tsp local honey
Directions
Slice peaches into wedges and arrange on a flat plate.
Drizzle honey over peaches and sprinkle with mint and almond slices.
Serve with plates and forks!
The Perfect Summer Smoothie
Serves: 1 to 2
Ingredients
1/2 cup pineapple chunks or 1 small apple
1/2 avocado, diced
1-2 cups (2 handfuls) fresh spinach
1/4 cup almond milk, or other nut milk of choice
1 Tbsp flaxseed or chia seeds
1 banana (frozen and cut into chunks)
Directions
Combine all ingredients in a high-speed blender and mix until smooth. Add ice or water if consistency is too thick.
Photo credit: Meal Makeover Moms via Flickr/BY CC
Cauli-rice
This is a great alternative to white rice and makes the perfect side dish!
Get the recipe here.
You can also buy cauli-rice in the freezer section of your local grocery store. Trader Joe's has both a fresh and frozen version, making this a very convenient side dish option! While you may think fresh veggies have more nutrition than frozen, studies suggest frozen veggies have just as many nutrients (if not more) as their fresh counterparts.
You may want to also try this Cauli-rice Pilaf which adds in onions, raisins and almonds!
Metabolism Boosting Vegetable Soup
Serves 8 (1 cup serving size)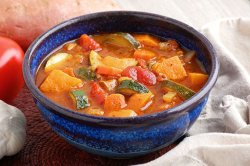 Ingredients
1 tbsp etra virgin olive oil
3 carrots, peeled and sliced
1 stalk celery, diced
1 small yellow onion, diced
1 clove garlic, minced
1 medium sweet potato, peeled and cut into 1" cubes
1 medium zucchini sliced into 1" round pieces
Sea salt to taste
1/2 tsp black pepper
1/4 tsp allspice
1 tsp paprika
Red pepper flakes to taste (optional, spicy!)
1 bay leaf
1 (15 ounce) can organic black beans, rinsed and drained (optional, the beans are for added protein)
4 cups vegetable or chicken broth, low-sodium
1 (14.5 oz.) can organic diced tomatoes (no salt added)
4 cups baby spinach (or kale,) loosely packed

Directions
Saute first 5 ingredients in oil until just softening.

Place mix into slow cooker and add other ingredients, except spinach (or kale) and zucchini.

Cover and cook on low 6 to 8 hours, or until the vegetables are tender, add zucchini during last ½ hour.

Add spinach, stir and continue cooking just until wilted, approximately 5 minutes.

Serve and enjoy!
Tip: If you prefer a thicker stew, after 5 hours of cooking, simply remove 1 cup of soup, along with ingredients, mash ingredients with a fork, return to the slow cooker, stir and continue cooking 1 to 3 hours.
Stovetop Method: Follow the same instructions above for prep, cover, and simmer until veggies are tender, approximately 2 hour. Stir every 15 minutes to prevent sticking. Add spinach at the end of cooking time, remove from heat, cover and allow spinach to wilt before serving.

Adapted from http://skinnyms.com/fat-flushingsoup/#oPx1xDKTSL240435.99
Creamy Thai Chicken with Swiss Chard
Ingredients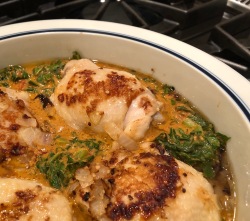 2 chicken breasts, halved; or 4 thighs
1 Tbsp olive or coconut oil
2 Tbsp sesame seeds
2 Tbls coriander
1 Tbsp cumin
1 tsp salt
1 tsp black pepper
1 onion, chopped
3 cloves garlic, chopped
1 tsp Thai Chili Sauce
6 cups chopped Swiss Chard, stems chopped separately
2 Tbsp tomato paste
10 cherry tomatoes, halved; or ¼ cup canned tomatoes, drained
1 cup coconut milk
2 Tbsp lemon juice
Directions
Preheat oven to 400°F. Lightly grease small casserole dish with oil.

In a small bowl, combine all of the spices, salt & pepper together. Remove 2 tsp to season sauce. Coat chicken with remaining spices.

Heat a large skillet with the oil. Saute onion and garlic until onions are just softened.

Place spiced chicken pieces, along with garlic and onions mixture in prepared casserole dish. Cover and bake in oven 15 minutes.

Meanwhile, chop Swiss chard stems and tomatoes, and sauté in same skillet for 2 minutes.

Add chopped chard greens and cook until wilted (2 minutes more.)

Add coconut milk and mix to combine.

Remove chicken from oven. Pour Swiss chard mixture over chicken. Cover again and bake 15-20 minutes longer or until internal temperature of chicken is 165°F.

Sprinkle chicken with lemon juice before serving.

Serve over cauli-rice if desired.
Adapted from a recipe by Paleoyummers.com