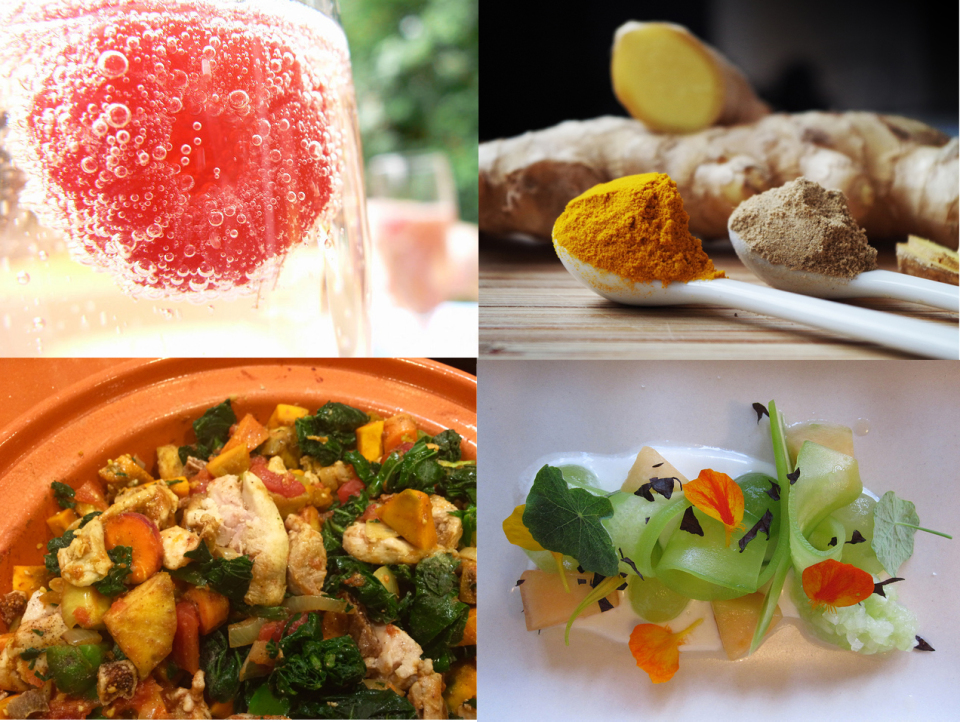 Photo credit lower right only: mswine via Flickr/BY CC
I am always curious about new foods and how they are being prepared. Here are some of my favorite picks for 2018 from several experts in the field!
It pleases me to see that many of the foods mentioned are the very same ones I have been sharing with you this past year! Woohoo! We are trendsetters!
So here are some of the foods you should expect to see in your grocery stores in 2018. Most picks come from Whole Foods global experts and from The Specialty Food Association, a trade association made up of food artisans, importers, and entrepreneurs.
I have included a couple of new recipes at the end and many links to other delicious offering to help get you in on some of these newer trends!
1. Floral flavors
Eating flowers is not a new concept. You have probably heard of adding nasturtiums and chive flowers to salads. You may even have enjoyed them yourself. I particularly enjoy the tangy flavor of arugula flowers in my salads. Hibiscus flowers and rose hips have been infused in teas for centuries by many different cultures around the world. Flowers have natural health giving properties and can add nutritional value to foods.
But this new trend predicts taking floral essences to a new level with unusual combinations, such as lavender lattes. Elderflower is predicted to be the new darling in cocktails and bubbly drinks.
2. Bubbles
Speaking of bubbly drinks, sparkling waters will receive major makeovers. Look for flavors such as maple and birch sparkling waters.
But bubbles won't be limited to waters only. You are likely to see bubbly coffee, tea, and mocktails too. Be cautious when imbibing though; don't overdo it. Always check for added sugars, which can add empty calories and contribute to inflammation, a leading cause of illnesses such as heart disease, diabetes, and obesity.
I love this combination of sparkling water and pomegranate seeds using mineral waters such as Pellegrino or Perrier that are lower in sodium and contain other minerals that are good for our bodies. I will sometimes use LaCroix or club soda if I am eating out. Add a lemon wedge and fresh pomegranate seeds and you have a wonderful refreshing mocktail. If you are looking for a refreshing cocktail that is light on calories, you can use vodka and maybe a splash of cranberry juice as well. The bubbles in the soda water make the pomegranate seeds rise and fall, making the drink entertaining as well as good for you.
3. Root-to-Stem Eating
Use as much of a plant as is possible. I love this trend! This again is not a new concept. Our ancestors used every part of the plant or animal. They did so to reduce waste and get the most out of their food supply, but also received more nutrition in the process. A lot of things Americans toss as scraps, such as skins and leaves, have a high concentration of vitamins, minerals, and phytonutrients (anti-oxidants that are anti-aging factors.)
With this "new" trend, beet greens and carrot tops will no longer be passed over in favor of their bulbous roots! I have given many talks and written many articles on this subject, and happy to see it becoming trendy!
While many prepared foods will capitalize on this concept, you can stay ahead of the trend by preparing your own root to stem meals. Try using less common cuts of meat. They tend to be more economical (cheaper!) and full of flavor. I have recently purchased grass-fed beef heart. It was very reasonably priced and one heart provided enough meat for a beef stew and several steaks. I was surprised at how flavorful and tender the cut was! You can use this cut in any beef stew recipe you have. I quick grilled the steaks for a short period to retain the juice.
Likewise, you can purchase beets, radishes, and carrots with the greens attached. Make sure you separate the greens from the root as soon as you get home. If left attached, the green tend to draw the moisture and flavor from the bulbs.
If you are not familiar with cooking beet greens, here is a very simple recipe for Sautéed Beet Greens with Garlic. I love to roast beets with the greens by adapting this simple recipe for roasting radishes with their greens. BTW, if you haven't tried roasting radishes, you should! To me they taste like mild turnips.
Did you know you can eat carrot greens as well? Try this recipe for Carrot Pesto. It tastes great topping fish and I love substituting it for traditional Basil pesto in this recipe that also uses the carrots Parchment-Baked Halibut With Pesto, Zucchini, and Carrots.
If you like the Asian dish Goma-ae, traditionally made with spinach, you can make it with carrot tops: Carrot Top Goma-ae (Salad with Sesame Dressing)
Hungry for more ideas on how to get more out of your produce? You Can Eat That?! Ways to Get More From Your Produce Drawer
4. Middle-Eastern Cuisine
We will be seeing a rise in the popularity of these foods from Persia, Israel, Morocco, Syria, and Lebanon. Yay!
These dishes use a wonderful array of delicious spices that have health benefits as well. Some of these spices or spice-blends include harissa, cardamom and za'atar. Some of my personal favorites that I have shared over the year include shakshuka and Moroccan stew. Look for dishes that include lamb (one of the cleanest conventionally grown meats you can buy,) tahini (Sweet Potato Hummus is my favorite,) and/or eggplant (try Baba Ganoush.)
Other trending Middle Eastern ingredients include pomegranate, cucumber, parsley, mint, tomato jam and dried fruits.
5. Turmeric
Turmeric is a brightly colored spice that is commonly used in Ayurvedic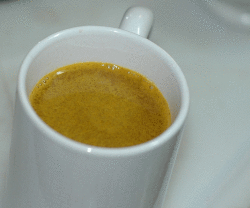 medicine. Its healing properties as an anti-inflammatory are well-known and its popularity is expected to grow during the next near, according to a poll of experts taken by the South China Morning Post.
The anti-nflammatory properties in turmeric are due to its main active component curcumin. This strong antioxidant can help slow the signs of ageing and cellular damage. As an anti-inflammatory it reduces chronic inflammation,which is a leading cause of cardiovascular disease, hypertension and other degenerative diseases.
Turmeric lends its delicious subtle flavor and color to dishes such as Golden Milk and Lamb Curry. In order to obtain the most health benefits from this spice though, many people choose to take turmeric (or curcumin) capsules as a supplement. Some supplements include black pepper, which is shown to improve turmeric absorption.
6. Plant forward dishes
Technology is being used to add more variety to plant-based foods. While I am not a fan of processed foods, I am a firm believer that we all benefit from adding as many vegetables and fruits as possible to our diets.
If you don't like to cook or your schedule is tight, these new foods might help you maintain your goal of 8-9 servings of vegetables and fruits a day. Some examples that were cited in Whole Food's Trending Foods list include vegan burgers with meat-like juices, sushi-grade "not-tuna" made from tomatoes, and vegan frosting.
We will likely see more options for nut milks and non-dairy based yogurts. The yogurts I have tasted so far though can't compare to making your own. I find cashew yogurt to be fast easy and thick. Periodically, I give workshops on making your own yogurts. Contact me if you are interested in upcoming dates!
7. Ingredient transparency
The FDA's July 2018 deadline for updating its new food guidelines is quickly approaching. Several positive changes have already been made to the nutrition labels on processed foods, such as more accurate serving sizes, larger print, daily RDA for fiber, and adjustments in the percent Daily Values.
According to the 2018 updates, manufacturers will also have to declare the amount of added sugars in their product. No more confusion between naturally occurring sugars in ingredients and added sugars. The FDA has established a new daily recommendation for added sugars; 10% of daily intake. Since most Americans consume approximately 13% of their daily calories in sugars, this may help curb our daily consumption of these empty calories.
And, as the Whole Foods list indicates, since consumers are becoming more aware of the real story behind their food, the store will continue posting GMO food information, as well as "Fair Trade certification, responsible production and animal welfare standards."
8. Tacos
The taco craze has seemingly taken over the U.S. A simple internet search will turn up several websites ranking the best taco joints from Boston to Texas to San Francisco. Curious a to what they are? Take a look at this list.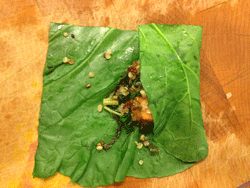 Tacos are no longer the realm of Latin cuisine. Nor are they restricted to one meal a day. You will be able to find tacos for breakfast, lunch, dinner, or dessert. Taco ingredients have gone upscale, with grain-free options available as well.
Some tacos won't even require the traditional taco shell. Want to be part of the trend? Try "tacos" using a large lettuce wrap or collard green. Here are a couple of delicious options for you to try: Asian lettuce Cups and try using blanched collard greens to wrap your fillings (see photo at right!)

9. Functional Fungi
One last mention goes to the humble, most times overlooked mushroom. Popular now are mushrooms that are traditionally used to support wellness as an ingredieint in supplements. You should expect to see unusual names, such as reishi, chaga, cordyceps and llion' mane popping up in teas, smoothies and even body care items.
This rise in popularity is long overdue. Mushrooms have long been known to contain ingredients, especially antioxidants, that contribute to our health and help fight aging. While our bodies naturally make some antioxidants, the high amount of toxins found in our foods and environment increase the amount of free radicals found in our bodies. Consuming foods high in antioxidents, such as mushrooms, helps us neutralize the damage that these free radicals cause.
If you prefer to eat your mushrooms, porcini (another name for baby portabella) mushrooms are especially good at providing antioxidants. Button mushrooms have less of these anti-aging compounds, but still more than many other foods.
Well, there you have it.
This is just a highlight of some of the interesting trends you will see in the upcoming year! If you would like to read more about them, you can go to the Whole Foods website for their top ten food trend picks.
Or check out the list put out by the BBC Good Food team.
I also like this "Six top healthy food trends for 2018" list put out by the South China Morning Post.
What do you think about these new trends? Are you likely to try any of them? Or are these "so yesterday" as you are a trend-setter and already on to the next new thing? Let us know!
Yours in Health,
Evey
---
Click on ingredient links to buy item on Amazon.
Braised Radishes with Raisins and Pine Nuts
Cooking radishes gives them a sweetness. If you have never tried them cooked, this is a simple easy recipe to try. This is a stove-top recipe, but you can also roast them in the oven. Roasting them gives the greens a crispness and caramelized flavor. See note below.
If using beets for this recipe, chop the beets into small 1 inch cubes, and omit the raisins and balsamic vinegar (the beets are sweet enough!)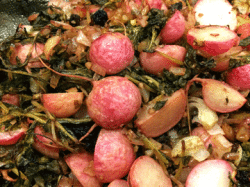 Time: 20 min

Ingredients

1 T olive oil
½ red onion, finely chopped
1 bunch radishes (about 6-8), chopped
6 cups radish greens, coarsely chopped (or what you get from the bunch, or can substitute with kale, swiss chard, turnip greens. Another opportunity to add healthy greens to your diet!)
1 cup chicken broth or vegetable broth
½ cup raisins
2 tsp pine nuts (or use walnuts, or chopped cashews, or whatever nuts you have on hand)
2 T balsamic vinegar
½ tsp salt or to taste
½ tsp pepper or to taste

Directions
Heat oil on medium heat in sauté pan. Add onion and radishes and cook 4-5 minutes.

Add broth and bring to boil. Add greens.

Simmer about 10 minutes. Add more liquid if gets too dry.

Add raisins and vinegar. Cover and simmer 5 more minutes. Add more vinegar, salt or pepper to taste.

Remove from heat. Sprinkle with nuts and serve.
Note: To roast in oven, preheat oven to 400°F. In a roasting dish, mix all ingredients together except the broth, raisins, and vinegar. Loosely cover dish with foil or silicone mat. Place in warm oven and roast for 20 minutes. Uncover dish and mix in vinegar. Roast for 10 minutes longer or until radishes are soft. Keep a close eye on the greens to make sure they don't burn.
You can make this delicious dish with chicken as well!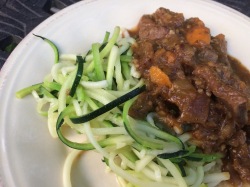 Ingredients
1 lb. lamb stew meat (cut into 1 inch chunks)
2 tbsp olive oil
2 sweet potatoes (large, peeled and cut into 1 inch cubes)
1/2 onion, diced
2 garlic cloves, minced
2 carrots, chopped
1 bell pepper, chopped
1 tbsp curry powder (use your favorite)
1 tsp ground ginger
1 cup of kale or spinach, roughly chopped
1 cup tomatoes, diced
½ cup organic chicken broth
1 can organic coconut milk (look for a brand without guar gum)
Salt & Black pepper (to taste)
Instructions
Heat 1 tbsp of cooking oil in a large skillet over medium heat. 


Add the lamb breast chunks and season with salt and pepper. Brown the lamb, about 3-4 minutes per side.

Once the lamb is cooked remove from the pan and set aside. Add the remaining 1 tbsp olive oil to the pan. Add the onions and cook until translucent, about 5-7 minutes. 


Add the garlic, carrots, bell pepper, curry powder, and ground ginger and cook for an additional 3-4 minutes, until fragrant. 


Add the chicken stock and deglaze the pan, making sure to scrape all the brown bits off the bottom of the pan with a wooden spoon. 


Add the coconut milk, kale (or spinach), and sweet potatoes and bring back to a simmer.

Add the lamb back to the pan. 


Bring to a simmer and cover with a tight fitting lid. Continue to simmer until the sweet potatoes are tender, about 15-20 minutes. 


Season with salt and pepper to taste and serve over Cauli-rice. See recipe below.
Cauli-rice
Wash cauliflower head and cut into small florets (about 1 inch.) You can use parts of the stem as well. Pulse cauliflower in food processor until it resembles rice grains. Place cauliflower grains in a glass bowl or casserole and microwave on high for 5 minutes. Mix and microwave another 3 -5 minutes until cauliflower is cooked through but not mushy. Add 1 tbsp of butter, salt and pepper to taste.