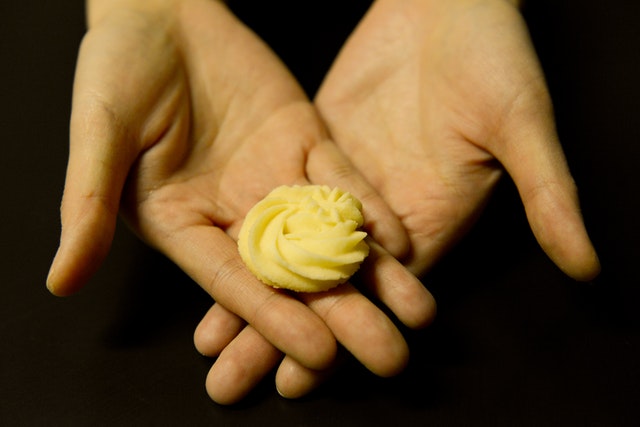 The holiday season is full of opportunities to reconnect with friends and family. For many of us that involves festive get-togethers with tempting holiday food and drink.
One of the hardest things this time of year is feeling you have to "deny" yourself in order to "be good" when it comes to healthy eating and drinking. From the holiday cookies and other sweets, to rich eggnog and tables groaning with holiday comfort foods, there is no shortage of temptation.
I always enter the Fall vowing to stick to my healthy eating and exercise routine that I enjoy during the summer. The problem with this philosophy is that, just as the weather changes so do the caloric needs and innate food preferences of our body.
Our body requires different foods this time of year. As creatures of nature, we naturally start to crave warming foods. While we welcome crisp, cooling foods in summer, our body is now "hunkering down," preparing itself for the cold days and long nights of winter. The heavier foods of winter provide insulating fat and warmth. We may have electricity to extend the light of day and indoor heating to keep us warm, but our bodies still function with the seasons as it did in ancient times, before these "modern" conveniences.
All of this tends to have us "putting on a few" pounds over the winter months.
Our immediate reaction to this is to try to restrict the amount of food we eat. But, this is the worst time of year to be thinking about going on a restrictive diet!
So, what can we do to ensure we don't go "overboard" with eating this time of year?
Over the years, I have let myself "indulge" a bit more throughout the holidays. Chocolate as an ingredient seems to sneak into my holiday recipes. I make holiday cookies. I tend to crave meat more and make warming stews.
Understanding this regular cycle of my body has helped me be more patient and compassionate with myself. Instead of blaming myself for lacking self-control, I find I can be more patient and forgiving.
At the nation's oldest retreat exclusively for women who struggle with weight, they aptly counsel that "shame and self-criticism often lead to emotional overeating and even bingeing. Calling yourself fat, lazy, … – and any other derogatory name – will not inspire or motivate you to change. It will drive you into a vicious cycle of yo-yo dieting, emotional overeating or bingeing, and feelings of failure or shame."
I agree.
After all, if I am willing to give others leeway and understanding, why not do the same for myself?
As much as we want to be "perfect" (and for everyone that means something different,) we are foremost human beings.
But, that doesn't mean we can eat anything we want. WHAT we eat is just as important or more, as HOW MUCH we eat. I still try to maintain a healthy diet. But rather than labeling foods as good and bad, and feeling guilty about choices, I think about keeping everything in balance. If I overindulge in a treat or meal, I know that this is only an exception to the healthy meals I am eating the majority of the time.
I try to stick to the 80/20 rule.
The rule is very basic: have a diet that consists of healthy whole foods from natural ingredients 80% of the time, allowing for more indulgent fare 20% of the time.
During the summer, this rule is very easy for me to follow, it might look more like 90/10. I can choose from a large variety of fresh fruits and vegetables at the local farmers' markets. I eat lighter foods in smaller portions. I am more physically active and enjoy being outside in the warm summer weather.
During the winter, eating healthy is a bit more challenging. I follow the 80/20 rule by eating home-cooked meals as often as possible. Sticking to regular meals, trying to snack lightly, and avoiding alcohol during the week helps me keep on track. And I try to add in as many vegetables as possible.
Eating vegetables and fruits naturally help counterbalance the negative effects of foods that cause inflammation in the body. Inflammation is the body's way of dealing with the damage caused as a result of eating carb-heavy, sugary, and processed foods. Inflammation is a leading cause of weight gain and bloat, and can even affect our mood, making us feel low and depressed. Healthy anti-inflammatory foods on the other hand, lift our mood, keeping us positive and happy. They fight the bloat and help keep our weight in check.
This is not a diet. It is a way of accepting the natural cycle of the body and becoming more in tune with its needs and demands.
No, this is not always easy to do. During the holidays, my rule may at some times to slip closer to a 60/40 rule! But when and if I dally, I no longer focus on blaming myself. Instead, I try to think positive. I concentrate on getting back to my 80/20 rule and focus again on planning healthy meals. (See the recipes below for a quick healthy meal idea, or check out the recipes on my website.)
How do you feel about this? Do you believe this is true? Have you tried following the 80/20 rule? Do you find you blame yourself if you "cheat" during the holiday season? I would love to hear your thoughts.
Yours in Health,
Evey
PS. The recipes below are a great way to keep eating healthy during the holidays. One is a delicious quick recipe for chicken, made in one dish. The other is a healthy version of a traditional cookie and has become a holiday cookie tradition in our family. Enjoy!
You can marinate the chicken overnight if you wish, but it is not necessary. The original recipe is just for chicken, but I like to bake the chicken over veggies to make a complete meal (see note below.) I serve it with a salad for additional veggies.
Ingredients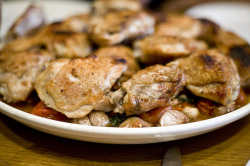 1.5 - 2 lbs chicken parts, with or without bone (about 4 pieces)
1 medium onion, diced
¼ cup balsamic vinegar
1 Tbsp olive oil
4 garlic cloves, minced
1 Tbsp dried oregano
½ tsp dried rosemary
2 tsp coarse whole grain mustard
salt and pepper
Directions
Combine all the ingredients in bowl. Make sure chicken is well coated. Marinate for 20 minutes or overnight.

Preheat oven to 400°F. Place the chicken into a glass dish in a single layer and pour any excess marinade on top. Season with extra salt and pepper if desired.

Place into oven, and b

ake uncovered for 20 minutes (if boneless) or 40 minutes (bone-in). Chicken is cooked when the internal temperature reaches 160°F.
Adapted from https://thecookiewriter.com/baked-balsamic-chicken/
Photo credit: Anthony via Flickr/BY CC

Preparing over roasted veggies
Ingredients, any combination of the following:
Carrots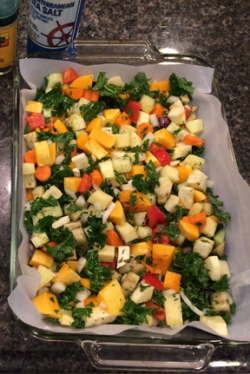 Parsnips
Onion
Garlic, minced
Sweet potatoes
Celery root
Rutabaga
Kale
Broccoli
Cauliflower
Brussels sprouts
Zucchini or other squash
Olive oil
Salt and pepper
Directions
Chop vegetable into uniform sizes, about 1" cubed. For kale, remove stems and chop, chop leaves into bite-sized pieces. NOTE:

I always add onion and garlic.

Preheat oven to 400°F.

Place veggies in casserole dish lined with parchment paper or silicon mat (not necessary, but makes for easier clean up.)

Drizzle veggies with olive or avocado oil,. Season with salt and pepper to taste.

Mix veggies until evenly coated with oil and seasoning.

Place marinated chicken, skin side up, over veggies. Pour additional marinade over all.

Bake in oven for 40 minutes, or until chicken is baked through and veggies are soft. You may want to remove the chicken after 20-25 minutes if small pieces and boneless. Chicken should have an internal temperature of 160°F.
Chai Spiced Cookies
This is a lightly spiced cookie. If you like more of spicy bite, feel free to add more of the ginger and cardamom.
True confession, this recipe does have a little bit of added sugar. I like to use coconut sugar because it isn't as refined as white sugar. It has a low glycemic index, and contains some vitamins and minerals. You could try adding some pureed dates (1/4 cup) instead of the added sugar.
Makes about 3 1/2 dozen, 1 inch cookies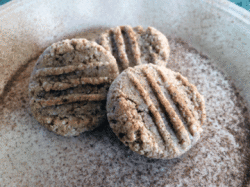 Ingredients
2 cups blanched almond flour
1/4 cup coconut flour
1/4 cup coconut sugar
1/2 tsp baking soda
1/4 tsp cream of tartar
3/4 tsp ground ginger
3/4 tsp ground cinnamon
1/4 tsp ground cardamom
1/4 tsp ground cloves
1/4 tsp salt
1/4 cup coconut oil, melted
1/4 cup maple syrup
1 teaspoon vanilla
1 large egg
Directions
Preheat the oven to 350°F and line a baking sheet with a piece of parchment paper or silicone mat.

In a medium mixing bowl, stir together the dry ingredients (almond flour through salt).

In a large mixing bowl, mix together the melted coconut oil, maple syrup, vanilla and egg.

Add the dry mixture to the wet and stir just until combined.

If the dough is too sticky, place bowl in the refrigerator for 30 minutes or until the dough is firm enough to roll into balls.

Roll a teaspoon amount of dough into a ball for each cookie, placing them about 2" apart on the prepared baking sheet.

Using a fork press the balls into a flat cookie. If the fork begins to stick to dough, wet it with water. Cookies should be about 1 inch around.

Bake for 6-8 minutes or until the tops are firm and no longer wet. If you like a chewy cookie remove cookies to a cooling rack to cool completely.

If you like a bit more crunch to your cookie, use a spatula to flip each cooking and cook 2 minutes more. Remove and let cool before storing in an airtight container for up to 5 days.
Adapted from Texanerin Baking.
Looking for more holiday cookie ideas? Here are a few from my archived files!
The 3 Magi of (Paleo) Christmas Cookies