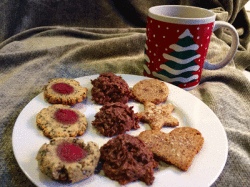 Golden Almond, Frankly Delicious, and Mirthful!
If you are eating foods that will keep your sugar cravings to a minimum this holiday season, these 3 recipes just may have you singing "Hallelujah!" These may not actually be the three kings of the Orient, but just like the Three Magi they are arriving just in time (even if you make them after Christmas!) And unlike their arduous journey, these are quick and easy to make!
They contain NO grains, gluten, dairy, or processed sugars but will satisfy any craving you have for a satisfying snack. Their sweetness and flavor come from dates or honey. While still sugar sources, dates and honey contain other nutrients and fiber. Fiber helps slow down the rapid absorption of sugar into the blood stream which prevents the brain fog, fatigue and cravings we experience from processed foods made with refined flour, cane sugars, and preservatives.
Enjoy these treats as a before-spin energy source or as an after-spin recovery (2 or 3 should be enough. Remember, cookies are a treat and not a meal!) Just remember to balance your holiday treats with a diet rich in green leafy vegetables and fruits in your holiday menu. These foods are full of fiber and nutrients your body needs to maintain a consistent energy level. Nuts and seeds are also a good source of sustained energy thanks to the fiber and healthy fats they contain. And, as always, get plenty of water! Dehydration will have you reaching for more sugary foods for a quick energy source.
For recipes, click on the links below!
Recipes:
Golden Almond (Paleo Almond Cookies)

Frankly Delicious (Chocolate Mint Macaroons)

Mirthful (Strawberry Almond Cookie Bites)