Happy National Kale Day!

Yup, every first Wednesday in October is National Kale Day. And everywhere you look it seems like this green "superfood" is popping up in food dishes everywhere – even as dessert! In fact, it is hard to go into a restaurant these days without seeing kale in at least one dish on the menu.

Although kale might seem to be a fairly new ingredient in the American diet, this hearty, nutrition packed vegetable has been around since Greek and Roman times (they cultivated an early form of kale, known as Sabellian kale.) Until the end of the Middle Ages, kale was one of the most common green vegetables in Europe. It's been in the US since the 17th century when early English settlers brought kale to this country. In the South, kale could frequently be found braised, mixed with other greens such as collards, mustard or turnip, and flavored with bacon. But for most of us, our only experience with kale growing up was as a garnish on the side of our plates. Iceberg lettuce was the king of the salad plate and, thanks to it popularity with Popeye, spinach became the "healthy green."

In that respect, we are behind the times. Kale has had a long history with many cultures around the world. In the Netherlands, for example, it is found in the traditional winter dish called "stamppot," a mix of vegetables and potatoes. A similar dish is made in Ireland in the dish called colcannon, served on Halloween. Kale has also shown up in the traditional dishes of Italy (cavolo nero); China, Taiwan, and Vietnam, where it is typically served with beef; Portugal, in a soup known as caldo verde (green broth); and even in Africa, where it is an important ingredient in Sukuma Wiki. In Europe, there is a whole culture in northern Germany that embraces kale. Many of the social clubs there will host a "kale tour" sometime between October and February. There are even annual kale festivals that crown a kale king or queen. The list of countries goes on and on.


Health Benefits of Kale


We now know though, that kale has many health benefits, and can be an important part of a healthy diet. Maybe that is why kale has become increasingly popular. It is packed full of nutrition- high in vitamins, minerals, and fiber.

Like most green leafy vegetables, kale is low in calories but high in nutrition and fiber. One cup of kale has only 33 calories, yet contains more than the daily requirements of Vitamin K, C, and A, plus iron. One serving of kale (1 cup) has more absorbable calcium than spinach; about as much calcium as 1/3 cup of milk. Per calorie, it also has more iron than beef or spinach!

Like many vegetables, kale is rich in phytonutrients. Phytonutrients help our cells communicate with one another, keeping our bodies healthy and strong. They help the liver rid our bodies of toxins, and reduce harmful inflammation that can lead to chronic illnesses, such as obesity, diabetes, and health disease. They keep our arteries clear of blockages and fight off cancer.


The Many Colors of Kale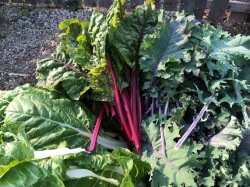 Did you know that there are many varieties of kale? And they each have their own distinct flavor. You have probably seen curly green kale and lacinato kale in the grocery store. Curly kale has a bit bitter "green" flavor, Lacinato kale (also known as dinosaur kale) is recognizable by its long flat leaves that have a texture similar to reptilian skin. It has a more pungent and also a slightly bitter flavor than curly kale.

If you are lucky enough to be a member of a farm share or grow kale in your garden, you may also be familiar with Olympic Red, the spiciest kale of the bunch. But my favorite is Russian Red. To me this kale with its purple stem and lacy leaves is the sweetest of the kales I have tasted. It pairs well with milder foods, such as eggs, or with Asian spices such as sesame and ginger.

I encourage you to try a variety to see what flavors you like best!


The Darker Side of Kale

Before you go overboard in your kale consumption, like anything else, you really can have too much of a good thing! Kale has recently been added to the Environmental Working Group's Dirty Dozen, meaning it can contain a lot of chemical contaminants in the form of pesticides and other chemicals used in conventional gardening. For that reason, it is advisable to purchase kale that has been grown using organic methods, and wash it thoroughly before eating.

Kale is a member of the cruciferous family, which means that along with such vegetables as cabbage, broccoli and cauliflower, it is a goitrogen. And while this doesn't effect most of us, this can be bad news for those individuals with low thyroid function since goitrogens contain compounds that can interfere with the uptake of iodine and suppress the function of the thyroid gland. The good news is that cooking cruciferous reduces their thyroid dampening effect. For most of us cooking kale and making sure we get enough iodine from supplemented salt or sea vegetables is enough to keep our thyroids functioning normally.

Kale is also high in Vitamin K1 that helps our blood to clot and keeps our bones healthy. This is good for us, but if you happen to be someone who is taking blood thinners such as Coumadin, you should talk to your physician before changing your kale consumption.


How Do You Cook With Kale??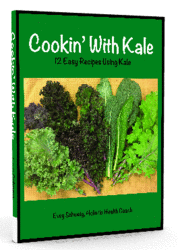 Despite these shortcomings, kale is still a good-for-you food that should be included in a healthy diet. Yet, many of us scratch our heads when it comes to knowing how to eat it.

Well, here are a few recipes to make it easy for you to introduce more kale into your diet. These range from simply kale to dishes to those that make a complete meal.

If after trying these you are still looking for more ways to use kale, contact me and I will send you a free copy of my "Cooking with Kale" e-cookbook with 12 additional recipes!

Yours in Health,
Evey




---
Braised Kale
In a hurry? Look for bags of prewashed, prechopped kale. This recipe can be used with any green leafy veggie.
Yield: 8 servings (serving size: 3/4 cup)
Ingredients
1 tablespoon olive oil or coconut oil
1 onion, diced
2 cloves thinly sliced garlic
5 cups loosely packed chopped kale (about 1 pound)
1/2 cup fat-free lower-sodium chicken broth or water
3/4 teaspoon crushed red pepper (optional)
2 teaspoons balsamic vinegar
1/4 teaspoon salt
1/4 teaspoon black pepper

Directions
Heat olive oil in a Dutch oven over medium heat.

Add onion and garlic; cook 10 minutes or until golden, stirring frequently.

Add kale, broth/water, and red pepper; cover and bring to a boil.

Reduce heat, and simmer 20 minutes.

Stir in vinegar, salt, and black pepper.
---
Crunchy Kale and Quinoa Holiday Salad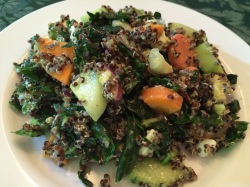 Serves: 6
Ingredients
1 1/2 cups cooked quinoa
1/2 cup toasted nuts, chopped
1/3 cup chopped red pepper
1/3 bunch flat-leaf parsley, chopped
1/2 cup dried cherries (no sugar added) or raisins
1 cup cherry tomatoes, halved
2 carrots, chopped
4 cups chopped kale, stems removed
1/4 cup crumbled feta cheese
1/4 cup olive oil
1/4 cup fresh lemon juice
salt to taste
Directions
Combine all ingredients in a large bowl and toss. Enjoy!

Source: nutritionalconcepts.com


---
Green Mango Pineapple Smoothie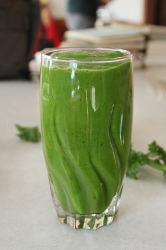 Prep time: 5 minutes
Yields: 2 servings
Ingredients
1 1/2 cups unsweetened almond milk, rice milk, or soy milk

1 ripe banana

1 cup baby spinach leaves

1 cup chopped kale leaves

¾ cup fresh or frozen pineapple
3/4 cup fresh or frozen mango

1 tablespoon hemp seeds (optional)
small slice of ginger root (1/4" thick)

Directions
Add ingredients to a high-speed blender and blend until smooth and creamy.

Many thanks to Sandy Campbell for this recipe! I have made it often and enjoy it every time!
http://www.sandycampbellwellness.com/green-mango-smoothie#sthash.smylkcT3.dpuf
Photo credit: Stacy via Flickr/BY CC


---
Lamb and Sweet Potato Curry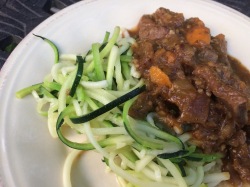 This can easily be made with chicken!
Serves: 3-4
Ingredients
1 lb. lamb stew meat (cut into 1 inch chunks)
2 tbsp olive oil
2 sweet potatoes (large, peeled and cut into 1 inch cubes)
1/2 onion, diced
2 garlic cloves, minced
2 carrots, chopped
1 bell pepper, chopped
1 tbsp curry powder (use your favorite)
1 tsp ground ginger
1 cup of kale or spinach, roughly chopped
1 cup tomatoes, diced
½ cup organic chicken broth
1 can organic coconut milk (look for a brand without guar gum)
Salt & Black pepper (to taste)

Instructions
Heat 1 tbsp of cooking oil in a large skillet over medium heat. 


Add the lamb breast chunks and season with salt and pepper. Brown the lamb, about 3-4 minutes per side.

Once the lamb is cooked remove from the pan and set aside. Add the remaining 1 tbsp olive oil to the pan. Add the onions and cook until translucent, about 5-7 minutes. 


Add the garlic, carrots, bell pepper, curry powder, and ground ginger and cook for an additional 3-4 minutes, until fragrant. 


Add the chicken stock and deglaze the pan, making sure to scrape all the brown bits off the bottom of the pan with a wooden spoon. 


Add the coconut milk, kale (or spinach), and sweet potatoes and bring back to a simmer.

Add the lamb back to the pan. 


Bring to a simmer and cover with a tight fitting lid. Continue to simmer until the sweet potatoes are tender, about 15-20 minutes. 


Season with salt and pepper to taste and serve over Cauli-rice. See recipe below.
---
Chocolate-y Kale Chips

Serves: 4 (4-5 cups)
Ingredients
1 bunch kale leaves (loosely packed, about 8 cups), stems removed. Curly kale works well here, but you can use any variety.
½ cup cashews
½ cup almond nuts, preferably soaked overnight
3 tbsp coconut oil, preferably organic
1 tbsp unsweetened organic cacao powder (raw cocoa)
1 tbsp pure organic maple syrup
½ tsp sea salt, or to taste
Optional: dash of cinnamon or cayenne pepper to taste.

Directions
Preheat oven to 350° F. Line 2 large cookie sheets with parchment paper.

Place kale leaves in a large bowl.

In a food processor, add nuts and pulse until small crumbles. Add remaining ingredients and pulse until mixed.

Pure nut mixture over kale leaves and (with clean hands!) massage until leaves are slightly wilted.


Lay the kale leaves flat on sheet pan, making sure they are spread out anddon't touch each other. Bake about 15 minutes, turning at least once, until chips are crispy.