I can't believe it is already the 4th of July! Seems like I wait all year for summer to arrive and then it just flies by.
I am determined to make the most of this summer. That includes getting out of the house more often (and into the sunshine!), riding my bike instead of hopping in the car to run errands, enjoying delicious fresh seasonal foods, and of course, getting together with friends. All of these things keep my energy levels up and feeling positive about myself.
But with all this activity outdoors and the upcoming outdoor barbequing and celebrating, we need to be mindful of the power of the sun and the effect it can have on our bodies, especially if you are planning on celebrating the 4th with a few alcoholic drinks along with friends!
Here are a few practical tips to ensure you have the best 4th of July ever, no matter how you decide to celebrate!
Stay Hydrated


Both the hot, sunny weather and alcoholic drinks can contribute to dehydration, so be sure to stay hydrated throughout the day. Bring a water bottle with you while watching the parade, or bring a couple bottles of water with you to the barbeque. If you don't like drinking water, make it more fun by adding some lemon or lime slices, or fresh berries. The stores are full of promotions selling strawberries, blueberries, blackberries and raspberries. Just add a few to a water bottle for berry goodness. For more flavor, you can slice your berries or lightly crush them before adding water.
If you like your water cold, you can fill a bottle and stick it in the freezer. The resulting ice will melt slowly, and supply you with cold water throughout the day.
If you aren't bringing water to the holiday get-together, make sure to drink a glass or two before you leave the house, so you aren't tempted to drink that first alcoholic drink too quickly. You may want to alternate your alcoholic drinks with a non-alcoholic one such as seltzer with a lime slice and splash of cranberry juice. Another option might be to add a bit of seltzer to your traditional glass of white wine. If you add an additional slice of fruit or berries, the result is a drink reminiscent of sangria.
Cut down on the caffeine as well. Drinks such as cola, coffee, and ice tea, all contain caffeine in different amounts. Caffeine is a diuretic, causing the body to flush out fluids, that can result in dehydration.
Be Mindful of the Sun
Drinking and the hot sun are not a good combination, so make sure you get in out of the heat occasionally if possible. In general it is good to avoid staying out in the sun for long periods between the hours of 10 a.m. and 4 p.m.

If you know that you will be standing in direct sunlight for a long period of time (again, while watching the parade,) you can bring a water mister bottle and spritz yourself from time to time. Walgreens and other stores sell these for a very reasonable price. Some even come with a fan to increase evaporation and increase the cooling effect of the water. A wet cloth along the nape of the neck can also help cool you down.

Wearing a hat will also protect you from the direct rays of the sun. One with a broad brim will provide portable shade and help protect the back of your neck. Also, think about wearing a light colored one. Light colors tend to keep you cooler because they reflect the rays of the sun, while dark colors absorb will them.

And, again, make sure you stay hydrated, as that will help you regulate your body temperature as well.
Use Sunscreen


Although it will not protect you from dehydration or keep you cool, another way to protect your skin from the damaging rays of the sun is to wear sunscreen. The American Academy of Dermatology recommends everyone use sunscreen that offers broad-spectrum protection (protects against UVA and UVB rays, has a sun Protection Factor (SPF) 30 or higher, and is water resistant. But recently, there has been a lot of discussion over the safety of the chemicals being used in these products.
How do you know which sunscreen to choose? With so many brands of sunscreen available in the marketplace these days, the selection can be overwhelming. The good news is the EWG (Environmental Working Group) has put out it annual sunscreen guide that ranks thousands of sunscreens based on their ingredients and effectiveness annual sunscreen guide This year, they have even developed a list of the top 8 drugstore sunscreens. For more information, check out their findings here.
And a sunscreen is only good if you use it! So make sure you apply it while you are still indoors, so it has time to dry. If I know I am going to be outdoors for the day, I like to apply it after getting out of the shower. This way I don't miss any spots and don't have to worry about staining by accidentally smearing some on my clothes!
Choose Cooling Foods


Food can also help keep you cool - if you eat the right ones!

According to Traditional Chinese Medicine, when eaten all foods heat or cool the body. Raw food, vegetables and fruits tend to cool the body, whereas, cooked foods and foods high in protein i.e. meats, warm the body. The process of digesting proteins causes an increase in metabolism, which heats up the body. This is why we tend to crave meats and heavier foods during the winter. During the summer the opposite is true and Mother Nature has helped us cool down by supplying us with an abundance of fresh fruits and vegetables. This gives a whole new meaning to the expression "Cool as a cucumber! "
And while it may seem counter-intuitive, spicy "hot" foods may also help cool you off. They cause us to sweat, which in turn evaporates and helps keep us cooler.
So nibble on small portions of mostly raw fruits and vegetables to stay cool and hydrated throughout the day!
Still wondering what to bring to that holiday picnic or barbeque?

Turns out, I have a few suggestions!

For a snack or appetizer, this "Sweet and Creamy Carrot Cashew Dip" is great served with fresh vegetables such as carrots, celery, jicama, peapods, etc.

"Watermelon Cubes with Mint" is one of my favorites this time of year and so easy to do! This dish is especially cooling because the high amount of water in melon is hydrating. And mint contains special properties that trick the mouth into feeling cooler.
This slow-cooker "Balsamic Glazed Shredded Beef" is just the thing to keep you out of a hot kitchen. Although the protein content is high, it is mixed with the goodness of carrots and onions, so it is less protein dense. Keep the meal cool by serving the shredded beef in collard or kale wraps instead of wheat buns or serve over cauli-rice. Have a healthy side salad with a variety of vegetables and a selection of greens.
(What is cauli-rice?! Find out here. Or buy some frozen for a super fast side dish!) You can also make this delicious side dish "Cauli-rice Pilaf."

And of course, there is always dessert to think about!

You have got to try these most decadent tasting Blondie Brownie Bites that I like to serve with my 4 Ingredient Blueberry Sauce. They are gluten-free and are chocked full of, wait, zucchini! You get the benefit of zucchini and almonds, with very little added sweetness from real maple sugar. I find them irresistible. I cut them into small bite size pieces so I can have one or two without any regrets. I make them "naked" or sprinkle the top with a bit of cocoa powder and cacao nibs before baking for an added treat. You can top them with a bit of Sweet Cashew Cream to make this dessert "company worthy."

Watermelon Cubes with Mint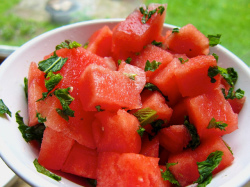 Who doesn't love the sweet flavor and coolness of summer watermelon?! Adding mint gives this fruit a fun twist!
Ingredients
Watermelon
2-3 sprigs mint, washed
Fresh lime juice (optional)
Directions
Cut watermelon into bite-size cubes. I like about 1 inch. Place in large bowl.

Chop mint into small pieces. I like mine real small.

Add mint to watermelon and toss. For best flavor, let sit in refrigerator for 1 hour or more to let mint flavor blend with the melon.

Sprinkle with a bit of lime juice to taste before serving.

Photo Credit: Kat Stan via Flickr/BY CC
Balsamic Glazed Shredded Beef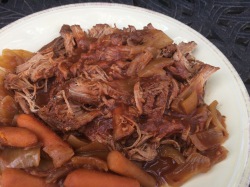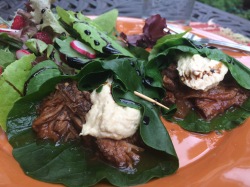 This is a delicious and easy way to prepare a cheaper cut of beef (like chuck or round roast.) It has a wonderful rich sweet flavor without added refined sugars. It doesn't require any browning, so there is no extra pan to clean! In a hurry, use a package of organic baby carrots. Make sure you have a tomato paste with no added sugars.
Serves: 8-10
Prep time: 20 minutes
Cook time: 10 hours
Ingredients
3-4 lbs beef roast (chuck, round, brisket)
4 medium onions (or 2 large), roughly chopped
2 cups carrots, cut into large chunks, or 1 package baby carrots
1 cup bone broth or other stock, low sodium
¼ cup balsamic vinegar
1 (6 oz.) can tomato paste
2 cloves garlic, minced (about 1 tsp)
2 bay leaves
1 tsp sea salt
black pepper to taste
Directions
Add carrots and onions to bottom of slow cooker.

Place roast on top of vegetables and spread minced garlic on top. Sprinkle with salt and pepper.

In a medium bowl, mix together broth, tomato paste, and balsamic vinegar. Pour over meat and vegetables in slow cooker.

Add bay leaves.

Cover and cook on low heat for 10-12 hours. You may want to check about halfway through and make sure the meat is submerged in juices. If not, push it down with a spoon. Dish is done when meat is very tender and easily shredded.

Remove meat from liquids and shred with two forks. Remove any grease from sauce in pot (you can place pot in refrigerator for a few hours to help skim off solid fats.)

Add the meat back to the skimmed sauce and mix. Or, if you prefer a thicker sauce, remove about 1/3 of the vegetables and broth to a blender before adding back the meat. Puree vegetable/broth mixture and mix back into sauce with meat.

Enjoy served over cuali-rice or in collard green wraps.
Source: Gluten Free School



Blondie Brownie Bites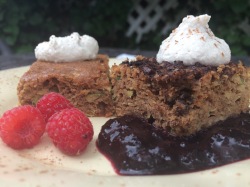 You have got to try these! These GLUTEN-FREE brownies are so easy to make AND they have the added nutrition and moistness from zucchini. But you'd never know it from the taste! Plus, you can vary them a bit by adding cocoa powder and/or cacao nibs (or chocolate chips, if you must!)
Makes 32 bite-size brownie bites
Ingredients
¾ cup creamy almond butter
1 medium zucchini, shredded (a generous cupful)
1 egg, lightly beaten
3 tbsp real maple syrup
1 tsp vanilla
¾ tsp baking powder
2 tsp cinnamon
¼ tsp salt (omit if using salted almond butter)
Optional: cacao nibs, cacao or cocoa powder, chocolate chips
Directions

1. Preheat oven to 350°F. Line an 8" by 8" baking pan with parchment paper. Lightly spray with olive oil if you prefer.
2. Add all ingredients except optional cacao/cocoa to a medium bowl. Mix well with a wooden spoon.
3. Spoon mixture into prepared pan and bake for 20 minutes or until a toothpick inserted in the center comes out clean.
4. Let sit for a few minutes. Cut into 1 by 2 inch squares to serve. When cooled, these can be refrigerated in airtight container to store.
Variation: If you would like to add some chocolate flavor to your brownie, sprinkle top of batter with cacao/cocoa powder (about 1 tsp) and /or nibs before baking.
Recipe adapted from Hummusapien

I hope you get a chance to try some of these healthier versions of fun holiday foods! Let me know if you try them and what you think!
Yours in Health,
Evey