Thanksgiving may be over, but it is still the best season to bake up some pumpkin goodness! What to do with all that left over pumpkin around the holidays?
I just got finished roasting a Kabocha squash that was on sale at my local grocers (59 cents a pound!) I didn't really know what I was going to do with it, but I know I love the sweet deep orange flesh of this "pumpkin."
Thanksgiving is just a recent memory now, but I thought I could take the roasted Kabocha squash flesh and make it into something akin to a pumpkin pie filling without the crust. I had just made a wonderful pumpkin pie with pecan crust and it was delicious!
The result was simply scrumptious! It is not as sweet as a pie; this squash is just sweet enough on it's own, although I guess you could sweeten it with honey or maple syrup if you wanted to!
If you don't have pumpkin pie spice on hand, you can mix some up pretty quickly. Here is a great recipe from Sandra at
thefoodieaffair.com
.
Pumpkin Pie Spice Mix
2 Tablespoons ground cinnamon
1 Tablespoon ground ginger
2 teaspoons ground nutmeg
½ teaspoon allspice
½ teaspoon ground cloves
Combine all ingredients and store in air tight jar, preferably glass.
Paleo Kabocha Squash Mousse or Pudding
This makes an excellent side dish for any meal!

Ingredients
2 cups roasted squash, mashed with a fork
3-4 large eggs, lightly beaten
1 tbsp pumpkin pie spice
1/4 cup coconut milk or cream
salt and pepper to taste
olive or coconut oil
Directions
Preheat oven to 375°F.
Mix all ingredients together with a whisk until well blended.
Pour mixture into 7 by 7 inch casserole dish (1 1/2 quart) that has been lightly greased with olive oil or coconut oil.
Bake in oven for 20-30 minutes or until center of pudding is firm.
Remove and let sit a few minutes before serving.
Oh, and about the pumpkin pie recipe. Here it is!
You can make it with roasted sweet potatoes as well. I used my Kabocha squash again, but you could use sweet potatoes, butternut squash, or sweet dumplings!
Paleo Kabocha Pumpkin Pie

This is not an overly sweet pie; just enough to be satisfying! If you have leftover mashed sweet potatoes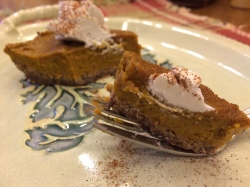 or pumpkin from the holidays, feel free to use that instead of roasting more. Just don't add more sweetener to the filling if it already has some!

Ingredients
Crust:
1/4 cup coconut oil
1/4 cup medjool dates, lightly chopped
1 cup pecans or pecan pieces
1/8 cup (about 2 tbsp) chia seeds
Filling:
2 cups roasted squash or sweet potatoes
1/4 cup maple syrup or 5 drops liquid stevia
3 eggs, lightly beaten
1 tbsp pumpkin pie spice
1/2 tsp salt
2 tbsp almond or coconut milk
Topping: coconut cream
Directions

Preheat oven to 400°F.
To roast squash: Cut squash (or sweet potatoes) in half. Remove seeds from squash and save to roast separately (with oil and spices, about 8 minutes.) Place squash cut side down on a cookie sheet lightly greased with olive or coconut oil. Prick skin a couple of times with a fork to let steam escape. Place in hot oven and roast for 30-40 minutes, or until soft when pricked with a fork. Remove from heat and let cool.
Lower oven temperature to 350°F.
In a food processor, combine the coconut oil, dates and pecans. Pulse until nuts are well ground but not pureed. Batter should stick together easily.
Lightly grease a pie pan with coconut oil and press crust batter mix into it until it is about 1/4 inch thick, making sure to push a bit up onto the sides of the pan as well. Bake for 10 minutes. Remove and let cool.
Meanwhile, prepare filling by combining remaining ingredients in food processor. Pulse until well blended and smooth. If necessary, add a bit more almond or coconut milk until a creamy consistency is reached.
Pour filling into crust and bake for 25-30 minutes until the middle is firm to the touch and set.
Let cool before serving. It cuts much better this way.
Top with a dollop of coconut cream and a sprinkle of cinnamon.
What is Coconut Cream?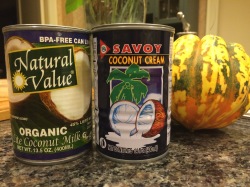 You can buy coconut cream in the can. I particularly like these two brands because the only ingredients are coconut and water. Most brands add emulsifiers and other fillers that I like to avoid.
By the way, that little squash in the background is a Sweet Dumpling, possibly the sweetest squash I have tasted. If you see them in your market, snatch them up!
If you are looking for a simple recipe to roast them, check this
Paleo Sweet Dumpling recipe
out!
I hope you get a chance to try out some of these recipes and explore some new foods in the process. I always love hearing from you,
so drop me a line
and let
me know what you think!
Yours in Health,
Evey