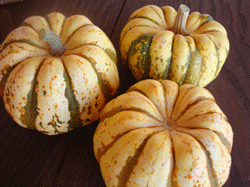 Skip directly to recipe.
Photo courtesy of Sunstone Farm and Learning Center
Oh my….if you have never tasted these little sweeties before, now is the time! If you see them in your local store, buy them up! I just received two of these from my CSA and they are my new dessert! That's how sweet they are! I just popped them in the oven and roasted them but I am having visions of soup and a "better than pumpkin" pie in the future.
Now, if you are shaking your head and saying "What is a CSA?" let me digress a moment.
Joining a CSA (short for Community Supported Agriculture) is a great way to receive fresh, local, organic produce (and sometimes fruit and meat) during the harvest season. I am a member of a local CSA named Angelic Organics. As a member, I buy a share at the beginning of the season, before anyone knows what the harvest will be like that year. This helps support the farm, giving them the needed funds to begin the season. In exchange, I receive a prepaid box of produce every week (or every other week) at a fraction of the cost of what organic produce might cost in your local market. It's a win-win situation.
As a consumer you are supporting your local economy and the organic produce movement. If demand remains high for the produce from local farms, more farms will flourish in the area, providing us with more natural goodness at better prices. Studies have also shown there are nutritional benefits from eating foods grown organically, not to mention the benefits to Mother Nature as well. But that is a whole 'nother topic for another day!
If you are interested in learning more about the CSAs available in your area, there are several websites that are excellent resources. One is localharvest.com that allows you to locate a CSA in your area. Two other websites that serve the Chicago area are thelocalbeet.com and familyfarmed.org. While the season is quickly coming to a close, now is a great time to purchase a share for next spring. Many CSA farms offer discounts for early sign-up!
Roasted Sweet Dumpling Squash
–so easy to do!
These squash are small, so one squash serves one or two people depending on how hungry you are!
Ingredients:
1-2 Sweet Dumpling Squash
1 tbsp butter, olive oil or coconut oil
½ tsp dried thyme or seasoning of choice (basil and oregano are good)


Directions:
Preheat oven to 400F degrees.
Cut squash in half and scoop out seeds. (Reserve seeds, these can be roasted as well.)
Place halves on a cookie sheet. Place a pat of butter or oil of choice in center. Sprinkle with thyme.
Place in oven and roast for 40 minutes. Check squash after 30 minutes for doneness. Squash are ready when fork tender.
Now, you can serve the squash as is and eat the flesh right out of the shell as a side dish or
Let cool a bit and scoop flesh out into a bowl.
You may add more butter at this point for more flavoring. Using a potato masher, mash squash to a creamy smooth consistency.
Note: for a variation, try using cinnamon instead of herbs! It is almost dessert –like!
Here is another use for those wonderful little sweeties, courtesy of Sunstone Farm and Learning Center:
Sweet Dumpling Squash Soup
Serves 4Ingredients:
1 large butternut squash or 10 sweet dumpling squash, roasted or peeled (about 4 cups roasted/mashed)
butter and olive oil (about a tablespoon minimum each)
1 large onion, chopped
4 large cloves garlic, chopped
sea salt and freshly ground black pepper to taste
thyme, dried or fresh, to taste (I add about 1/2t dried)
sage, dried for fresh, to taste (I added about teaspoon dried)
1 quart stock (I use a homemade unsalted rooster stock. If using store bought stock, take care with how much salt you add).
fresh cream, optional (I use almond yogurt)
maple syrup, optional
Directions:
For full recipe,
click here.


Do you use other squash in your recipes? I'd love to hear how you prepare them and what their flavor is like!
Yours in Health!
Evey