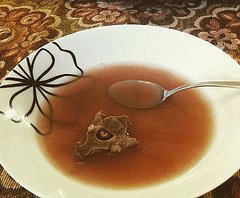 This is a great interview with Sally Fallon Morell done by The People's Pharmacy. In it, Ms. Morell describes the benefits of the foods that our great-great-granparents might have eaten, including: butter, fats, whole milk, fermented foods, meat and bread. While I don't drink milk or other dairy products (I have allergies which the dairy aggravates), I am a huge fan of healthy grass-fed meats, eggs, fermented foods and bone broth.
It includes an interesting fact about how Louis and Clark overspent their budget in order to bring soup along with them on their famous journey! Also a possible correlation between MSG and weight gain in lab rats.
The following is an excerpt from the interview and write-up from
The People's Pharmacy
page.
For decades, the diet dictocrats have warned us to back away from the butter, minimize the meat and skimp on the salt. The recommended menu might not taste terrific, but it was supposed to prevent heart disease, diabetes and other chronic conditions.
Unfortunately, the evidence to back these dietary policies up has never been supported by strong science. Even today, policymakers are wrangling over how much cholesterol should be permitted, and whether we really need to cut sodium to 1,500 mg a day or less.
Saturated Fat
The controversy over saturated fat rages on. Recent articles include a
meta-analysis published in Open Heart
and a
study published in theJournal of Nutrition
.
Our guest, Sally Fallon Morell, advocates returning to traditional foodways. Rather than follow the latest trends, she urges Americans to eat like their great-great-grandparents did and enjoy wholesome old-fashioned food. High on her list: a big bowl of broth.
Yours in Health,
Evey


Photo credits:
Farm share by Kevin Chin via Flickr
Bone broth cropped from Mace Ojala via Flickr