About 7 years ago, for health reasons, I eliminated processed wheat breads from my diet. I wanted to avoid gluten, highly processed finely-ground flours, and other added chemicals that can sometimes be found in these products. Instead I satisfied my carbohydrate cravings by adding in beneficial vegetables and fruits to my diet.
Changing the way I ate led me to explore new foods and new ways of preparing them. I actually expanded my food choices. I began making many of the foods I missed, such as grain-free crackers (I needed that crunch!), home-made ketchup and mayo, and non-dairy puddings, for example.
Today I can say that I feel so much better; I have more energy, and rarely, if ever, suffer from the nagging joint pain that used to accompany the inflammation in my joints. I am not looking to take a mid-afternoon nap either. Nor am I having those late night cravings for something sweet.
BUT EVERY NOW AND THEN…
I find myself wanting something to sop up the leftover sauces that remain on my plate.
There are many non-gluten breads out there on the market, but many of these still contain the processed flours, added sugars, and other preservatives that lead to inflammation, digestive discomfort, and overall feeling of malaise.
For that reason, over the years I have experimented with many grain–free "bread" recipes using alternative seed and nut flours such as flaxseed, almond flour, tapioca, and buckwheat. Some were more successful than others (just ask my poor family members who became my taste-testers.) In some, the texture was good, but the taste just wasn't there, or vice versa.
BUT RECENTLY...
I have made a recipe that is so satisfying; it really can be called bread (without the quotation marks!)
It has a nice slightly dense texture; moist, but not mushy. It even comes out of the oven with a nice crust on top (it eventually softens up a bit.) The flavor is mild and delightful. An added bonus: it toasts up in the toaster really well!
I have been enjoying this every morning accompanying my fried egg and braised greens, toasted and topped with a pat of grass-feed butter or coconut oil, and strawberries.
I've had it as avocado toast for lunch.
Last night I used it to sop up the juices from my Chicken with Figs.
I have yet to eat it for dessert, but who knows…
THE BEST PART is it uses very few ingredients: almond flour, psyllium husk powder, eggs, baking soda, salt, oil, and apple cider vinegar.
You can buy almond flour and psyllium husk at most health food stores or on Amazon. If you are not familiar with psyllium husk, it is the fibrous outer coating of the Plantago plant seed. In baking, psyllium helps add texture and allows the batter to rise a bit. But as an added bonus, the soluble fiber of psyllium helps keep us and our digestive tracts healthy.
---
---
Quick note on the benefits of adding more fiber to your diet:

Fiber is an important element of a healthy diet. It ensures that our gut stays happy and absorbs nutrients efficiently. Soluble fiber, like that found in psyllium husk, binds to toxins and helps escort them out of the body. Because it is very absorbent, it soaks up water in your gut, which in turn helps promote regularity and overall digestive health. It can simultaneously relieve symptoms of both constipation and mild diarrhea. It also slows down the digestive process by providing bulk, keeping us satisfied for longer periods of time. And last but not least, it helps maintain a healthy balance in our microbiome (a fancy word for the millions of microbes populating our small intestines that assist us in proper digestion). The healthy bacteria of our gut love to feed on soluble fiber and multiply. These microbes in turn help break down otherwise undigested food particles, converting them into useful nutrients. While they are multiplying, they are crowding out unhealthy bacterial strains that cause digestive discomfort and even illness.
But back to cooking with psyllium.
When you add psyllium to water (like in this bread recipe,) it thickens to a gelatinous consistency, much like egg whites. This can come in handy when you want to thicken the sauce in your stir-fry, stew, soup, or chili. You can add it to smoothies too. I use it in my morning porridge to improve the consistency, but the added fiber also keeps me satisfied until lunch.
Just keep in mind, that when consuming psyllium it will be absorbing extra liquid in the gut, so make sure to drink fluids with your meal! You may also need to adjust the amount of liquid to a baking recipe since it will thicken up a batter.
Do you use psyllium in your food? If so, how do you use it? Please share! I look forward to hearing whether you try these recipes and what you think.
Yours in Health,
Evey
---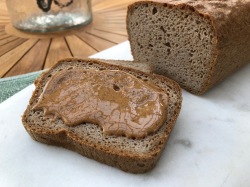 Make sure you combine the ingredients in the order shown and following the directions for this recipe. Adding the apple cider vinegar last after the other ingredients are combined allows the baking soda to react and bubble, causing the batter to expand.
Makes one medium loaf
Ingredients
2 cup Almond flour
1/4 cup Psyllium husk
1 1/2 tsp Baking soda
1/2 tsp Sea salt
1/3 cup Coconut or Olive oil
1/2 cup Warm water
6 large Eggs (lightly beaten)
1/3 cup Apple cider vinegar
Instructions
Preheat the oven to 350°F. Line the bottom of a medium

loaf pan with parchment paper.

In a large bowl, stir together dry ingredients: almond flour, psyllium husk, baking soda, and sea salt.

In separate bowl, mix together warm water and coconut or olive oil. Warm water will allow the coconut oil to melt.

Add eggs to liquid mix and stir.

Add wet mixture to dry ingredients and mix until just well blended but no lumps.

Add in apple cider vinegar. Mix until incorporated. You should see some air bubbles forming.

Transfer the batter to the lined baking pan, smoothing the top.

Bake for 50-55 minutes, until an inserted toothpick comes out clean and the top is crusty. A more accurate way to tell when bread is baked is to insert an oven thermometer into the center. Interior temperature should read 215°F. Allow to cool on baking rack.

When room temperature, you can wrap bread in parchment or air-tight container and store in fridge for up to a week.
---
Chicken Tagine with Almonds and Figs (can be made in tagine, Dutch oven, or Instant Pot)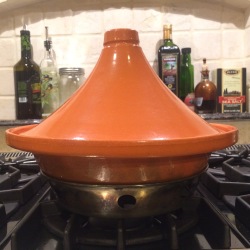 I like to make this all-in-one "stew" in my tagine, a Mediterranean stovetop slow cooker (see picture at right,) but it can easily be made in a Dutch oven or deep sauce pan. I have given directions for all three methods. The fresh figs add a sweetness, while the almonds add a bit of crunch!

I have used 1/2 a chicken, cut into pieces with bone in. I usually cut the breast portion in half, separate the leg from the thigh, and thigh at hip joint. You can also start with chicken pieces such as breasts and/or thighs, bone in or out. If using breasts, cut in half and be careful not to overcook; having less fat, they can become dry.
Serves 4 easily
Ingredients
2 pounds chicken, cut into serving-size pieces
3 Tbsp olive oil
1 large onion, finely chopped
2 cloves garlic, minced
1 tsp freshly grated ginger
1/4 tsp turmeric
1/2 tsp paprika
1/2 tsp cinnamon (optional)
1/2 tsp salt
1-2 cups no-salt chicken broth, or water
1/2 cup parsley, chopped
8 fresh figs, quartered (Trader Joe's has great ones right now! You can also use dried figs)
1/2 cup slivered almonds, toasted*
1 tsp sesame seeds, toasted*
Directions
Using conventional Dutch oven or deep skillet: Heat 2 Tbsp oil in pan over medium heat.

When hot, add chicken pieces and brown (about 2 minutes per side.) Transfer chicken to a plate and set aside.

Add remaining oil to pan. When hot, add onion, garlic, and ginger. Sauté until onions are just soft and translucent.

Add spices: turmeric, paprika, salt and optional cinnamon. Continue to sauté for 2 minutes, or until fragrant.

Add parsley, figs, and cooked chicken. Add enough broth or water to just cover chicken pieces. Scraping up brown bits that may have stuck to the bottom of the pan.

Cover pan and cook for approximately 30 minutes (depending on size of chicken pieces,) and when juices run clear when pierced with fork.

Serve over steamed Swiss Chard, cauli-rice, or spaghetti rice; topped with almond slivers and sesame seeds.
Instant Pot: Heat pot using sauté function on low. Continue with steps 1-5. Cancel sauté function (I sometimes will do this earlier if pot is getting to hot and just continue sautéing.) Cover and set on high pressure for 15 minutes. I like to do a quicker release. If you are letting pressure come down naturally, 10 minutes should be enough. Serve as for conventional method.
Tagine: I like to use my tagine on a wok ring to keep it away from the direct flame on the stove. I use a much lower heat, so there is no danger of damaging the ceramic (medium-medium low.) Otherwise, proceed with directions for conventional method and cook for a longer period over a low heat (45 minutes-1 hour.)
Quick and Easy Way to toast almonds and sesame seeds: Heat a skillet over the stove on high. Cast iron works best because it heats up hot. Add almonds and sesame, lower heat to medium, and toast until fragrant. Stirring occasionally. Once you smell them, remove from heat immediately (they can go from toasted to burned in a blink of an eye.) Transfer to plate to cool.