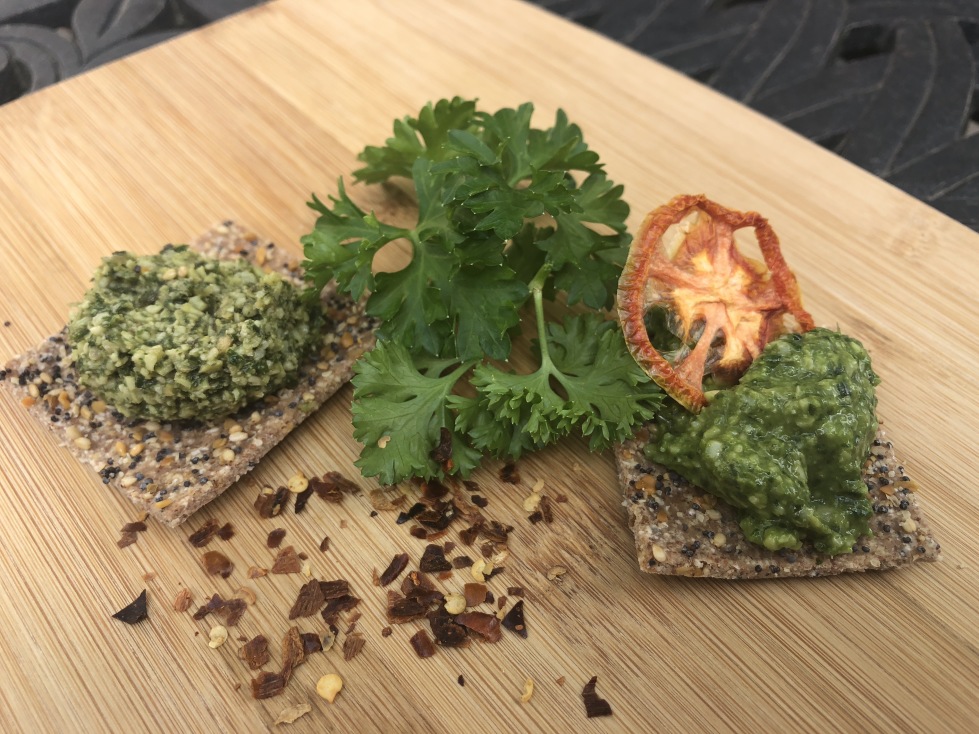 Lemony Mustard Green Pesto with Horseradish
Carrot Top Pesto with Cashew and Mint
Chimichurri with Cilantro and Mint
I love finding creative ways to "add-in" more good foods into my diet. That way I am full and satisfied, and less likely to reach for tempting, but less healthy foods.
Summer sauces are a great way to pack in more nutrient dense green veggies in a fun, flavorful way!
These 3 recipes will encourage you to use some less common greens that are abundant right now. Since they are in season, they naturally contain the maximum amount of nutrition and flavor too. They are also priced very reasonably right now, giving you maximum nutrition for your dollar.
Mustard Greens
Have you tried mustard greens? Mustard greens are large leaves that can be green or even reddish in color. They are part of the plant from which we get mustard seeds, the main ingredients of that familiar yellow condiment by the same name. The leaves also have a slight mustardy bite to them, which makes them a perfect ingredient for the following sauce.
Mustard greens belong to the family of cruciferous veggies such as broccoli and cabbage, and are known for their cancer-fighting abilities. But that's not all. Mustard greens have been ranked by the "World's Healthiest Foods" organization as one of the 10 best sources of vitamin K, vitamin A, calcium, vitamin E, and iron. They also rank high in copper, vitamin B2, manganese, protein, vitamin C, vitamin B6, and phosphorus. All great reasons to find ways to add these powerful greens to your diet!
This recipe also includes pumpkin seeds, which add healthy fats, bio-available Vitamin E and several trace minerals including zinc. Zinc is important in maintaining a healthy immune system and is used to make proteins and DNA.
I have also added a bit of horseradish, which makes this a perfect dipping sauce in place of the traditional tomato-based shrimp cocktail sauce. You might want to try adding this to your 4th of July appetizer menu!
Or, omit the horseradish and serve over spaghetti squash, zucchini noodles or kelp noodles.
Lemony Mustard Green Pesto with Horseradish
Prep time: 15 minutes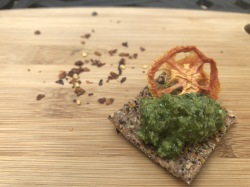 Cook time: 0 minutes
Makes approx. 1 cup
Ingredients
1 lemon, for zest and juice
1 bunch mustard greens (about 5-8 leaves depending on size,) stems removed, coarsely chopped
½ cup raw pumpkin seeds
1 clove garlic
¼ tsp salt, or to taste
¼ tsp freshly cracked black pepper, or to taste
½ cup extra-virgin olive oil
1-2 tsp prepared horseradish (optional)
Directions
1. Grate 2 teaspoons lemon zest from the lemon. Cut lemon half and squeeze out 1½ Tbsp juice.
2. In food processor, pulse together mustard greens, pumpkin seeds, and garlic, until finely chopped, scraping down sides as needed. Add lemon zest, juice, salt and pepper.
3. With the motor running, slowly pour in the olive oil, occasionally scraping down sides of bowl.
4. Store pesto in an airtight container in the refrigerator for up to 2 weeks or freeze for up to 6 months.
Carrot Tops
Did you know you can eat the green tops of carrots?
I like to add a few snips to a salad to give it some added texture and flavor. Since every green has its own unique combination of vitamins, minerals, and micronutrients, adding a variety to your salad increases its nutrition.
Carrot greens have a slightly bitter flavor, so I like to balance them with foods that are naturally sweet such as strawberries, apple, or red pepper. They taste great mixed with other greens and topped with balsamic vinaigrette!
According to the World Carrot Museum (did you even know this existed?!), carrot greens are "highly nutritive, rich in protein, minerals and vitamins. [The tops of the carrots] are loaded with potassium, giving them their distinctive bitter flavor." Looking for more ways to use carrot tops? Their website has some other recipes you might like to try!
The Museum also notes you should make sure to wash your carrot greens thoroughly, especially if they are not organic. Since most consumers don't think about eating the greens, farmers may be more likely to use pesticides on the greens that could be ingested.
Carrot Top Pesto with Cashew and Mint
This is a bright light take on traditional pesto, but unlike pesto it doesn't use garlic, making it an ideal spread on crackers, red pepper wedges, or cucumber slices for an appetizer. The coconut and mint balance nicely with the bitter flavor of the greens, making it a bit sweet. You can thin it by adding more olive oil or water, and serve it as a dip for fresh veggies or as a sauce for zucchini "noodles."
Prep time: 15 minutes
Cook time: 0 minutes
Yields: 1cup pesto
Ingredients
Greens from one bunch of carrots, larger stems removed, coarsely chopped (about one cup)
½ cup mint, coarsely chopped
1/3 cup shredded, unsweetened, dried coconut
¼ cup Extra Virgin Olive Oil
1 Tbsp white wine vinegar plus 1 Tbsp lemon juice
¼ cup raw cashews
Directions
1. Wash and dry carrot greens. Roughly chop. (Optional: If you are using more mature carrot greens they may have a stronger flavor. Before chopping, soften carrot greens by blanching them. Submerge raw greens into boiling water for 5 minutes or until bright green. Remove from boiling water and immediately plunge greens in ice water to maintain bright color. Another option is to chop greens, place in a bowl of cold water, and let soak overnight. These steps will help mellow the flavor of the greens.)
2. Place all ingredients into a food processor and pulse until well mixed. Coconut should be well blended. The pesto should have a smooth consistence and bright green color.
Cilantro, Parsley, and Mint
Cilantro is a green herb closely related to flat parsley and gives many Latin American dishes their distinctive flavor. Like many bitter herbs, it is a great detoxifier that helps rid our bodies of harmful toxins especially heavy metals. In addition to supplying a variety of valuable minerals, both cilantro and parsley are rich in vitamin A and vitamin K, a compound essential for the proper blood clotting. Parsley is also high in Vitamin C. One half cup contains more than half our daily requirement of this powerful antioxidant.
Chimichurri with Cilantro and Mint
Cilantro and parsley are key ingredients in the traditional Latin American chimichurri, a cross between a sauce and a condiment. It can be used as a marinade or paired with grilled meat, especially beef, as a topping. While there are many variations on the recipe, traditional chimichurri is made from a combination of garlic, parsley, olive oil, and oregano.
In this recipe, I have added cilantro, and a bit of mint to balance out the bitter herbs. Serrano peppers are spicy, so feel free to add less at first and add more if you want a bit more heat!
Prep time: 15 minutes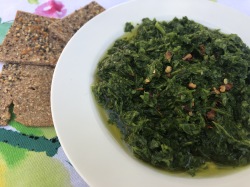 Cook time: 0 minutes
Makes approx. ½ cup
Ingredients
2 cups flat-leaf parsley, large stems removed, coarsely chopped
1 cup cilantro, stems removed, coarsely chopped
½ cup mint leaves, coarsely chopped
1-2 cloves garlic or ½-1 tsp garlic powder (add more or less to taste)
½ serrano pepper, seeded OR ¼ tsp dried chili pepper flakes (add more or less to taste)
2 Tbsp red wine vinegar
¼ tsp salt
½ cup extra-virgin olive oil
Directions
1. Add greens, garlic, and pepper to bowl of food processor. Pulse until finely chopped, scraping down sides as needed.
2. Add vinegar, and salt. Pulse until well incorporated.
3. While food processor is running, drizzle in olive oil until well incorporated and a smooth consistency. You will still have small particles.
So there you have it. Three different sauces using some of the healthiest greens available this time of year!
I hope you get a chance to try them. I'll be munching on mine this 4th of July!
Yours in Health,
Evey