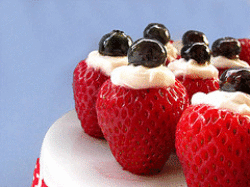 I love the

4th

of

July!



It brings back such great family memories of sitting down at the beach watching the fireworks with family and friends. And, of course, that includes lots of food and drinks. And since this is bathing suit season, or at least is supposed to be warm enough for a bathing suit, you might be looking to keep you eating and drinking in check.
Here are a few pointers to help you keep your holiday on a healthy track! I have mentioned them before, but they always come in handy. Plus a fun appetizer and dessert that are good for you too!
Skip to recipes
Make a healthy holiday dish to bring -Whip up a health conscious appetizer or side dish that you know you can indulge in. This way you know you will have at least one go-to dish that you can eat without guilt. (Hint: Maybe bring the following recipes printed below.)
Water up! - If you are thirsty you are very likely to gulp down that first glass of wine, or worse yet, a tempting sugary empty calorie margarita, very quickly. That will lower your inhibitions and increase your appetite. Have water before you leave the house or make that your first beverage at the party. Alternate between alcoholic and non-alcoholic drinks througout the evening. Stick to lighter drinks, such as wine or alcohol with seltzer and lime.
Pace yourself - Don't be the first to the food table. Opt to fill your plate first with salad, a light side dish and/or fruit, then go back for the heavier fare.
Plate it and move it! - Once you decide on what you want to eat, fill your plate and move away from the area. Otherwise, you might be tempted to pick "a little here, a little there" without really registering how much you have eaten. You can always go back to get more if you really want it, but give your brain and taste buds a chance to register what you have eaten.
Distract yourself - Don't look at desserts until you are done with your meal. Fill up on a healthy meal first, desserts will be less tempting on a full stomach. Still feel like eating, even though you are full? Try a refreshing piece of watermelon or other fresh fruit. They are in season and at their peak of flavor right now. The feeling of a fresh palate can curb additional noshing. Also, make a point to get up and move around after you eat.
Choose your treats wisely. Accept that this is a celebration. Don't deny yourself completely. Holidays bring with them great memories. Instead of loading up on foods you can have any time of the year, save your indulgences for items that are truly special and unique to the season, like barbeque or ice cream. Eat slowly. Savor the flavors. I know, easier said than done!
When the food is on your plate, give a moment to look at it and be thankful, for the food and the friendship you are about to enjoy. Take time to talk between bites. It will help slow you down. Eating too much is one holiday tradition you can do without. But that doesn't mean you need to give up your favorite holiday foods — you just have to choose them wisely.
Oh, just one last thing! What happens if you do over indulge a bit? Don't beat yourself up about it. The worst thing you can do is throw in the towel and continue down the path of sugary, processed foods. Instead, just go back to the key elements of a healthy diet: stay hydrated, eat more veggies and fruit, get enough exercise and sleep, and take your multi-vitamins!
Have a happy 4th of July everyone! What did you bring to your holiday celebration? Please share with us, we'd love to hear from you!
Yours in Health,
Evey
---
Quinoa Pizza Bites

It's funny, last year I made Mediterranean Pizza for the 4th of July and this year Pizza bites...seems like a new holiday tradition is starting...
Adapted from this recipe from Candida Diet. The original recipe rolls the batter into balls and bakes them. I made them into little flat "bites," using garbanzo beans, and added a dollop of avocado mayonnaise with carmelized onion.
"The simplicity of these balls belies their complex flavors. The pairing of fresh basil and tomato paste here is truly evocative of pizza. These make a great party appetizer or main course alongside a crisp salad."
Ingredients for Bites: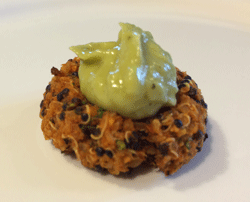 2/3 cup (160 ml) quinoa, dry (or about 2 cups cooked and eliminate the broth)
1 1/3 cups broth or stock (chicken or vegetable work well for this)
1 14 oz. can cooked garbanzo beans, drained and rinsed
10-15 fresh basil leaves, chopped (2-3 tbsp fresh, chopped)
1/2 tsp (2.5 ml) dried oregano (1 tbsp fresh, chopped)

1/2 tsp dried thyme (1 tbsp fresh, chopped)
1/2 cup (120 ml) fresh parsley, chopped

1 clove garlic, chopped (about 1 tsp)

1 6 oz. can (170 ml) tomato paste

1/2 tsp salt

avocado mayo with carmelized onion and basil (see recipe below)


Directions:
If your quinoa is not pre-rinsed, rinse well and drain. Bring the broth to a boil in a medium pot over high heat. Add quinoa, lower heat to simmer, cover and cook for 20 minutes. Check the quinoa; if the liquid is not yet absorbed, cover and cook for 5-10 minutes longer, until the liquid is absorbed and quinoa is softened. Set aside.

Preheat oven to 350F (180C). Line two cookie sheets with parchment, or spray with nonstick spray.

While quinoa is cooking, drain and rinse your garbanzo beans and place in food processor. If using fresh herbs, you can roughly chop them and put them in with the beans. Add roughly chopped garlic clove. Pulse herb and bean mixture until almost smooth. Place mixture in a large bowl and add the tomato paste, cooled quinoa and salt. With a spoon or clean hands, mix the "dough" until well combined.

Using a small ice cream scoop or tablespoon, scoop the mixture and roll into balls. Place on cookie sheets and, using your finger, make a small depression in the middle, flattening them out a bit.

Bake in preheated oven 25 minutes, rotating the pans about halfway through, until the balls are dry and well browned on the outside.

While baking, make your avocado mayo.

Let cool a bit. Place a dollop of avocado mayo in each depression on top.

Serve immediately. If not serving immediately, do not add the mayo, and store in a covered container in the refrigerator up to 5 days. Makes about two dozen. May be frozen as well.
Note: This is a good recipe using leftover quinoa!
---
Avocado Mayo with Carmelized Onions and Basil

from Dr. Ben Kim
Makes approx. 1 cup
Ingredients
½ onion, sliced
2 tbsp extra virgin olive oil (divided)

1 tbsp fresh basil, chopped

1 garlic clove, peeled and minced

1 ripe avocado, halved, pitted, scooped out of skins, and cubed
1 tbsp fresh lemon or lime juice
2 tsp Dijon mustard
sea salt (to taste, about 1/2 tsp)
black pepper, to taste, about 1/8 tsp)
1 tablespoon apple cider vinegar
1 tablespoon raw honey or 5 drops liquid stevia (optional)
Directions
Place the onion and 1 tbsp oil into a skillet over medium low heat.

Cook for 20-25 minutes stirring occasionally until the onions turn golden brown and caramelize. Let cool to room temperature.

Meanwhile, combine basil, garlic, pepper, and sea salt in a small food processor and blend until ingredients until well chopped.

Add avocados to food processor and blend until smooth. Blend in remaining 1 tbsp. oil and lemon or lime juice.

Add the caramelized onions, apple cider vinegar, honey or stevia, and dijon mustard, and blend until fairly smooth.

Store in the refrigerator and use within a couple days.
---

These are the most adorable little treats and sooo tasty! Best part is they are non-dairy and non-grain! A great option for a holiday dessert, expecially if you use

strawberries

in the filling in place of the blackberries and top with blueberries! I made these in a mini-muffin pan so they are just one or two bites of deliciousness!

Lemon Blackberry Cashew Cheesecake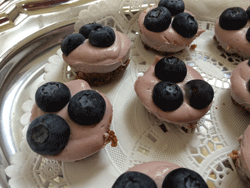 Adapted from Gabrielle St.Claire on MindBodyGreen
Makes 6 muffin pan-sized cheesecakes or 2 dozen bite-sized treats
Ingredients for the crust
1/2 cup dry nuts (pecans or almonds would work)

1/2 cup dates

2 tablespoons shredded coconut

1 teaspoon cinnamon
Ingredients for the filling
10 ounces raw cashews (soaked for a few hours)

1/2 lemon, juiced (about 4 tsp.)

1 teaspoon lemon extract

3 tablespoons agave, honey, or 5-8 drops of liquid stevia (as desired)

1/2 cup coconut cream

1-2 packages of blackberries (or for a 4th of July variation, 8 medium strawberries and a small container of blueberries)
Instructions
1. In a food processor blend the nuts, dates, shredded coconut, and cinnamon until finely chopped and sticky. Press the crust into the bottom of a muffin pan. (For small tartlets, about 1 rounded tsp for each.)
2. Drain soaked cashews and blend in a food processor or high speed blender with lemon juice, lemon extract, sweetener and coconut cream. (Add strawberries for holiday variation and blend until smooth and pink!) Scoop from the food processor and place evenly on top of the crust. (For small tartlets, about 1 tbsp for each.)
3. Take a handful of blackberries and pulse in a food processor and swirl into the filling mixture. Top with blackberries. (For holiday version, place 3 blueberries on top if each tartlet.)

4. Put in freezer for at least 60 minutes or more until frozen. Take out and let sit at room temperature for a few minutes to soften. Run a knife around the edges and lift out of tin. Transfer to serving tray. Serve immediately or store in fridge or freezer loosely covered.

Hope you have a wonderful safe 4th of July.
Yours in Health,
Evey