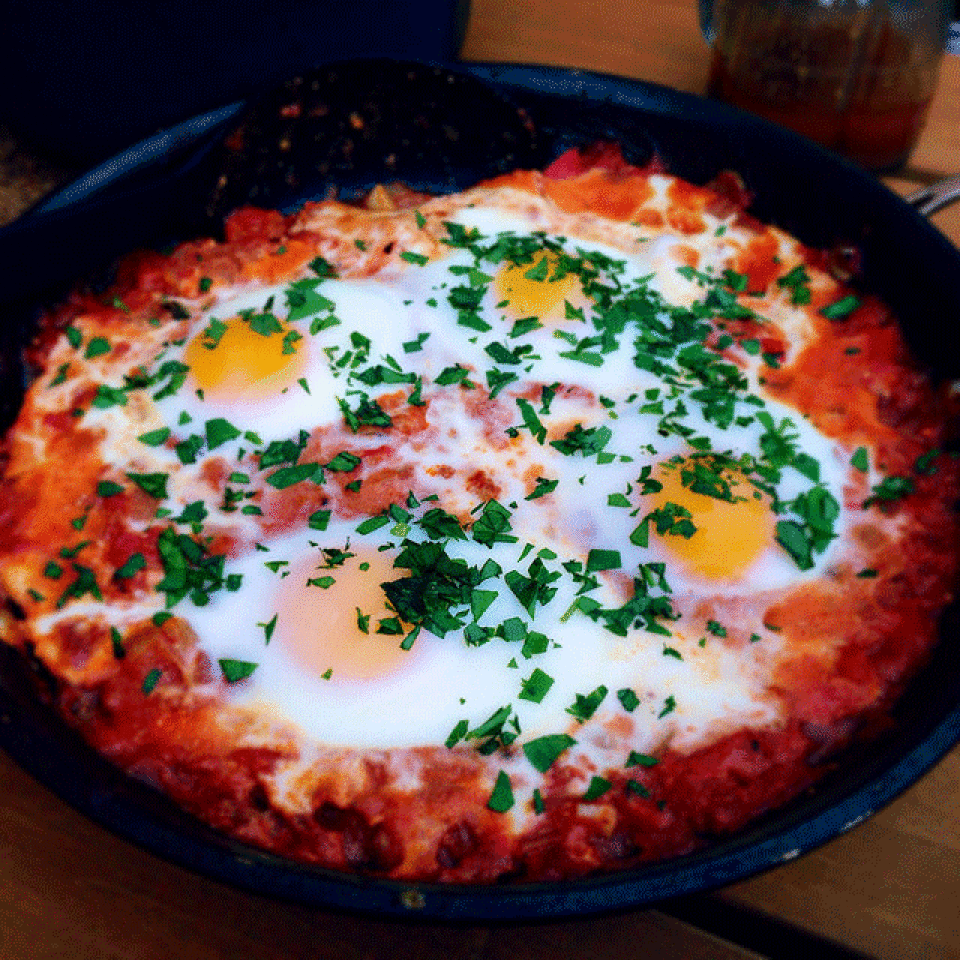 Photo credit: Shakshuka by Joy via Flickr/BY CC

Here is another breakfast recipe that will help you use up last night's leftovers! Packed with fiber, healthy fats and protein, this dish will fill you up and keep you satisfied for hours.

In keeping with the "What Can I Eat For Breakfast?" theme, I thought I would share this wonderful recipe that has its roots in Middle Eastern culture.

I was first introduced to this dish on our trip to Israel and I was hooked! We stopped by Dr. Shakshuka's Restaurant for the traditional dish that consists of eggs poached in a sauce of tomatoes, chili peppers, and onions, often spiced with cumin and served with pita. It is delicious made this way, but what I like is you can "mix it up" by using whatever ingredients you might have in your refrigerator. However you decide to make it though, it is a great way to start your day.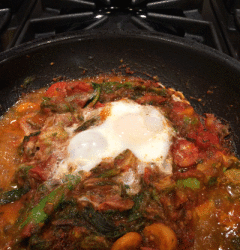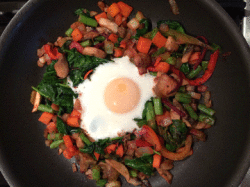 The photo above left is a version of the dish I made using leftover salad (yes, salad!) with tomatoes and carrots from my garden. I added in chopped avocado too to give it a wonderful creaminess. Don't have any fresh tomatoes? Feel free to use a can of diced tomatoes. You could also add in any roasted veggies you might have (see photo on the right,) or cooked zucchini or summer squash. Eggplant would be good too. And, of course, there is always leftover sauteed greens such as kale, spinach, collard greens or Swiss chard. You are only limited by your imagination (and leftovers)!

Here is the more traditional recipe:

Shakshuka: Middle Eastern Poached Eggs in Spicy Tomato Sauce

This delicious Middle Eastern dish can be made the traditional way as in this recipe, or try using leftovers to clean out the refrigerator. Some ideas include salad, kale, greens, carrots, avocado...the options are endless!
Prep Time: 15 minutes
Cooking Time: 12 minutes
4-8 servings
Ingredients
¼ cup olive oil
1 clove garlic, minced
1/2 medium onion, peeled, diced
1 medium green or red bell pepper, diced OR other mild chili pepper such as Anaheim or Serrano
6 tomatoes, sliced OR 2 cans (14 oz. each) diced tomatoes
2 tbsp tomato paste
1 tsp cumin
1 tsp paprika (hot or sweet, your choice)
pinch of cayenne pepper (or to taste)
1/2 tbsp salt
pepper to taste
6-8 eggs
Optional: 1/2 - 1 tsp harissa paste (a spicy hot North African chili paste)
Optional: 1/2 lb lamb sausage (merguez is the traditional Middle Eastern choice)
Garnish: 1/2 tbsp fresh parsley, chopped

Directions

In a large cast-iron skillet, heat the vegetable oil over medium heat. Add onion and cook 2 minutes until just translucent. Add the garlic and cook until browned, 1 to 2 minutes more.

Add optional sausage and peppers and cook until the sausage browns, about 2 minutes.

Add tomatoes, tomato paste, and optional harissa paste to the pan and cook until softened, 2 to 3 minutes. Add the cumin, salt, pepper, and paprika. Stir until well combined.

Lower the heat to medium-low. Make a few wells in the sauce and carefully crack the eggs into them. Cook until the whites of the eggs set, 3 to 5 minutes, popping the egg white bubbles with the tip of a sharp knife if necessary.

Remove the skillet from the heat, sprinkle with chopped parsley and serve.
Hope this inspires you to continue to think of new ways to start your day with a healthy breakfast!

Yours in Health,
Evey

P.S. This makes a wonderful dish for lunch or dinner too!