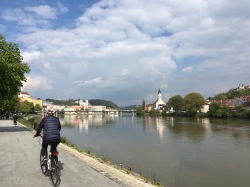 Traveling can be a thrilling adventure, but it isn't always kind to our bodies!
I just returned from a wonderful trip to Dublin, Ireland and cruised the Danube River through Hungary, Slovakia, Austria and Germany (whew!) The experience was magical. I loved the architecture as much as the countryside, and all the history and culture that goes with it. And I always love talking with the locals, and especially sampling local cuisine.
For me, the joy of traveling is being able to sample what different cultures have to offer. That sometimes means I don't have total control over what I do from day-to-day, which can include what food I eat or the amount of exercise I get. But I try to embrace this as part of the adventure and allow myself to relax a bit; after all, it is a vacation, right?
All of this activity means my "normal" routine is totally thrown off for a while. I accept (and welcome) the change, but busy schedules and new foods can sometimes have undesirable consequences.
Here are some of the strategies I employ when traveling to minimize discomfort, jet lag, digestive problems, and over indulging.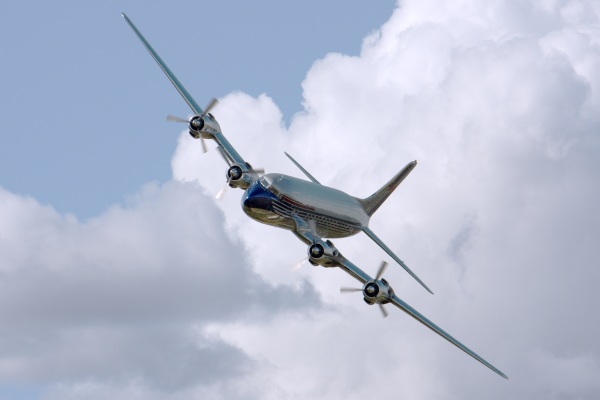 Plane Travel
Keep comfortable: Airplane trips can be hard on our bodies. For several hours we are tightly crowded together without being able to move around freely. It is important to stay as comfortable as possible. I like to dress in comfortable, loose clothing that doesn't bind or restrict blood circulation. I find exercise clothes are great for this and my favorite thing to wear is my black Yoga pants with a zip-up jacket.
Temperatures on a plane can be unpredictable too. Sometimes it's too hot, sometimes to cold. To keep comfortable, I like to wear layers including a cami and my light jacket. I always travel with a pashmina that I can wear as a scarf, shawl or use as a light blanket over my legs and feet if necessary.
Keep hydrated: Airplane air is very dry and it is important to keep hydrated. But let's face it; there are no healthy drink selections on a plane. Your best bet is to stick with water. If possible, bring your own water bottle and fill it up with water after passing through security. There are special water fountains at our airport that are specially equipped with a spout to fill bottles.
If I am in the mood for something else to drink while on board, I have a selection of teabags that I bring with me and ask the flight attendant for hot water.
Try to avoid the temptation to drink alcoholic drinks, as they are very dehydrating. Among other things, this can lead to constipation, which can ruin the first few days of your trip.
In-Flight Food: It is also good to avoid the processed snacks that are being handed out. Instead bring some fruit and nuts from home. I like to make up my own trail mix that includes almonds, cashews, pepitas, sunflower seeds, maybe some raisins and dried coconut. Some other options are veggies sticks with a small travel-size container of hummus. I sometimes buy a cheap container that I don't mind throwing away for this purpose.
If you forget to bring something along, you can also purchase a banana or apple from Starbucks (they are everywhere) or other food vender in the airport. Just be forewarned, you will pay a premium for the convenience, but it is better than being hungry and reaching for the pretzels or other processed snack being offered in flight!
If you are flying during lunch or dinnertime, you can bring a salad from home in a reusable container. You can pass through security with food if it doesn't contain liquids or gels. From personal experience I know that you are NOT allowed to bring an entire container of homemade sweet potato hummus with you UNLESS it is frozen! It is considered a gel.
If you do find yourself purchasing something at the airport, look for a healthy salad to-go. I try to get something with a hard-boiled egg and chicken with lots of cucumber, tomato, and dark, leafy greens. Avoid the iceberg lettuce if possible. Get the salad dressing on the side and use it sparingly, as they tend to be highly processed with added preservatives, sugars and other chemical additives. If you are at a restaurant, ask if they have oil and vinegar, and dress the salad before you leave. I love using balsamic vinegar if they have it. I also add a dash of salt and pepper.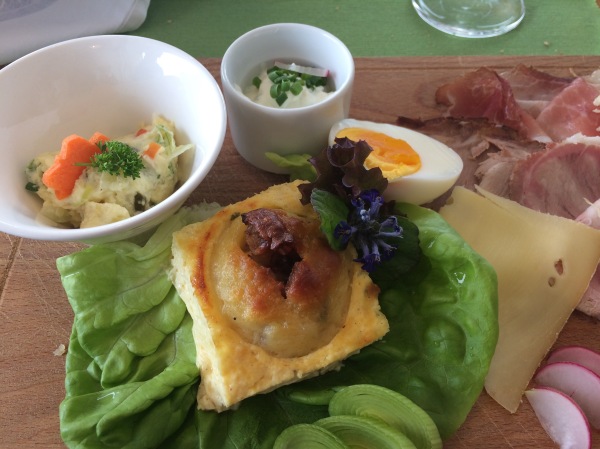 The photo above is from the farm-to-table FARM we visited in Austria! Everything was from the farm and the surrounding area.


Eating Healthy
When at home, it's easy to find healthy snacks and ingredients for meals. But when on the road, it can be difficult to find these foods. I don't let this stress me out, but I do try to make THE BEST CHOICES in a given situation.
Breakfast: Many times I find myself in a hotel that has a free continental breakfast. Some of these are fairly healthy, others not at all! I avoid eating the cold breakfast cereals, breads, meats, waffles, and even the yogurts. They tend to be loaded with preservatives, fillers, sugar, thickeners, coloring agents- you get the idea. I reach instead for a hard-boiled egg and fresh fruit. If they don't have a selection of teas, I always have mine handy in my purse. Since I don't know if the scrambled eggs at the lower budget hotels are fresh, from powdered eggs, or have additional fillers added to them, I try to avoid them.
I was lucky enough on this recent trip to have two fresh poached eggs every morning. Before having my eggs, I always like to have a bit of fresh fruit, and was happy to see they also had a prune compote at the buffet – I know prunes, right? Who eats prunes? – I actually love their flavor and they are packed with fiber, something that I always try to include in my diet, especially when I am traveling. It helps keep digestion moving. If you haven't tried them since you were a kids, you might want to consider adding them in again.
Restaurants: If you are staying at a hotel with a mini-fridge or an apartment while traveling, make sure you stock up on at least healthy breakfast items and snacks. You can google a local grocery store nearby. When traveling abroad, I love to stop into local shops to see what they sell. It's part of the experience for me.
Chances are pretty good though that you will be eating at restaurants most of the time, so let's take a look at some healthy eating strategies.
I love sampling regional foods. I enjoy food and one of my goals while traveling is to enjoy the flavors of the region, but without overdoing it. When eating at a restaurant, my philosophy is to make the best choices that are available.
One way to do do this is to avoid the breadbasket, especially if it only contains your standard white bread. I broke my "rule" during this trip and actually sampled a few of the breads. They were much heartier (i.e. more solid) and chocked full of whole seeds and grains. That's something you rarely see in the restaurants in the US.
When it comes to entrée choices, I look for a dish that has protein and vegetables as its main ingredients. I avoid dishes that have noodles, pasta or rice as the main ingredient; I also avoid deep fried foods. I try to include as many colorful vegetables as possible (which I found wasn't always easy in Eastern European countries.) Sometimes the only way to do this is to order a side salad or vegetable dish. If a dessert is included with the meal, I try to limit myself to a few bites or opt for one that has fruit in it. If chocolate is involved, I stick to a small bit of dark.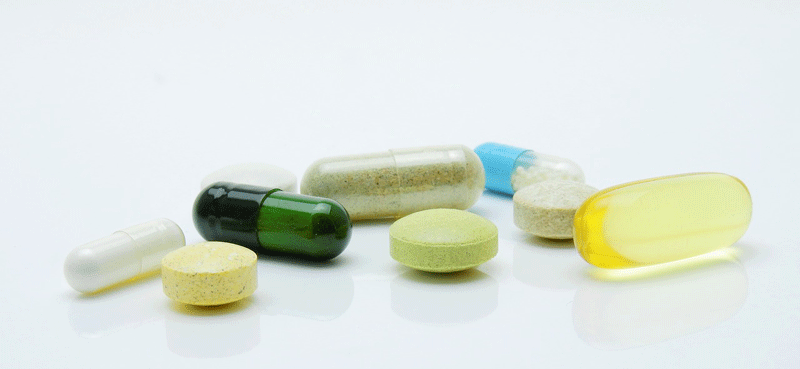 Vitamins and Supplements
When traveling, you never know what your diet might look like. I like to bring along a multivitamin, some extra Vitamin C, and maybe some zinc in case I feel a cold coming on. I like to think of vitamins as a little added health insurance, since I am never sure what I will be eating and if my diet will be balanced.
I sometimes take along some ashwagandha. Ashwagandha is an adaptogen that helps our body deal with fatigue and the different stresses that travel can put on it (for example time changes, different foods, and changes in exercise routine.)
More recently, I have started bringing a probiotic along as well. The brand I use at home needs to be refrigerated, so when I travel I pick up one that I can travel with. I look for one that has a variety of strains with over 10 billion active colony-forming units (CFUs) per dose. You want a variety of strains because each assists the body in different ways. For instance, some can help with digestion, while other can help prevent illnesses such as diarrhea. Probiotics feed on healthy vegetables and furits, another good reason to add in as many colorful vegetables as possible to your meals.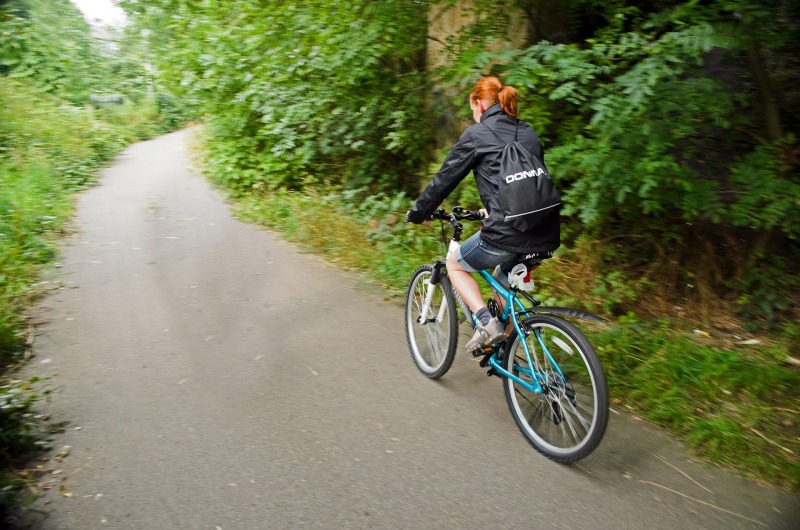 Exercise
Sometimes when traveling I am able to fit in an exercise class or two, but when touring like this last trip, my exercise routine consists mostly of walking. I try to walk everywhere. Plus it is a great way to explore a city and really get a feel for the people and culture. If public transportation is good, I will use that. You still get in extra steps walking to the subway or bus stop. And I try to stand rather than taking a seat. Trying to balance in some of those jostling railway cars can be a great workout for your abs!
In the airport I try to avoid the moving walkways and, if I don't have luggage with me, I take the stairs wherever possible. While waiting at the gate, get up and walk around a bit or stand while checking your emails! Little things like this can add up.
In this past trip, I was pleased to see that at in all of the cities we stopped almost everywhere there were bicycles that you could rent. We even had the opportunity to bicycle along the Danube River. What a great way to get the blood pumping.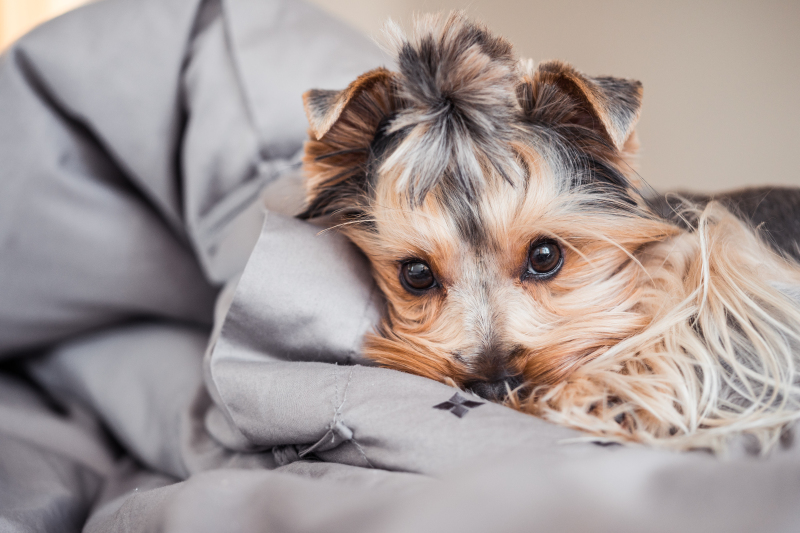 Sleep
And lastly, I try to get a good night's sleep! That can be very difficult when you are touring and want to savor every last minute. But lack of sleep can run you down and make you more susceptible to illness, a real hazard when you are traveling.
If you find you have difficulties sleeping, before going to bed you might want to try taking melatonin (a hormone from the pineal gland) or valerian root (an herb.) For some, melatonin helps regulate sleep cycles and its users report sleep better. Our body produces melatonin on its own and sunlight helps to do this, so you might want to try to get out and walk around when you arrive at your destination to help your body adapt to jet lag more quickly.
Hotels in European countries can be a bit noisy. So if you tend to sleep lightly, you might want to try wearing earplugs and an eye mask. These work great on the plane ride as well. This way you will be refreshed and ready to go out on that walk when you land.
I try to wake up and go to bed at similar times everyday. Eight hours is ideal, but I find I am more likely to get between 6-7 hours when touring. Every body is different. I encourage you to listen to yours and give it the rest it needs.
Well, these are some of my suggestions for getting the most out of your next vacation. If you have any questions or would like to explore some of the suggestions here, feel free to contact me or leave a message below. I would be happy to talk with you directly for a free health consult.
Have any of these tips worked for you? Do you have some travel tips that you would like to share? I would love to hear your suggestions!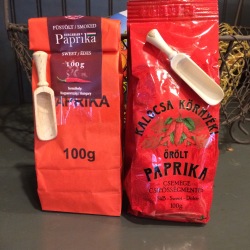 P.S. I had a wonderful time in Budapest this trip and was happy to explore the local market where I bought some Hungarian paprika.

Don't know how to use paprika? Neither did I! If you are interested in some recipes and tips for using this unique spice, let me know and I will add you to my monthly newsletter with healthy lifestyle tips and, of course, recipes!