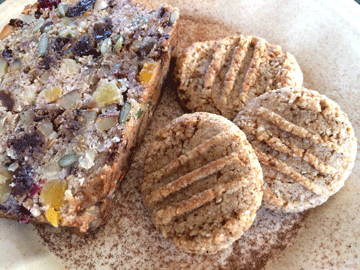 This time of year brings up wonderful memories of making holiday cookies with my mom and siblings. I find myself looking for new recipes that are "healthier" versions of my favorites. I am happy when I come up with treats that, while not as sweet or flaky as those of my childhood, really satisfy. Instead I use fruit and nuts to add in flavor and healthy ingredients.
Here are two new treats that I am adding to my holiday favorites, and while they aren't totally guilt-free (they are after all treats,) I can feel good while indulging and sharing holiday cheer with my family.
Hope you get a chance to enjoy these! Let me know if you try them.
Yours in Health,
Evey


A Better Fruit and Nut Bread
This is a great take on the traditional fruit cake. It is sweet enough to satisfy a snack attack and healthy enough to have for breakfast! This is a dense bread and tastes great toasted with a pat of grass-fed butter. It slices well straight from the refrigerator.

The fruits and nuts I use vary depending on what I have in the pantry. Experiment with what you have or use some of the suggestions below. Just make sure the dried fruit you use doesn't contain added sugars. Craisins and blueberries usually have this added ingredient. I have used fresh cranberries sparingly and really enjoy the tart that they bring.


Ingredients
2 ripe bananas
2 large eggs, lightly beaten
1/4 cup unrefined coconut oil, melted
2 cups almond flour
1 tsp baking powder
1/4 tsp salt
2 Tbsp flax seeds (whole)
2 cups rough chopped nuts (I use almonds, pecans, walnuts, and black walnuts.)
2 cups rough chopped dried fruits (I like apricots, figs, cranberries, dates, and raisins)
Instructions
Preheat oven to 350°F
Line a medium size loaf pan with a sheet of parchment. I usually extend the paper on two sides so I can lift the bread out easily once it is baked.

In a large mixing bowl, combine bananas, beaten eggs, and melted coconut oil. Having the eggs at room temperature helps to keep the oil from solidifying as you mix.

In a separate bowl, combine the flour, baking powder, and salt and blend well. Add to liquid ingredients and stir to combine.

Fold in the fruits, nuts, and seeds and blend until everything is well distributed.

Turn into the loaf pan and spread out the dough evenly, and into the corners.

Bake for 40 minutes or until starting to turn golden and a toothpick inserted in the center comes out dry.

Let the bread cool completely before slicing. I find this holds together when cool, so I like to store in the fridge and cut a slice before using.



Chai Spiced Cookies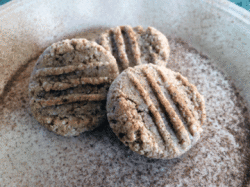 This is a lightly spiced cookie. If you like more of spicy bite, feel free to add more of the ginger and cardamom.
True confession, this recipe does have a little bit of added sugar. I like to use coconut sugar because it isn't as refined as white sugar. It has a low glycemic index, and contains some vitamins and minerals. You could try adding some pureed dates (1/4 cup) instead of the added sugar.
Makes about 3 1/2 dozen, 1 inch cookies
Ingredients
2 cups blanched almond flour
1/4 cup coconut flour
1/4 cup coconut sugar
1/2 teaspoon baking soda
1/4 teaspoon cream of tartar
3/4 teaspoon ground ginger
3/4 teaspoon ground cinnamon
1/4 teaspoon ground cardamom
1/4 teaspoon ground cloves
1/4 teaspoon salt
1/4 cup (56 grams) coconut oil, melted
1/4 cup (60ml) maple syrup
1 teaspoon vanilla
1 large egg
Directions
Preheat the oven to 350°F and line a baking sheet with a piece of parchment paper or silicone mat.

In a medium mixing bowl, stir together the dry ingredients (almond flour through salt).

In a large mixing bowl, mix together the melted coconut oil, maple syrup, vanilla and egg.

Add the dry mixture to the wet and stir just until combined.

If the dough is too sticky, place bowl in the refrigerator for 30 minutes or until the dough is firm enough to roll into balls.

Roll a teaspoon amount of dough into a ball for each cookie, placing them about 2" apart on the prepared baking sheet.

Using a fork press the balls into a flat cookie. If the fork begins to stick to dough, wet it with water. Cookies should be about 1 inch around.

Bake for 6-8 minutes or until the tops are firm and no longer wet. If you like a chewy cookie remove cookies to a cooling rack to cool completely.

If you like a bit more crunch to your cookie, use a spatula to flip each cooking and cook 2 minutes more. Remove and let cool before storing in an airtight container for up to 5 days.
Adapted from Texanerin Baking.