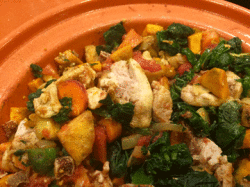 So another Thanksgiving has come and gone. And once again, you may be wondering what to do with those leftovers.
Rather than just reheating your turkey this year, why not try adding some new flavors to spice up that all-too-familiar Thanksgiving staple?


Have you ever had a Moroccan stew?

It is a wonderful blend of sweet and spicy flavors. Turns out turkey tastes great with the surprising flavors of cinnamon, ginger and cumin. And it is SO EASY TO MAKE.

You can vary this recipe depending on what you have in the refrigerator.

Here are some suggestions:

I added figs to give it a pleasant sweetness this time, but you could easily add raisins or dates.

Feel free to add in any leftover veggies you might have in the refrigerator. Some options are green pepper, eggplant, parsnips.

I have used Kuri squash, sweet potato, and Butternut squash. Each comes out great. I would think pumpkin would work as well. Sweet dumpling, delicata, acorn, or kabocha squashes would be good too. If you are curious about all the winter squash that is available, here is a good reference list.

I never miss an opportunity to add in some green leafy vegetables. Here I use a mix of frozen blanched kale and collard greens that I had in the freezer. Feel free to try other greens such as spinach or Swiss chard as well.

I also used bone broth because I had it handy. You can use chicken broth, vegetable broth, or even water.

You don't have to limit the animal protein to turkey either. Try using chicken or even firm tofu. If you don't have leftover meat, you can use fresh and cook it before the rest of the ingredients.
I make mine in a clay pot called a tagine. This is the North African version of a slow cooker. The lid is coned shaped so that as steam rises during the cooking process, it concentrates at the top and then trickles back down the sides, keeping the food moist. But you don't need to use the tagine to make this recipe. Feel free to use a slow cooker (crock pot) or a Dutch oven over a low heat.
This dish makes a hearty meal for about 6 people, or use the leftovers for lunch the next day! Serve over quinoa, or zucchini or butternut squash noodles made using a spiralizer machine.
Moroccan Turkey Stew

Ingredients
2 tbs olive oil
1 clove garlic
1 cup onion, chopped
4 carrots, sliced
1 cup cubed Kuri or butternut squash, or sweet potato (see other suggestions above)
1 green pepper, diced (optional)
1 small eggplant, diced (optional)
2 tsp ground cumin
2 tbsp fresh minced ginger (or 2 tsp powdered)
2 tsp ground cinnamon
1/2 tsp salt
1 can (14.5 oz.) diced tomatoes with juices
4 figs, chopped into 1/4 inch cubes (or 1/2 cup raisins)
2 cups bone broth or water
2 cups (about 1 lb.) leftover turkey meat, chopped
1 cup frozen collards or kale, chopped (or 2 cups fresh)

Directions

Heat oil in tagine or Dutch oven over a medium heat. If you are using precooked meat, skip to the next step. If you are using fresh meat, add it to your hot oil and brown. Remove to a separate plate and keep warm. Add more oil if necessary.

Add your onion and garlic to oil and cook until onion is translucent (about 5 minutes.) Add in squash, carrots, and optional green pepper and eggplant. Continue to cook until beginning to soften (about 7-10 minutes.)

Stir in spices and cook one minute more until fragrant.

Add tomatoes, broth, and figs. Bring to a simmer.

Add turkey/chicken and continue to simmer on low heat for about 25 minutes or until vegetables are tender.

Mix in greens and cover for 1-2 minutes more, until wilted.

If you are making zucchini or butternut squash noodles, heat a sauté pan with oil or butter. When hot, add your noodles and sauté until just tender but still slightly crunchy. Remove from heat.
Serve stew over noodles and enjoy!

Let me know if you make this delicious dish and what, if any substitutions you make! I would love to hear how it comes out!

Yours in Health,
Evey