Looking for a healthier version of your favorite Christmas cookie?
One of my favorite memories growing up was working side by side with my mom and siblings cutting out and decorating Christmas cookies (looking back, I realize what a patient cook my mom was!) I continued this tradition with my children. My kids are all grown up now and living in far off cities, so there are less people in my house to enjoy them, but I still like to bake for the holidays.

At first I found this very difficult because I avoid grains, dairy and processed sugars in my foods. How do you make a satisfying cookie without those ingredients?
Through trial and error, I have developed a few recipes that are incredible and don't contain any grains, dairy or processed sugars! I still make some of my traditional cookies, but I know I have these in the mix so I can enjoy the holiday festivities with the rest of my extended family.
Here is a recipe for my Almond Cookies and one for an Oatmeal Raisin Cookie (I do break the No-Grain rule with this one!) plus a new one I am going to try this year.
Almond Cookies
Makes about 3 dozen cookies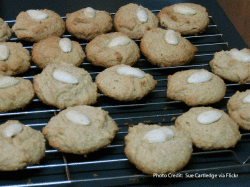 Ingredients
4 cups natural almonds
1 cup almond flour
¼ tsp salt
1/3 cup raw honey plus 10 drops liquid stevia
¾ cup butter, room temperature
1 tsp vanilla
½ teaspoon almond extract
2 large eggs
2 tbsp almond milk
1 tbsp grated lemon peel
1 cup sliced almonds
Directions
Preheat oven to 350°F. Lightly grease 2 cookie sheets with butter or oil.

Place whole almonds in food processor. Pulse until almonds are well ground, but not a paste.

In a medium bowl, mix ground almonds, flour, and salt.

Beat honey, stevia, butter, vanilla, and almond extract in a large bowl at medium speed until smooth and well mixed (it won't be as fluffy as when granulated sugar is used.)

Gradually add ½ of flour mixture. Beat at low speed until well incorporated.

Stir in lemon peel and remaining flour mixture with a spoon.

Drop rounded teaspoonfuls of dough 2 inches apart on the cookie sheets.

Flatten mounds with back of a spoon or wet fingers and top with an almond slice.

Bake 10-12 minutes or until edges are lightly browned. Remove cookies with spatula to wire racks. Let cool.

Store tightly covered at room temperature or freeze up to 3 months.
Oatmeal Raisin Cookies
I make these all year round for a great treat! Don't get scared by the addition of zucchini. It adds moistness and nutrition without detracting from its cookie deliciousness! I use coconut sugar in this recipe because it is less refined than cane sugars and is low glycemic, so it is less likely to spike blood sugar levels. It contains magnesium, zinc, potassium, calcium and 16 vital amino acids. You can also use a scant 1/4 cup raw honey in place of the coconut sugar.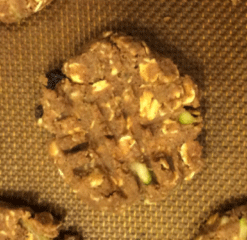 Makes 24 bite sized cookies
Prep time: 10 minutes
Cook time: 20 minutes
Ingredients
6 tbsp butter or ghee
1 large egg
1/3 cup coconut sugar
½ cup mashed banana
½ cup zucchini, grated or shredded in food processor
1 tsp vanilla extract
2 tsp cinnamon (or 1 tbsp if you like a lot!)
1/8 tsp nutmeg (optional)
1 cup almond flour
1 cup old fashioned oats
2 tbsp coconut flour
1 teaspoon baking soda
½ tsp sea salt
2 tsp ground flax seed
½ cup raisins
½ cup walnuts (optional)
½ cup shredded coconut (optional)
Instructions
Preheat oven to 350° F.

Place shortening and coconut sugar in a mixing bowl. Blend until creamed about 2-3 minutes.

Add egg, banana, zucchini, vanilla and mix for another minute until creamy.

In separate bowl, combine cinnamon, nutmeg, almond flour, oats, coconut flour, baking soday, salt, and flax seed. Stir to combine.

Slowly add the dry ingredients to the wet and mix for another minute, scraping down sides, until just combined. Do not over mix.

Add raisins, and coconut and walnuts if adding. Incorporate into batter using a wooden spoon.

Taking a teaspoon amount into hands, roll into ball and place on greased or parchment lined cookie sheet. Leave about 1 ½ inch of space between each cookie. Continue until all batter is used up.

Using a fork, flatten each ball by making a criss-cross pattern on the top.

Bake for 15 minutes or until golden brown.

Let cookies cool on baking sheet for a few minutes, then transfer to a cooling rack.
And here is a new one for me that I am going be making this year from Susan Powers at Rawmazing!



Raw Strawberry Thumbprint Cookies







Do you have any Holiday recipes you would like to make more Paleo? Send it to me and I will see what changes can be made.
Yours in Health,
Evey