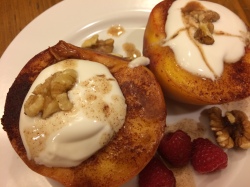 Are you trying to lose weight and stay healthy?
Recent studies have shown that processed sugars in the American diet are the leading cause of weight gain and chronic disease.
A great way to avoid unwanted processed sugar, high fructose syrup and artificial sweeteners is to substitute it with more fruit in your diet.
Luckily, there is still an abundance of super ripe fresh fruit available for the picking or at your grocery store!
The sugar in fruit is bound with fiber (and added nutrients) so they release slower into your blood stream, making you less likely to suffer from sugar spikes that trigger fatigue, foggy thinking, and weight gain.
I love just biting into a whole peach and devouring it in all its juicy sweetness but last night I was thinking of a way to enjoy a peach for dessert without too much fuss or ingredients.
And so "Grilled Peaches and Cream" was born!
This recipe reminds me of a simple snack my mom made for us when I was a girl; diced peaches topped with a dollop of yogurt or sour cream and a touch of honey. Since I no longer include dairy in my diet, I decided to substitute coconut cream instead. The peaches are grilled to release and caramelize their natural sugars, and intensify their flavor. I used a caste iron skillet instead of grilling on the outdoor grill to capture the juices and use them to make a sauce. You could add a bit of honey or maple syrup if you wanted more sweetness.
I thoroughly enjoyed this treat and it only took about 20 minutes to make. It was so satisfying, I saved half for breakfast in the morning!
And, lucky me, I had more peaches, so today I made my Paleo Pear Tart recipe with a peach topping, which I am including below. I am not sure which one I like more!
Let me know what you think if you enjoy these peach recipes, or if you have a peach recipe that you'd like to share!
Yours in Health,
Evey
---
Grilled Peaches and Cream with Walnuts and Raspberries
Serves: 2-4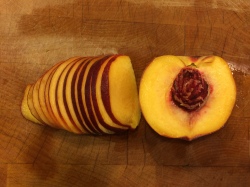 Prep time: 5 minutes
Cook time: 20 minutes
Ingredients
2 large ripe peaches
1 tbsp coconut oil
cinnamon
optional: honey or maple syrup
walnuts, lightly toasted
a few raspberries
2 tbsp coconut cream (canned)
Directions
Wash and cut peaches in half. Remove the stone. Sprinkle cut sides with cinnamon.
Heat a skillet on high heat. Add coconut oil, making sure the skillet is evenly coated. When oil is hot, add peaches to skillet, cut side down. Lower heat to medium and let peaches cook for 1-2 minutes. Reduce heat to low and cover for 12 minutes. Turn heat off and let the peaches sit for another 10 minutes. They should be soft and there should be juices in the pan.
Remove peaches from pan and place on serving dishes, cut side up.
Add 1 tbsp of coconut cream to the hollow of each half. Sprinkle with more cinnamon if desired.
Heat skillet on medium and add a bit of water (about 2-3 tbsp) to loosen the peach juices. (You can add a tbsp of honey or maple syrup, if desired.) Cook until heated through and all the pan juices have been incorporated into the liquid.
Using a spoon, drizzle sauce over the peach halves.
Garnish with toasted walnuts and fresh raspberries.
To toast walnuts: Heat a caste iron skillet on high. Add walnuts; lower heat to medium. Toast nuts, stirring occasionally for about 2 minutes. Turn heat off and let nuts sit in pan, checking occasionally and giving a stir so they don't burn. Remove from pan as soon as they become fragrant, as they can quickly go from golden delicious, to burned! Cool on a separate plate.
Bonus Recipe: Peach Tart
Makes 9 generous servings or 12 bite-size treats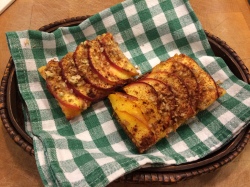 Prep Time: 30 minutes
Cook time: 25 minutes
Crust Ingredients
1 ½ cups almond meal (I make my own by pulsing 1 ½ cups whole raw almonds in the food processor until finely ground)
1/4 cup almond flour
1/2 tsp baking soda
1/8 tsp salt
1 egg
1 tbsp raw honey
1/2 tsp vanilla extract
1 ½ tbsp melted coconut oil
Filling Ingredients
2 large peaches or 3 small
1 tbsp lemon juice
1 tbsp maple syrup
1/4 tsp cinnamon
1 tsp arrowroot starch
3 tbsp chopped pecans
Directions
1. Preheat oven to 350 degrees. Line a 9" by 9" pan with parchment paper.
2. Combine all dry crust ingredients in a mixing bowl.
3. Separately beat egg, add in vanilla extract, maple syrup and coconut oil.
4. Add liquid to dry ingredients in step 2 and mix with a fork until the dough is well combined.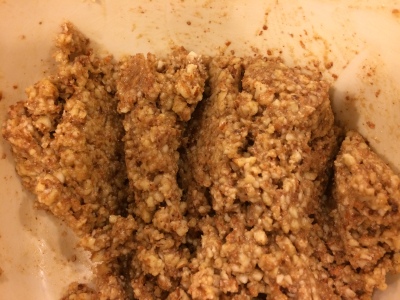 5. Press the mixture into the bottom of the lined pan using wet fingers. I like to place another piece of parchment paper over this and even out the crust by placing a smaller pan on top and pressing down. Bake for 10 minutes and allow to cool.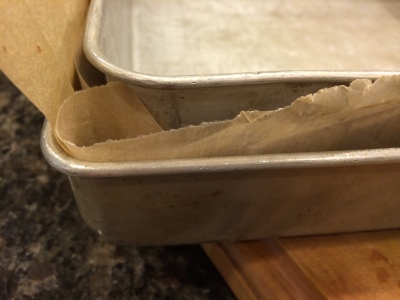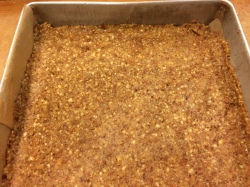 6. Meanwhile, slice peaches in half and remove the stone. Place peach halves cut side down on the cutting board. Using a sharp knife, cut peaches into thin slices (1/8" thick).
7. In a mixing bowl, whisk together the lemon juice, maple syrup, and arrowroot starch for the pie filling.
8. Fill the tart crust with peach slices arranged in layers, pour pie filling mixture over peaches, and sprinkle with cinnamon and chopped pecans.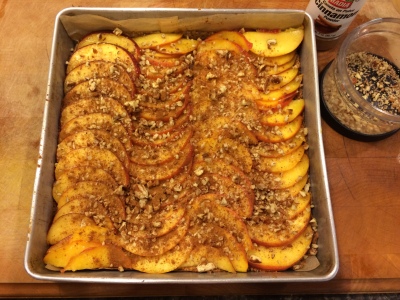 9. Bake for another 15 minutes to finish off the filling. Remove from oven and let cool.
10. Cut into 9 equal squares using sharp knife and serve.