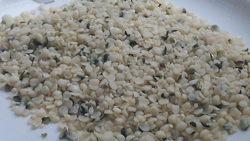 Skip to Wilted Kale Salad with a Creamy Chipotle Dressing recipe.
You may be hearing a lot lately about this "new" superfood called hemp.
Hemp has proven itself to be a significant source of nutrients and regaining its well deserved title. A tablespoon of hemp in your morning smoothie will not only give it a nutritious boost but add additional creaminess. Try sprinkling some over your oatmeal. They add a delicious crunch to any salad as well. Or try substituting regular milk with one made from hemp seeds. Hemp milk can be found at most health food stores.
Read on for more health benefits of hemp and snack bar recipe!
The reality is hemp has been around for a long time. According to the
North American Industrial Hemp Council
, hemp has been used "at least the last 12,000 years for fiber (textiles and paper) and food. George Washington and Thomas Jefferson both grew hemp. Ben Franklin owned a mill that made hemp paper. Jefferson drafted the Declaration of Independence on hemp paper."
We haven't see many hemp products here in the states though because growing hemp has been prohibited in the U.S. since the 1950s. Most of our hemp products today come from Canada. Seems hemp has gotten a bad rap in the past because it is closely related to another plant you may have heard of, marijuana. Unlike marijuana though, hemp contains much less of the acitive ingredients that give marijuana its pychoactive effects,
too little
to cause any effect.
With an increased interest in growing food sustainably to protect our planet, there has been a renewed interest in this versatile plant. It is very quick growing, resistant to pests and disease, and is more than just a food source. Its woody stalk can be converted into cloth and even building supplies.
The seed of the hemp plant is considered by some to be one of the most nutritious seeds in the world giving it the status of a "superfood." It is an instrumental ingredient in a vegetarian diet as it provides 10 grams of easily digestible protein per ounce. In addition, it provides a healthy dose of Omega3, Omega 6 and GLA fats, in the perfect proportions. These essential fatty acids, which are not naturally produced by our bodies, are found in the membranes of most cells of the body and tend to be lacking in the typical American diet.
Hemp also provides fiber, another important element of a healthy diet. Fiber ensures that our gut stays healthy and is able to efficiently absorb nutrients. It helps maintain a healthy balance in our microbiome (a fancy word for the millions of microbes populating our small intestines ensuring proper digestion). And, it helps slow down the digestive process, keeping us satisfied for longer periods of time.
Hemps seeds also provide us with antioxidants, iron, zinc, carotene, B vitamins, vitamin E, chlorophyll, minerals and enzymes. Just as important is what is NOT found in hemp. They contain very low levels of sugar, starches and saturated fats, all elements that can lead to inflammation and chronic illness.
Here is a delicious recipe that will help you get started adding more hemp into your daily foods! Do you have a favorite hemp recipe that you would like to share? I would love to hear from you!
Yours in Health,
Evey
photo credit: Evelyn Parham via Flickr
Wilted Kale Salad with a Creamy Chipotle Dressing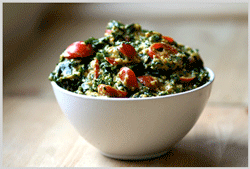 This is a really hearty meal with a kick that's perfect for those cold winter days from the Raw Chef!Serves 2
For the wilted kale
Ingredients
11 oz (300 g) kale
1/2 teaspoon fine Himalayan salt
1 cup baby tomatoes, sliced
1/2 cup hulled hemp seeds (hemp hearts)
For the dressing
Ingredients
2 avocados
1 chipotle pepper* soaked for 2+ hours
1/4 cup olive oil
2 tablespoons lemon juice
Chipotle soak water as needed to blend
*If not using chipotle peppers, substitute with 1/2 teaspoon each of onion powder, cumin, chili powder, garlic powder and tamari (or nama shoyu), or use McCormick's spice mix.
Assembly
Directions
Remove the kale stems, and then wash and cut the kale into small pieces. Place into a bowl, add salt and start to massage the kale until it wilts and takes on a 'cooked' texture.
Add the tomatoes and hemp seeds to the bowl and mix in by hand.
Blend all dressing ingredients in a high-speed blender until creamy, and then mix into kale by hand.