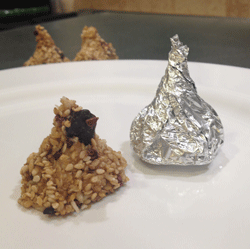 Jump to Recipe
Happy Holidays everyone!
I was thinking of a new holiday treat I could make that would follow some of my diet guidelines of no grains, no dairy and no processed sugars. The result is this little bite I call Sesame Kisses. They are modified from a recipe for Raw Sesame Seed Bars from
www.therawtarian.com
and are packed with healthy ingredients with just enough sweetness to satisfy. They are super easy to make- no cooking necessary! You can form them into little "kisses" as I have done here, or you can press them into a pan and cut them into bite-sized bars. Either way, they are delicious.
So what makes these little treats good for you? For one, they are heart healthy!
Sesame seeds
are especially rich in a monounsaturated fatty acid known as oleic acid, the same oil found in olive oil. It helps lower LDL or "bad cholesterol" and increase HDL, or "good cholesterol" in our blood; thus helping prevent heart disease. They are also a source of protein, anti-oxidants, vitamins and minerals. One of these minerals is magnesium that helps regulate our moods and improve our sleep.
Flaxseed
is an excellent source of Omega 3 essential fatty acid. Traditional diets tend to lack the proper amounts of this vital fatty acid. Since the human body cannot produce this fatty acid on its own, we need to consume enough from the foods we eat. Omega 3 is known to help lower elevated triglyceride levels that can lead to heart disease. It also assists in reducing inflammation, responsible for achy joints and chronic illness.
Coconut oil
is another important oil in our diet. This saturated fat is rich in medium chain triglycerides, which work differently than other types of saturated fat in the body. It is metabolized in the liver to be used as energy and has been shown to have a favorable effect on total cholesterol levels. Coconut oil also exhibits powerful anti-fungal and anti-bacterial properties due to the presence of lauric acid.
If you choose to add the cacao nibs, you will add additional antioxidant flavonoids that have been shown to improve cardiovascular health and protect against cellular damage caused by free radicals.
So go ahead, spread the love and help your heart at the same time!
Drop me a line. I would love to hear what you think about them!
Sesame Kisses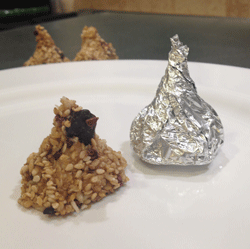 (adapted from Raw sesame seed bar, www.rawtarian.com)
Ingredients
2 cups sesame seeds
1 cup dried fruit (I used a combination of black and white raisins and chopped dates)
1/2 cup dried, shredded coconut
1/2 cup ground flaxseed
1/2 cup tahini
1/4 cup coconut oil, melted
1 tbsp maple syrup (or more to taste)
1 teaspoon pure vanilla extract
3/4 teaspoon sea salt
3 tbsp. raw cacao nibs (optional)
Directions
Combine all ingredients in a large bowl and stir until completely mixed.
Now you can either press the mixture into a 9 by 9 inch square pan and score into ½ inch by 1 inch bars OR
Using your fingers push mixture into a small kiss shape using about ½ tsp of the mixture.
Allow mixture to harden in the freezer. When solid, you can transfer into an airtight container or wrap your kisses in foil.
Either way, store in the freezer until ready to enjoy!
NOTE:
You can substitute a high quality dark chocolate chip for the cacao nibs. Just keep in mind, even though the dark chocolate is good for you, these contain added sugars and may contain milk fats.
Yours in Health,
Evey