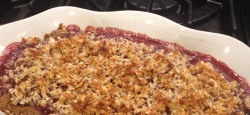 Jump to recipe
Following a whole food diet isn't always easy. I have written before about the benefits of avoiding processed added sugars in your food and going back to using basic ingredients. In general, that is a healthy guideline to follow, but every now and then there are some challenges!
One of those challenges came for my husband's birthday this year, specifically, his birthday cake. I wanted to make something that wasn't too sweet and had no grain or dairy added. My husband's favorite is cherry pie, which is usually very sweet with a wonderfully flaky crust made from wheat flour. I was worried my version wouldn't be up to his "cherry pie" standards. So after some experimentation, I came up with this recipe.
The resulting pie is just slightly sweet. The crust isn't flaky, but has a nice cake-like consistency, and strangely (and my husband agreed with me) it has almost a slight chocolate flavor. It adds an interesting twist to the original. I added some pecan meal that we bought on our road trip through Georgia last year (turns out it keeps well in the freezer!) Maybe that was what added the different flavor? Whatever it is, it taste great.
My husband loved it! So it is with confidence that I am sharing the recipe here. Let me know what you think!
Paleo Cherry Pie
Crust
Ingredients

1 1/2 cups almond flourIngredients
1 cup pecan flour
1/2 tsp salt
1/2 tsp baking soda
1/2 cup coconut oil, melted
1 Tablespoon maple syrup
2 tsp vanilla
1 egg, lightly beaten
Directions
Pre-heat your oven to 350 degrees F.
In a medium sized bowl, mix combine flours, salt and baking soda.
In a small bowl, combine oil, maple syrup, vanilla and egg.
Add wet ingredients to dry and stir until combined.
Pat the dough into a 9 inch pie pan and bake for 10-15 minutes or until lightly browned and slightly firm to touch.
Remove from the oven and let cool slightly.
Filling
Ingredients
1 14.5 oz can of organic tart Montmorency Cherries, in water (I used
Omena Organics brand
)
1 tbsp raw honey
1 tbsp arrowroot
1 tsp vanilla
½ tsp almond extract
Directions
Combine all filling ingredients in a medium saucepan.
Simmer on medium heat for approximately 10 minutes or until mixture thickens slightly.
Turn off heat while making topping mixture.
Topping
Ingredients
1/3-1/2 cup coconut, dried unsweetened
1/3-1/2 cup sliced almonds, lightly chopped
2 tbsp butter, melted (I use
Kerrygold Pure Irish Butter
)
Directions

Mix topping ingredients until combined.
Assemble pie
Add slightly cooled filling to pie crust.
Sprinkle topping over filling.
Bake 12 min at 350 degrees F or until the coconut topping is golden brown.
Let cool before serving (filling will thicken somewhat.)
Let me know how yours turns out!
Yours in Health,
Evey