Skip to Recipe

Photo credit: Flickr @ LexnGer
I know I've written a few blogs within the past weeks and I don't want to overwhelm you. But I thought I'd take one more opportunity to bring you some healthy holiday recipes before Thanksgiving arrives! Here are two wonderful dishes, Mashed Cauliflowr and Pureed Parsnips that are tasty, healthier alternatives to your traditional mashed potatoes.
The holidays are filled with wonderful tempting foods to sample. And what Thanksgiving meal would be complete without mashed potatoes, expecially if they are mixed with butter and chives? Potatoes are a healthy vegetable. They contain a good amount of vitamins, minerals and protein. But, compared to some other vegetables, potatoes have a relatively high glycermic load that can lead to weight gain and other health issues.
Glycemic what? you might ask. The
glycemic load
(or GL) is a number that estimates how much a food will raise a person's
blood glucose level
after eating it. A high spike in blood sugar levels caused by high GL foods over time will eventually cause insulin resistance that can lead to obesity, diabetes and heart disease. For one serving of a food, a GL greater than 20 is considered high, a GL of 11-19 is considered medium, and a GL of 10 or less is considered low.
The
GL of a peeled white potato
is around 26! Compare this to
cauliflower,
with a GL of 1!
Parsnips
and
turnips
are around 4 and 3 respectively. This means that cauliflower, parsnips and turnips will fill you up and satisfy you without spiking your blood sugar levels the way the potato will. You will not experience the fatigue, brain fog, thirst and headaches associated with high blood sugar levels. (And you thought it was just the tryptophan in the turkey that made you sleepy after the Thanksgiving meal!)
Hope you enjoy the following recipes. I find them to have the same pleasing consistency of mashed potatoes, but with surprisingly more flavor.
I would love to hear from you. Do you have some other healthy holiday suggestions? Is there a food that you would love to find a substitution for? Maybe I can help. (See my last blog entry for an awesome healthy Pumpkin Pie Mousse!)
Parsnip and Turnip Puree
This recipe can also be made subbing the turnips with rutabagas, or mix in a little of all three. The turnips make a sweeter puree.
Photo credit: Flickr LexnGer
Ingredients:
1 pound parsnips, peeled and cubed
½ pound turnips, peeled and cubed
½ cup chicken broth
1 tablespoon butter or ghee
½ teaspoon sea salt
¼ teaspoon dried thyme
pinch of cracked pepper
Directions:
Fill a pot with cold water and add the parsnips and turnips. Bring to a boil, then partially cover and cook for 15 minutes, until fork tender.
Drain the vegetables then transfer to a food processor.
Add the chicken broth, butter, sea salt, thyme, and pepper. Puree until smooth.
Source: http://againstallgrain.com/2013/03/20/corned-beef-and-cabbage-with-parsnip-turnip-puree/
Mashed Cauliflower with Roasted Garlic
This is another alternative to mashed potatoes. Just as tasty too! I think it tastes better.
Photo credit: jules at flickr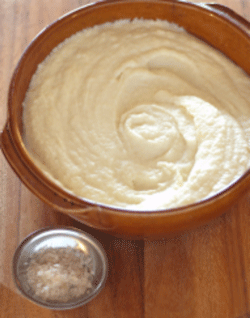 Ingredients:
1 large head of cauliflower
1 tbsp butter or ghee
3 garlic cloves
olive oil
salt and pepper to taste
fresh chives, chopped
Directions:

Place garlic cloves with peel in foil, drizzle with a bit of olive oil, and seal in foil. Place in 400 degree oven for 15-20 minutes until cloves are soft. Remove from oven and let cool.
Cut cauliflower into small florets. Place into a steam basket. Steam for 8-10 minutes or until fork tender.
Remove from steamer and remove as much liquid as possible. I let it sit in the steam basket for a while.
Add cauliflower to food processor along with butter or ghee, salt and pepper. Remove garlic cloves from foil, squeeze cloves out of the skin and add to food processor.
If necessary add milk of choice (I use almond milk) or chicken broth, until it is creamy in consistency. For the record, I never have added any additional liquid.
Pulse until well blended and creamy.
Remove to serving bowl, top with chopped chives and serve immediately.
Yours in Health,
Evey