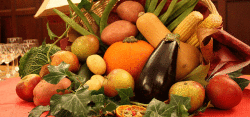 Thank you to everyone who attended my recent talks on Eating Healthy during the Holidays. I promised I would have a brief summary of the list for everyone to review, so here are a few the key points we discussed. If you didn't have the chance to attend this talk, you have another chance. For more information,
click here.
5 key elements to maintaining healthy weight and energy levels throughout the holidays and all year long
These are tips to follow all year long and will ensure that you are at your best energy levels. The healthier you are entering the holidays, the stronger you will be when it comes to making healthy food and lifestyle choices.
Keep hydrated- ideally you want to have 8 glasses of water a day
Maintain your exercise routine- You need to keep moving during the cold winter months. Make yourself a promise that you will either stick to your exercise routine or develop one. Don't try to do too rigorous a program. Develop one you can stick to and feel good about. It will guarantee that you will stick with it longer.Keep a reasonable activity level and try to sneak in activity where you can (park at the far end of the mall parking lot, take the stairs whenever possible, take a break to walk the dog or with a friend)
Get enough sleep- sleepiness can be mistaken for hunger, we reach for sugar instead of taking a needed nap. Try to get 7.5 to 8 hours of sleep nightly. Develop and maintain a bedtime routine.
Load up on vegetables and fruits - Don't go into the holiday season on a strict diet. Accept the fact that there will be a lot of food put in front of you and you might be tempted to eat more than you might want. The trick is not to deny yourself food, but to be mindful about your choices and add in healthy choices whenever possible such as vegetables and fruits. Add color to your meal. Color indicates nutrition and health.
Take a multi-vitamin - Healthy foods are most important, vitamins are our insurance policy for maintaining balanced nutrition.
6 Practical Party Strategies
When the going gets tough, the tough get going! Here are some practical suggestions to follow when you are in social gatherings and have less control over what food is offered and tempted by all those holiday treats!
Make a healthy holiday dish to bring -Whip up a health conscious appetizer or side dish that you know you can indulge in. This can be your go-to food.
Water up! - If you are thirsty you are very likely to gulp down that first glass of wine, or worse yet, a tempting sugary empty calorie holiday cocktail, very quickly. That will lower your inhibitions and increase your appetite. Have water before you leave the house or make that your first beverage at the party. Alternate between alcoholic and non-alcoholic drinks througout the evening. Stick to lighter drinks, such as wine or alcohol with seltzer and lime.
Pace yourself - Don't be the first to the buffet line. Opt to fill your plate first with salad or fruit, then go back for the heavier fare.
Plate it and move it! - Once you decide on what you want to eat, fill your plate and move away from the area. Otherwise, you might be tempted to pick "a little here, a little there" without really registering how much you have eaten. You can always go back to get more if you really want it, but give your brain and taste buds a chance to register what you have eaten.
Distract yourself - Don't look at desserts until you are done with your meal. Fill up on a healthy meal first, desserts will be less tempting on a full stomach. Still feel like eating, even though you are full? Try sucking on an after dinner mint. The feeling of a fresh palate can curb additional noshing. Make a point to get up and move around after you eat.
Choose your treats wisely. Accept that it is the holidays. Don't deny yourself completely. Holidays bring with them great memories. Instead of loading up on foods you can have any time of the year, save your indulgences for items that are truly special and unique to the season, like homemade Christmas cookies or that piece of pumpkin pie. Eat slowly. Savor the flavors. I know, easier said than done! When the food is on your plate, give a moment to look at it and be thankful, for the food and the friendship you are about to enjoy. Take time to talk between bites. It will help slow you down. Eating too much is one holiday tradition you can do without. But that doesn't mean you need to give up your favorite holiday foods — you just have to choose them wisely.
Oh, just one last thing! What happens if you do over indulge a bit? Don't beat yourself up about it. The worst thing you can do is throw in the towel and continue down the path of sugary, processed foods. Instead, just go back to the 5 key elements we talked about in the beginning: stay hydrated, eat more veggies and fruit, get enough exercise and sleep, and take your multis!
Yours in Health,
Evey