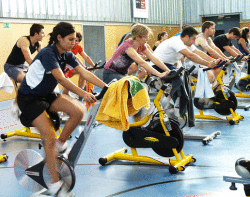 Well, maybe not directly, but it can help you burn fat more efficiently!
I often talk to my clients about the benefits of slow, mindful breathing for weight loss to help engage the parasympathetic nervous system that helps us "rest and digest." But it turns out more oxygen helps us burn more fat.
The other day, I came across an article in the Chicago Tribune entitled "Where exactly does body fat go when you lose it?" (Lenny Bernstein, Health and Family, January 14, 2015) It tells the story of Ruben Meerman, a former physicist, who was curious as to what happens to fat when it is used for energy. Together with Andrew J. Brown, a professor at the University of New South Wales, he wrote a paper published in the British Medical Journal describing the process in simple terms.
As they describe it, oxygen is needed to initiate the conversion of fat into energy. In the process, fat is converted into carbon dioxide and water, and expelled from the body when we breath. In a way, that makes our lungs one of the primary organs for burning calories. They bring in oxygen needed to burn fat calories and excrete what's left of it afterwards!
Merman hopes that knowing this little bit of science will give people one more reason to exercise a bit more, increasing the number of times they exhale and excreting more converted fat!
So now we know. Not only does oxygen help metabolize glucose while we exercise and prevent that painful build up of lactic acid, but can help with fat metabolism as well.
I hope this helps motivate you, too, to get a little more movement in your life. Remember, with every breath you are excreting "old" fat. So get breathing!
Yours in Health,
Evey
Photo credit: Universidad Europea de Madrid via Flickr