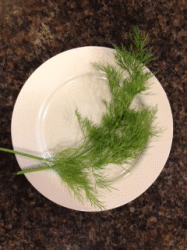 Jump Directly to Recipe
Today I received my first farm share box filled with wonderful greens.
One never knows exactly what is going to show up in these wonderful boxes. I usually have a few "go-to" recipes for whatever Mother Nature brings my way, but sometimes it's a challenge to use up all of this goodness before the next box arrives.
One of the greens that usually leaves me scratching my head is dill. It is beautiful to look at with its delicate wispy fronds and smells wonderful, but how do you use it in arecipe? Especially since it doesn't seem to stay fresh very long. You've got to use it (and use it quickly) or loose it.
I learned the best way to preserve the freshness of dill is to immediately cut the stems at the base and place the bunch in a tall glass with a little bit of water. The dill will stay fresh for a couple of days this way on the kitchen counter. You can put a plastic bag over the tops to keep in more humidity and it will last a bit longer. Try to avoid submerging any of the "leaves" in the water or they will go bad.
So now that I have my dill safely stored, what to do with it? That's when I go to my favorite recipe book…the internet. That's how
I learned to make fermented cucumbers
(also known as pickles)! I make them using salted water, dill, pickling cucumbers. Garlic cloves add a great kick. You can also add pickling spices (I used
McCormick's brand
, but I took out the chili peppers and some of the black peppercorns because it became too spicy for my taste). You can also just make your own spice mix using cloves, coriander, allspice, pepper, mustard seeds.
Since I don't have the cucumbers right now, I thought I'd try something else.
An added bonus, this recipe uses zucchini that is also in season. I used my
Zoodle maker
(a Mother's Day gift from my daughter, also known as a Spiralizer) to make fun noodle shapes, but you can julienne the zucchini and carrots as well by hand or by using a mandoline.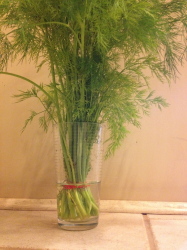 Zucchini and Carrots with Dill en Papillote
This can be eaten as a side dish to a meal or a cold salad.
Ingredients:
1 small zucchini
1 medium carrot
1 T olive oil
1 T white wine
2 tsp white balsamic vinegar
salt and pepper
1 tsp dried basil (or 1 Tbsp fresh, chopped)
1 tsp fresh dill, chopped
Directions:
Preheat oven to 400 degrees F.
Julienne chop or make Zoodle noodles with the zucchini and carrot.
Place vegetables on parchment paper, in a parchment bag, or on aluminum foil.
Sprinkle vegetables with olive oil, white wine, balsamic vinegar, salt, pepper and basil.
Seal edges of parchment paper or foil and bake in oven for 15 minutes.
Open pouch and add fresh chopped dill and serve.
OR chill pouch overnight adding dill to cold veggie salad right before serving.
Here are some other great recipes using dill for me (and you?) to try!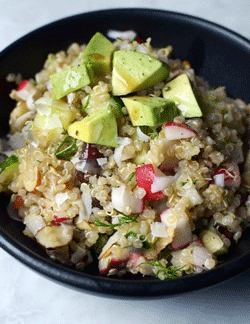 Golden Quinoa Salad with Radish, Dill and Avocado
- This one is great, it uses dill, avocado and radishes (another farm share veggie I am always looking for creative ways to use)! It also uses almonds and dates, two of my favorite foods. I am not familiar with the liquid smoke, but curious about it. Let me know if you have used it before!


Quinoa Lemon and Zucchini Salad-
Here's another quinoa salad recipe from Whole Foods that uses feta cheese with the dill. I might add some chopped cherry tomatoes in with it too!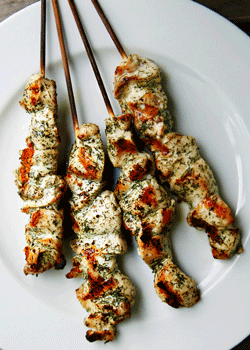 Lemon Dill Chicken Skewers-
This looked good too. Another way to enjoy chicken on the grill. I might even try adding garlic to the mix to give it a Greek seasoning twist.
Salmon and Summer Squash with Dill Vinaigrette-
This sounds like a great alternative to a dill sour cream sauce with salmon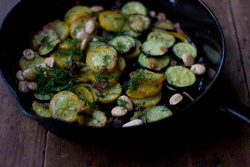 Sauteed Zucchini-
This is a very simple recipe using zucchini (again, in season!), garlic and almonds with dill.
I hope this has inspired you to try some of the fresh dill that is available right now, and maybe some of the other vegetables that are in season as well. Isn't it something how vegetables that come into season at the same time can taste so good together? Coincidence? I think not!!
Enjoy cooking! Please send me an email and let me know what you thought of the recipes.
Yours in Health,
Evey