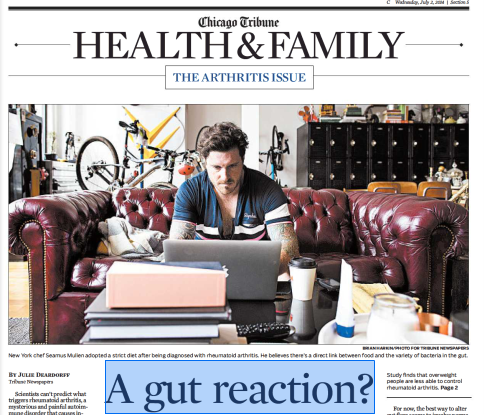 I had just finish my last blog when I opened the Chicago Tribune this morning and saw this article by Julie Dearforff entitled "A Gut Reaction?":
What perfect timing! In it, the author talks about the benefits of probiotics and how they can actually improve your health. The story mentions New York chef Seamus Mullen who was diagnosed with rheumatoid arthritis in 2007. Although the protocol he followed was extreme because of the magnitude of his illness, the message remains the same: healthy eating helped him in his recovery and part of this included eating fermented foods. He also eliminated refined sugars and grains from his diet, which I am also in favor of, but that is the stuff for another discussion!
Here is a short exerpt from the article.
"

He [Mullen] tried the usual treatments [for rherumatoid arthritis], starting with anti-inflammatory drugs, biologics and steroids, with no luck. Finally, he saw a doctor who suspected his arthritis was driven by an imbalance in his microbiome because of an infection.

Mullen said he followed a strict yearlong protocol, one that involved more exercise, more rest and the elimination of refined sugars and grains. He ate more fermented foods, which are naturally high in probiotics, took supplements and low-level antibiotics and avoided meat and poultry unless they came from grass fed animals. Mullen also use acupuncture and diligently monitored how he was feeling.

After nine months, his blood values had returned to normal for the first time in a decade, and his arthritic symptoms had receded, he said. Though he realized his case is anecdotal, he's convinced "there's a direct correlation between the foods we eat in the spectrum of bacteria in our guts," he said.

Food "is a fundamental part of our journey," Mullen said. "It's not enough to say 'Oh, I'll have some ginger today and some greens tomorrow,' and expect a turnaround in your health.

'To really see change, it requires a wholesale reboot how use live your life. Compliance isn't easy, but it's a small price to pay.
"
Since inflammation is the result of so many foods, just think what probiotics can do for all of us.

Yours in Health,
Evey