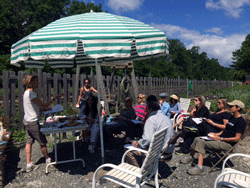 We are very fortunate to have a wonderful
community garden
in our hometown. This garden was founded a few years ago by our local synagogue and since has produced
thousands of pounds
of beautiful produce! The best part of all of this, is that every piece of produce grown is donated to food pantries in the Chicagoland area. I am lucky and proud to be a part of this endeavor.
The garden is run by volunteers. Members from the entire community come to help with the planting, harvesting, delivery to the food pantries, and garden shut-down at the end of the season. The entire facility was built by volunteer labor and donations from local businesses.
If you would like to learn more about this wonderful project, please
visit their website
. I also am a
guest blogger
on the site and guest speaker at the garden. Check out my most recent guest blog
"The Mystery of the Refrigerator Drawers."
Here are some photos of the wonderful produce that has come out of the garden: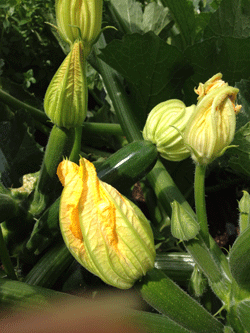 Zucchini plants growing with theblossoms still on.
Root vegetables from last year's harvest.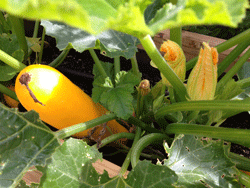 Summer squash on the vine.