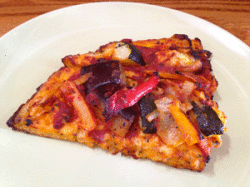 As you can see from the title, this message isn't as timely as I intended it. I wrote it and then never sent it out!
Well, as it turns out, my goof is everyone's gain, because I actually had a chance to make this recipe again while on vacation. So now I have two delicious ways to "load" this pizza crust with healthy toppings. The first recipe is a bite-size appetizer; the second is a full-size pizza with roasted veggies toppings. Both are good enough for guests!
I found this "crust" recipe while looking for an appetizer to make for a Super Bowl party; hence, the original title of this article. I ended up preparing this delicious dish that's good for you too! But, why wait for the next Super Bowl to try something this good? Bring it to your next dinner party, girls/guys night out, or try the second full pie recipe and have it for dinner tonight!
I began this process the way I usually do - I went to the Google! It's amazing how many websites come up for the search "Super Bowl appetizer recipe." (427,000,000 to be exact!) But in all of these recipes, it was surprising how many of them were not what I would call "healthy foods!" And I can understand that. You want to have FUN at a party, not think about what you can and can't eat. Right?!
What can you do to have your (healthy) cake and eat it too?
I decided to take the classic American food, pizza, and change it up a bit.
I like to call it Mediterranean Pizza. Not only is it healthy, just like the people eating the Mediterranean diet, but it tastes good too! Try it, you'll like it!
Basic Crust Recipe: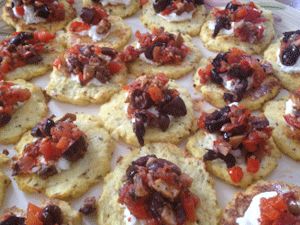 Ingredients:
1 head cauliflower
3 eggs, beaten
1 tsp Italian spices
1 tsp chopped garlic
3 oz goat cheese (I saw some recipes that used cottage cheese here)
½ tsp salt
Instructions:
Set oven to 375 degrees.
Rice cauliflower in food processor.
Fill pot with about 1 inch water and put on stove to boil. Place cauliflower in pot and boil for 5 minutes.
Remove cauliflower and strain through a cotton kitchen towel, squeezing out as much fluid as possible. You may wish to wait for it to cool a bit. Transfer to bowl.
Add remaining ingredients to cauliflower and mix thoroughly. "Dough" will have the consistency of a thick batter.
For appetizers: Spoon 1 tsp of mixture onto cookie sheet lined with parchment or a silicon liner. Shape into small flat round, about 1.5 inches in diameter. Repeat for all of mixture. Bake for approximately 20 minutes, turning at halfway point, until edges are browned. Continue baking until golden brown and crisping on the edges.
For full pie: I lined a large round baking dish with foil. Spray with olive oil. Pour in batter and spread evenly. Bake for 30 minutes. When the pie has set (about half way through baking time) flip pie over onto the first layer of foil. Bake until edges get crispy.
Tip: If you want more of a crust feel bake until edges are crispy and golden. I took me a couple of times to let it bake longe enough, but it was worth it. You don't get as firm a crust as with pizza dough, but it is a good substitute! Baking less time yields a softer crust, but still yummy in flavor!
Recipe 1: Mediterranean Appetizer Topping


Ingredients:
1 cup Chopped White Or Portabella Mushrooms
1 clove Garlic, Minced
1 cup Red Bell Pepper, chopped
Olive Oil
4 ounces Goat Cheese
¾ cups Kalamata Olives, Pitted, Chopped
1 cup Chopped Tomatoes or ¼ can chopped tomatoes
6 leaves Fresh Basil or ½ tsp dried
pepper
Instructions:
Begin chopping, mincing and dicing all the veggies, small enough so that each pizza cake has a little bit of every flavor.
Saute mushrooms, garlic, tomatoes, basil and peppers in olive oil for about 5 minutes until tender.
Combine sauteed mushrooms and peppers in a bowl with the chopped olives, and pepper.
Top each cauliflower cake with your delicious Mediterranean mix. Bake in the oven for 20 minutes on 350ºF, broil (optional) for a couple of minutes at the end to get some golden color.
Serve hot and enjoy!
Recipe 2: Full Pizza Pie with Roasted Winter Vegetable Medley Topping
Tip: make a double batch of veggies the night before and use the leftovers for the pie!
Topping Ingredients:
2 carrots
2 parsnips
1 small eggplant
1 red pepper
1 small zucchini
1 onion
3 cloves garlic
Salt and pepper to taste
1 ½ tsp Italian seasoning mix or to taste
Olive Oil
Instructions:
Preheat oven to 375 degrees.
Chop all vegetables into bit-size pieces.
Mince Garlic
Mix all vegetables together, add enough olive oil to generously coat.
Add in spices.
Place mixture on cookie sheet or roasting dish and bake for 30 minutes, stirring every 10-15 minutes, until veggies are tender when pricked with a fork.
Full Pizza Assembly:
Ingredients:
Tomato or pizza sauce (look for a brand that doesn't contain added sugars)
Mozzarella cheese or goat cheese (optional)
Cauliflower crust from recipe above
On baked crust, spread a layer of tomato sauce, followed by the veggies and then the cheese. Put back in oven for 10 minutes until cheese has melted .
Enjoy! Be creative with your toppings. I would love to hear what you use to top your pizza!
Yours in Health!
Evey