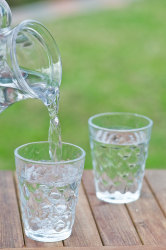 One of my favorite ways of getting in some Primary Food* is exercising! And one of my favorite ways to exercise is going to my spin class at
Spynergy Winnetka.
I love my spin classes. There is always great energy there, a great group of friends to catch up with before and after class, and great music. (It's the only way now that I keep up with what's new with popular music. I even know which artists my daughter is talking about, sometimes!)
But to get
back to the title
, I was invited by Nina Allocco, one of the instructors at Spynergy Winnetka, to write a periodic blog for their website. I welcomed another opportunity to share my enthusiasm for healthy eating and lifestyle.
My first guest blog
deals with the importance of drinking water, especially as it relates to exercise and sweating!
Check it out
and let me know what you think of it!
All this typing has made me thirsty. I'm going now to get a glass of water…
*What are Primary Foods?
The concept of Primary and Secondary foods is central to my philosophy of maintaining a healthy balanced lifestyle. Primary Foods aren't what you might first expect. They aren't the foods we eat. Instead they are elements of our lifestyle that affect our happiness and wellbeing. They include relationships, career, physical activity (such as spin class!) and spirituality. Spirituality in this case can refer to anything that gives someone a feeling of connectedness to a greater whole or a sense of being a part of a greater good. This can mean organized religion to some, but it also can be anything that feeds your soul. It can be found in the appreciation of a beautiful sunset, gratitude for what you have, working on a cause for the good of others, the practice of yoga or meditation.
If these primary areas of your life are balanced, then you are better able to benefit from your Secondary Foods, the things you actually eat for nutrition. If our Primary Foods are not supporting us in a healthy way, no matter how "good" we are eating, we are not getting all the nutrition we can from our foods. The good news is this can work the other way around too; if we are healthy in our Primary Foods, we are more likely to make healthy food choices and get better nourishment as well.
Okay, so now I am getting another glass of water and scheduling my next spin class!