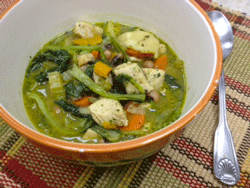 As the weather gets cooler and the days get shorter, I am always drawn to comfort foods. Maybe my body knows that winter is coming and we need to fortify ourselves for the cold days ahead!
I have made this recipe many times before (see MyRecipe.com). This time however, I got the urge to experiment with the wonderful fall harvest vegetables I received from my Angelic Organics farmshare. This recipe seemed the perfect way to put them to use!
The result is a simply delicious chili featuring carrots, parsnips, bell pepper, spinach and celery! I even snuck in some ground flaxseed to thicken the "broth," which added more beneficial fiber and healthy omega 3 fatty acids!
But don't tell my family, they just think it tastes good!
Note: You can make a double batch of this recipe and freeze a portion for up to 3 months. Just omit the pesto and add it when the chili is thawed. This is a great way to have a meal ready when you don't have the time to cook!
White Chili with a Pesto Twist
Yield: 4 servingsIngredients:
2 teaspoons coconut oil or oil of choice for cooking
3/4 cup finely chopped onion
3/4 pound skinless, boneless chicken breast, cut into cubes
1 parsnip, finely sliced
1 1/2 cups finely chopped carrots
3/4 cup finely chopped red, yellow or orange bell pepper
3/4 cup thinly sliced celery
1/2 cup (about 1/2 of a 7 oz. can) chopped green chiles or one fresh green chili, finely chopped
1 teaspoon dried oregano
1 teaspoon ground cumin
1/4 teaspoon salt
1/8 teaspoon black pepper
1 (16 oz.) can black-eyed peas or other white beans, rinsed and drained
1 cup packed spinach leaves
2 cups unsalted chicken stock (I like Kitchen Basics brand)
1 to 2 tablespoons ground flaxseed
3 tablespoons prepared pesto (or make your own!)
Directions
Heat oil in Dutch oven over medium-high heat.
Add onion and chicken, saute 5 minutes.
Add parsnip, carrot, bell pepper and celery. Saute 4 minutes more.
Add chilis and the next 8 ingredients (through broth.) Bring to a boil.
Cover, reduce heat, and simmer 25 minutes. Stir in flaxseed and pesto to heat through and serve.