Photo credit: Rachel Kramer via Flickr/BY CC

One of the things I hear from my clients during this time of the year is that the holiday season can be particularly challenging when you are trying to eat well and maintain a healthy weight.
And there are good reasons for this. The colder temperatures and shorter days trigger our bodies to crave foods that keep us warm and give us energy. That was important for our ancestors who needed winter fat as an energy source, but we have ready access to food all year round. Many of these are processed convenience foods that are high in sugar, fats and calories that cause use to feel sluggish, depressed and gain weight.
On top of this, the holidays are a time of celebrating with friends and family at holiday parties with wonderful rich holiday foods. We tend to eat what is available and eat more of it.
The best way to combat temptation is to be prepared.
Here are a few quick tips that I give my clients:
Don't skip meals. You may be tempted to "bank" your calories because you know you will be going out that night. Your best strategy however is to eat as you normally would throughout out the day. You have control over what foods you eat; those that you know are nourishing and good for you. And when you get to the party you are not starving and noshing on the first thing you see.
Fill up before you go. Alcohol has a way of sabotaging even the best intentions. Make sure you aren't thirsty by having a glass of water before you leave the house, or have a glass of bubbly water with lemon as your first drink of the evening. This will help cut back on the empty calories and also ensure you are making smart food decisions. If you are looking for an alcohol-free drink that is festive, you should try a Pomegranate Spritzer. A good friend of mine (thank you, Tonja H.!) introduced it me at one of my healthy eating programs. Just add fresh pomegranate seeds to a stem glass filled with mineral water. The seeds add a refreshing sweet-tart from fresh taste. Add a lime slice and you have the perfect red and green drink for the holidays! You can also add some vodka if you are looking for an alcoholic drink without a lot of added sugar. The best part though is the pomegranates dance (the warmer the seltzer, the more they move.)

Also, have a small snack with a protein, healthy fat, and fiber before you leave the house. An apple with some almonds is a good choice. This will ensure that you are not hungry when you arrive and you will have some food in your stomach to slow down the absorption of alcohol.
Small samples. If you aren't starving, you will be better able to make healthier decisions about what you eat. Look for foods that have high nutrient value and fill up on those. These are the foods that have lots of vitamins, fiber, and phytonutrients but are low on calories. A good choice is a crudité plate with hummus. If you do opt for the richer appetizers, don't load up on them. Instead, take a small sample of each. This way you will have the satisfaction of savoring the flavors without overeating. If it is a dessert, be mindful of your selection and maybe sample just a little instead of the whole thing. Here are a few recipes for healthier versions of traditional holiday cookies and a delicious Paleo Pear Tart!
Bring insurance. Not sure if there will be any foods you feel comfortable indulging in? Offer to bring an appetizer or side dish. Knowing that there is at least one food will lower insure you won't feel deprived and be tempted to eat other "empty calorie" foods because you are hungry. As I mentioned, hummus is a good one to bring with fresh vegetables. You can also try this sweet potato version. Mashed turnip and parsnips make an excellent substitute for the traditional white mashed potatoes. See the recipe below.
Hopefully these tips will help you survive the holidays and cold winter months by making healthier eating choices!
If you like the idea of changing your diet permanently for better health and energy but just don't know how to begin, I have developed a program called "Eating for Your Best Self."

This self-directed program is designed to allow you to explore what foods give you energy and those that may actually be contributing to weight gain and fatigue, among other ailments. The program comes with a complete Program Guide that gives you all the information you will need to get started, including week-to-week guidelines, a meal planner, food shopping guide, and Cookbook filled with over 50 delicious recipes.

Enjoy the Holidays! I would love to hear if you have any favorite recipes or Holiday Party tips you would like to share.

Yours in Health,
Evey




---
Parsnip and Turnip Puree

This recipe can also be made subbing the turnips for rutabagas, or mix in a little of all three. The turnips make a sweeter puree.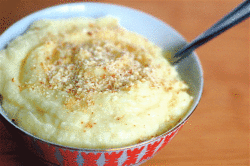 Ingredients:

1 pound parsnips, peeled and cubed

½ pound turnips, peeled and cubed

½ cup chicken broth

1 tablespoon butter or ghee

½ teaspoon sea salt

¼ teaspoon dried thyme

pinch of cracked pepper

Directions:

1. Fill a pot with cold water and add the parsnips and turnips. Bring to a boil, then partially cover and cook for 15 minutes, until fork tender.

2. Drain the vegetables then transfer to a food processor.

3. Add the chicken broth, butter, sea salt, thyme, and pepper. Puree until smooth.

Recipe source: http://againstallgrain.com/2013/03/20/corned-beef-and-cabbage-with-parsnip-turnip-puree/
Photo credit: jacqueline via Flickr/BY CC