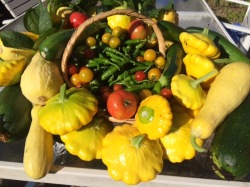 As most of you have probably heard or read, the U.S. government recently came out with its 2015-2020 Dietary Guidelines which are designed to help Americans eat a healthier diet. The guidelines attempt to outline how people can improve their overall eating patterns and offer several recommendations on how to do this.
Every 5 years since 1980, a new edition of the Dietary Guidelines for Americans is published to "help promote health and prevent chronic disease for current and future generations." Its message has remained fairly consistent over the years, giving advice on the amounts of fats, protein, and carbohydrates (that includes sugar) we should be consuming.
There was however some interesting new recommendations in this new publication that bear looking at.
Eating patterns
One of the overarching themes in the document focuses on the importance of eating patterns, a new concept for the guidelines. In the past the guidelines have focused on individual nutrients (the fats, proteins, sugars, etc.) Instead, the new report focuses on "the combination of foods and drinks you eat over time."
This idea of looking at your diet as the sum of all its components and not individual calories is not new. It is a topic that comes up quite often when I am talking with clients. They often want to know whether they should be eating a specific "superfood." I emphasize that one fruit or vegetable is not a "magic bullet" that will instantly make them healthy and lose weight. Instead, one must include a variety of healthy foods to ensure a well-rounded diet.
Instead of obsessing over avoiding certain a component of food, such as saturated fat or sodium, you should instead be thinking about what has been on your plate over the course of a day or week. Everybody's eating pattern will look different depending on his or her background and genetics.
The guidelines stress that a healthy eating pattern should include some basic components: a variety of colorful vegetables, legumes, fruits (whole, not juices!), grains, dairy products, a variety of protein foods (animal and plant based sources), and healthy oils. Note the lack of processed foods! These are whole foods that are being recommended. And while there are plenty of arguments as to whether we should be consuming dairy and grains, I do like the recommendation that we get back to basic whole foods.
The basic message is a good one: that a healthy eating pattern should be flexible, adaptable to the individual and his needs, not a rigid prescription.
Sugar Limits
Another guideline recommendation is to limit added sugars in our diet, especially sugary beverages. And while I think the specified daily allowance is way too high (10% of daily calories, about 12 teaspoons of added sugar a day!), they are making the point that we must reduce the amount of sugar in the American diet. Emphasis should instead be placed on replacing these empty calories with nutrient dense foods such as vegetables, nuts, and (naturally sweet) fruits.
Cholesterol Limit
For years the committee recommended limiting cholesterol intake to 300mg/day. They have removed this warning stating "available evidence shows no appreciable relationship between consumption of dietary cholesterol and serum cholesterol, consistent with the conclusions of the AHA/ACC report. Cholesterol is not a nutrient of concern for overconsumption." (Scientific Report of the 2015 Dietary Guidelines Advisory committee) While some individuals may be sensitive to cholesterol and monitor its consumption, for the general population the restriction on eggs is off, allowing us to consume what might possibly be one of the most nutritious foods you can eat. According to Dr. Mercola in his article http://articles.mercola.com/sites/articles/archive/2014/06/07/hard-boiled-eggs.aspx "Eggs are a phenomenal source of protein, fat, and other nutrients, including choline and the antioxidants lutein and zeaxanthin. They are so good for you that you can easily eat one dozen eggs per week, which is actually a simple and cost-effective way to add valuable nutrition to your diet."
Make a Shift in Food Choices
The new guidelines introduce adding small shifts in our daily eating habits to improve our health over the long run, a concept that I whole-hearted support. I like to think of it as taking baby steps. Small changes in and of themselves don't seem like much, but over the course of time they add up. The cumulative effect is permanent self-improvement and better health. Knowing this, you can allow yourself time to make changes and not "beat yourself up" for having a "bad day." After all, small changes are always easier to start back up again. There is always tomorrow to get back on track. Baby steps add up!
Role of Society
The guidelines also points out the important role all segments of society can have in encouraging easy, accessible, and affordable ways to support healthy choices. This includes in the home, schools, communities and food retail outlets.
As you probably know, big business controls much of what gets put onto store shelves, onto our tables and ultimately into our mouths through government lobbying and advertising. Hopefully, this new guideline, acknowledging the influence our environment has on the foods we eat, is a baby step (remember those!) towards making a positive, healthy change in our food policies. Baby steps add up!
I hope you found this short article informative. If you would like to read more, you can find the full report here. http://health.gov/dietaryguidelines/2015/guidelines/ What are your thoughts on the new guidelines? Do you think they help Americans make better choices? Do you think they go far enough in their recommendations? I welcome your thoughts and feedback!
Slow Cooker Metabolism Boosting Soup



Yields: 8 servings | Serving Size: 1 cup

Ingredients

1 tbsp extra virgin olive oil

3 carrots, peeled and sliced

1 stalk celery, diced

1 small yellow onion, diced

1 clove garlic, minced

1 medium sweet potato, peeled and cut into 1" cubes

1 medium zucchini sliced into 1" round pieces

Sea salt to taste

1/2 tsp black pepper

1/4 tsp allspice

1 tsp paprika

Red pepper flakes to taste (optional, spicy!)

1 bay leaf

1 (15 ounce) can organic black beans, rinsed and drained (optional, the beans are for added protein)

4 cups vegetable or chicken broth, low-sodium

1 (14.5 oz.) can organic diced tomatoes (no salt added)

4 cups baby spinach (or kale,) loosely packed



Directions


Saute first 5 ingredients in oil until just softening.

Place mix into slow cooker and add other ingredients, except spinach (or kale) and zucchini.

Cover and cook on low 6 to 8 hours, or until the vegetables are tender, add zucchini during last ½ hour.

Add spinach, stir and continue cooking just until wilted, approximately 5 minutes.

Serve and enjoy!

Tip: If you prefer a thicker stew, after 5 hours of cooking, simply remove 1 cup of soup, along with ingredients, mash ingredients with a fork, return to the slow cooker, stir and continue cooking 1 to 3 hours.

Stovetop Method: Follow the same instructions above for prep, cover, and simmer until veggies are tender, approximately 2 hour. Stir every 15 minutes to prevent sticking. Add spinach at the end of cooking time, remove from heat, cover and allow spinach to wilt before serving.
Yours in Health,
Evey