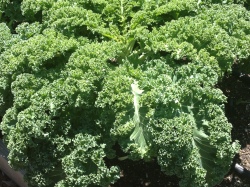 It is hard to go into a restaurant these days without seeing kale in at least one dish on the menu.

It might seem like this dark leafy green arose out of nowhere to achieve "superfood" status. But this hearty, nutrition packed vegetable has been around since Greek and Roman times (they cultivated an early form of kale, known as Sabellian kale,) and until the end of the Middle Ages, kale was one of the most common green vegetables in Europe. It may seem as if Americans are only just recently embracing this green and learning to cook with it, but it's been here since the 17th century when early English settlers brought kale to this country. In the South, kale could frequently be found braised, mixed with other greens such as collards, mustard or turnip, and flavored with bacon. But for most of us, our only experience with kale growing up was as a garnish on the side of our plates. Iceberg lettuce was the king of the salad plate and, thanks to it popularity with Popeye, spinach became the "healthy green."
And while it seems little has been done with kale in the United States, it has a long history with many cultures around the world. In the Netherlands, for example, it is found in the traditional winter dish called "stamppot," a mix of vegetables and potatoes. A similar dish is made in Ireland in the dish called colcannon, served on Halloween. Kale has also shown up in the traditional dishes of Italy (cavolo nero); China, Taiwan, and Vietnam, where it is typically served with beef; Portugal, in a soup known as caldo verde (green broth); and even in Africa, where it is an important ingredient in the stew called ugali. In Europe, there is a whole culture in northern Germany that embraces kale. Many of the social clubs there will host a "kale tour" sometime between October and February. There are even annual kale festivals that crown a kale king or queen. The list of countries goes on and on.
It seems that, as Americans, we are slow getting into the kale game! We now know though, that kale has many health benefits, and can be an important part of a healthy diet. Maybe that is why kale has become increasingly popular. It is packed full of nutrition- high in vitamins, minerals, and fiber.
Still not sure you are ready to jump on the kale bandwagon? Maybe you just don't know how to add this versatile green to your diet. If you feel you need a little guidance in this area, come to the

Glencoe Community Garden, Thursday, September 10, 1 p.m. where Evey Schweig, Certified Health Coach, will be leading a cooking demonstration on cooking with kale, Just What Can You Do With Kale?!

Come, get a feel for this new food, literally. You'll get to see how this vegetable is grown, see and taste the differences between different varieties, and help in the creation of some delicious kale dishes! Hope to see you there!