Skip to Recipe

Photo credit: Randi Hausken via Flickr


I had a dear friend that used to tell me that "bitter greens are good for the blood." At the time I didn't take this message to heart because 1) I really didn't understand what that meant, and 2) um, why would anyone choose to eat anything bitter when you could eat something sweet instead?

Fast forward 10 years and here I am thrilled to tell you all about the benefits of bitter foods, especially bitter greens! Yup, Mother Nature is looking out for us as usual, this time in the form of healthy bitter greens. Before you move on thinking "I'll never eat that " (like I was so many years ago), you have to understand that we have the ability to alter our response to foods by changing our eating habits. It took us many years to develop our food preferences (like craving sweet foods) and, as with any new habit, it takes time to allow our tastebuds to change. So give them a little time to adapt to this different flavor and find out all the good things they have to offer our bodies.

This is a good time of year to make this "bitter" change too, as it is easier than ever to find bitter foods in the produce department of our grocery stores and at farmers' markets. You can find arugula, broccoli, Belgian endive, and broccoli rabe, which have some bitter flavors. There are also mustard greens, dandelions, escarole, and chicory, which may be less familiar to most of us and tend to be a bit more bitter.

One of these, dandelions, is my new favorite. Yes, dandelions. The very same weed that we pay good money to eradicate from our lawns, is actually a "new-found" superfood. It is a very rich source of beta-carotene that our bodies convert into vitamin A for good eyesight, vitamin C, fiber, potassium, iron, calcium, magnesium, zinc, and phosphorus. It contains more protein than spinach! But before you go hunting for these plants in your yard (where they are likely being sprayed with herbicides and other chemicals) you can buy these delicate leaves in your grocery store, such as Garden Fresh in the Chicago area.

One other advantage of buying bitter greens this time of year is that the earlier plants tend to have a milder flavor, thus giving our palates more time to adapt to their flavor. You can add these fresh greens to a salad to add a little bit of zest to it. As the season progresses and the flavors start to get a bit stronger, you may want to try braising the leaves. See recipes below for a way to use dandelions both ways!

Why We Should Get More Bitter in Our Lives

Here are some of the reasons you should be trying new bitter foods.


Bitter foods can help balance our tastebuds and cut those sugar cravings! In a recent article in the Huffington Post, world-renowned leader and pioneer in the field of integrative medicine Dr. Andrew Weil states that "along with sharply reducing sugar consumption, one of many other things you can do to improve your daily diet is indulge -- or cultivate -- a taste for bitter flavors." While we do enjoy some bitter foods already in the American diet -think chocolate, coffee, and beer (even though we tend to add a lot of sugar to the first two to compensate!)- it is interesting to note that in general we tend to avoid bitterness in our foods. This is not the case for all cultures. Take for example "digestive bitters" that are enjoyed by European cultures.
Bitter foods are good for weight loss. Whereas, sweet foods have been shown to spike insulin levels causing inflammation, weight gain, and chronic illness, bitter foods tend to suppress the appetite, regulate blood sugar levels and suppress insulin levels spikes.
"Bitter foods stimulate the liver to produce bile, which is an important part of optimal digestion. Bile emulsifies fats and renders nutrients -- especially fat-soluble ones such as vitamins A, D, E and K -- more available." 1
Bitter foods assist the digestive process by stimulating the production of enzymes that help break down food into nutrients the body can absorb, and signaling the muscles of the intestines to begin contracting in anticipation of food. 1
Bitter foods are good for the liver. They keep the liver healthy by working it, much like exercise keeps our muscles functioning properly. They help to improve liver function by removing toxins and balancing electrolytes.
Bitter foods cleanse the body. Bitter roots and veggies contain healthy fiber that keeps toxic waste moving through the digestive tract. They also contain sulfur-based compounds that support the natural detoxification pathways in the liver; helping it keep your body clean and clear. 2
Dandelions are powerful bitters. They can act as a mild laxative that promotes digestion, stimulates appetite, and help us maintain the balance of healthy microbes in our intestines. Working as a diuretic, dandelions assist the kidneys to clear out waste, salt, and excess water. This inhibits microbial growth in the urinary system too. 3
And finally, green bitter leafy greens tend to be rich in antioxidants that prevent free-radical damage to cells and DNA, slowing down the aging process in our cells. 4

So, now that you know some of the many benefits of bitter foods, maybe you might want to try some. Here are a couple of recipes to get you started!

Yours in Health,
Evey



Dandelion Greens Healthy Recipes: Dandelion and Fennel Salad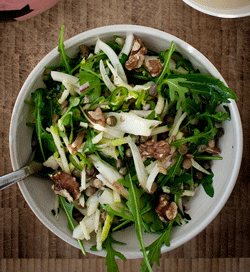 Makes 4 servings

Salad Ingredients

1 bunch finely chopped dandelion greens

½ fennel bulb, thinly sliced

2 cups thinly sliced Napa cabbage

½ cup bean sprouts

Dressing

1 lemon juiced

1 Tbsp. mirin (found in the Asian aisle)

1/8 tsp. sesame oil

1 tsp. apple cider vinegar

1 tsp. tamari soy sauce

2 Tbsp. olive oil

¼ tsp. maple syrup

Directions


Place the salad ingredients in a large bowl.
Mix all the dressing ingredients together, pour over the top, toss lightly, and enjoy!


Source: Healthy Recipes for Your Nutritional Type by Dr. Mercola

Photo credit: Monica Shaw via Flickr

Braised Dandelion Greens with Balsamic Glaze

This is a quick easy recipe to use dandelion greens. Alternatively, you can use mustard greens, kale, escarole, or any green leafy vegetable of your choosing!

Makes 2-3 servings

Ingredients

One bunch dandelion greens

½ onion, diced

1-2 tbsp Balsamic Vinegar

Olive Oil

Sea Salt and black pepper

½ Lemon for juice

Directions


Wash dandelions greens and remove the bottom section that contains the stem as it can be tough. (Alternatively, you may choose to finely chop stems and add them to onion when cooking.)
Heat a sauté pan, add olive oil and add chopped onion (and chopped stems, if using). Saute until onions are carmelized and golden brown.
Add slightly damp dandelion greens and stir until wilted.
Add balsamic vinegar. I start with 1 tbsp and then see if I want to add more based on taste.
Add salt and pepper and then add a good squeeze from the lemon half (about 1 tbsp).