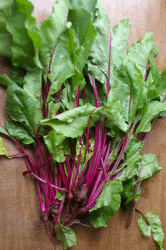 I am always trying to eat the recommended amount of fruits and vegetables every day; on average that is about 9 servings a day, the majority of that being vegetables, preferably not starchy ones. One way I accomplish this is by filling half my plate with vegetables every meal.
Needless to say, my produce drawer is always full and I am constantly looking for creative ways to use the contents before they go bad! The obvious solution is to store everything properly. (See my blog
The Mystery of the Refrigerator Drawers
for more on this topic.) But another answer would be to use more of the food that you already buy.
For instance, don't throw out a week old garlic clove just because it has started to sprout. A recent study in the
Journal of Agricultural and Food Chemistry
found that a sprouted garlic clove has twice the antioxidants of an unsprouted one! It is actually better for us than a fresh clove and we don't have to throw it away.
That got me thinking of all the other produce from which we could be getting many more benefits if we just used more of the plant. Our ancestors knew how to use every bit of a plant because of necessity. We don't need to stockpile food until the next harvest, but it would be nice to not waste money or food; and we might save some trips to the grocery store!
Here are some more ways to get more out of your produce.
Beets:
If you are buying organic beets, chances are good that the green leafy part is still attached. Don't throw it out! Beet greens contain more magnesium that some other greens, along with Vitamin K. Both these nutrients help our bodies absorb the calcium that is found in these leaves as well, making them a wonderful source for bone support. I love to cook beet greens any way I would spinach or collard greens. Here is
a very simple recipe
sautéing beet greens with garlic (I leave the garlic slices in the oil.) You can also cook the
greens with the beets in this recipe
adding a bit of Dijon mustard and butter (I use half the suggested amount of butter.)
P.S. As with all greens from root vegetables, make sure you cut the greens from the roots as soon as you get home. The root will cause the greens to wilt more rapidly. Rinse the greens in cool water, wrap them in a paper towel and store them in a plastic bag to keep them crisp. This is also a great way to revive lettuce that has gone a little limp. In a couple of hours, you will have fresh crisp greens to add to your salad.
Radish greens:
Here is another surprise. You can also eat radish greens. I received two large bunches of radishes in my farm share a while ago and wanted to find a way to use them. I found this
great recipe for roasted radishes
that uses the green tops as well. The flavor of roasted radishes reminds me of turnips. I like to roast the greens in the oven along with the radishes for additional flavor, adding them during the last 5 or 10 minutes. In this
second recipe
, the radishes and greens are sautéed with a little bit of garlic. You can add a splash of balsamic vinegar and/or some raisins to give this dish a little sweetness too.
Carrot tops:
Another green that is frequently tossed out are the green tops of organic carrots. Many people mistakenly think that these are not edible, but according to
food scientist Harold McGee
of the New York Times they are perfectly safe to eat. These greens are slightly bitter and benefit from being soaked in water overnight. They are great in this
wonderful dish
, reminiscent of the Japanese dish goma ae, and made with toasted sesame oil and seeds. The result is a delicious appetizer or salad that has a slight crunch to it.
You can also make a wonderful
Carrot Top Pesto
that makes a wonderful sauce for pasta or topping swirled into
Roasted Tomato
or
Harvest Tomato
Soups. Feel free to toss into a stock for soup as well!
Brussels Sprout leaves:
For years I would toss out all the loose leaves that came off the outer part of the sprout. Then I came across this recipe for
Brussels Sprout Chips
. Yum! (I have made them without the lemon and added a splash of balsamic vinegar. I also use olive oil in place of the ghee.) Now I toss any loose leaves that aren't wilted or too tough, in with everything else when I am making roasted Brussels Sprouts.
Broccoli stems:
Who says you can't use the stems from the broccoli? Sure the outer "skin" can sometimes be a bit fibrous. I get around this by using a vegetable peeler to remove the tougher outer covering. When steaming or roasting the florets, I add the stems cut into large matchstick shapes. You can also save the stems to make a
broccoli salad
or
slaw
(you'll have extra dressing with this one. You can half the recipe or save the leftover dressing for another salad!) You can also add them to your broccoli soup recipes. Just remember to remove the outer skin first, otherwise you might get stringy fibers in your finished soup. (Yup, from experience!)
Celery leaves:
If you have celery stalks with the leaves still attached, you can chop them up and add them to your salad along with the stem. Or try tossing them into your vegetable soup. The l
eaves are a great source of flavonoid antioxidants and Vitamin A
.
Cucumber peel:
Here's another good one. Typically we peel the skin from the cucumber before adding it to our salads, but the
peel contains additional nutrition
such as insoluble fiber that helps support a healthy digestive system; Vitamin K that supports healthy bones, cell growth and proper blood clotting; and Vitamin A, which benefits our vision. When eating the peel, it is important that the cucumber is organic though. We peel conventional cucumbers because they have a waxy coating added to them to prevent them from wilting too quickly. Organic cucumbers don't have this. For this reason they are better for us, but be sure to refrigerate them and eat them as soon as possible!
So there you have a list of ways to get more out of just a few vegetables. And there are many more that we don't use all of or don't even tend to think of as a food source. Some of these are as close as our backyard (dandelions and wild strawberries, for instance.) Just be sure the pesticides and chemicals that are typically sprayed on our lawns are not contaminating them.
I hope you are inspired by this to try some new foods (or parts of them). Did any of them surprise you? If so, I would love to hear what you have to say about it. Or, share another tip that you have used. We all benefit from sharing!
Looking forward to hearing from you!
Yours in Health,
Evey
Photo Source:
Miriam via Flickr