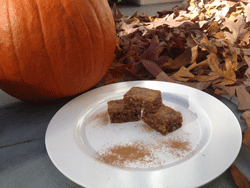 Skip to Recipe
3 in One Recipe: Pumpkin Pie Bites/Mousse/Smoothie!
I really do like this time of year and look forward to all those wonderful holiday foods! Since I have been eating healthier, I am always looking to make healthier versions of my holiday favorites.
That is why I thought I would try my hand at making an
energy snack bar
that tastes like pumpkin pie. Yum! I sent the recipe out in a newsletter right away, but, thanks to my sister (Thanks, Lori!) who did a little experimenting with the recipe, a whole new improved recipe was born - what I like to call
Pumpkin Pie Mousse
. And with a little more modifications, the mousse became the base for a wonderful morning green (yes, green!)
smoothie!
All this goodness from one recipe - an energizing snack, a healthy Thanksgiving Day dessert alternative to pumpkin pie, and a stick to your ribs morning breakfast. Hope you get a chance to enjoy all three!
Here's the recipe(s):
Pumpkin Pie Bite Bars
Start with these basic ingredients to make a satisfying treat and go from there!
With the holiday season upon us, there will be plenty of sweet temptations. Next time your sweet tooth acts up, reach for one of these "raw" little bites. The almonds contain fiber and nutrients. Chia seeds provide protein and healthy Omega3 essential fatty acids. Without the addition of any processed sugar, your blood sugar levels will remain steady, ensuring consistent energy without the dreaded "crash" afterwards!Makes about 3 dozen 1X1 inch squares
Ingredients
1 cup almonds
1/2 cup walnuts or pecans
½ cup raisins
1 cup dates
3 tbsp chia seeds
3 tbsp pumpkin puree (I used Farmer's Market Organic Pumpkin at right) or Roast a small "pie" pumpkin. See directions below)
2 tbsp pumpkin pie spice
1 tsp cinnamon

Directions: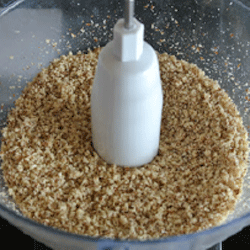 Begin by chopping your almonds into small bits using a food processor.
For consistency, see photo to right.
Add remaining ingredients to food processor and process until fully combined.
Press mixture into an 8x8 pan that is lined with parchment paper.
Cover and put in the freezer for 2 hours before cutting into bars.


Pumpkin Pie Mousse
With a few added ingredients and modifications to recipe above, you have a wonderfully healthy satisfying alternative to pumpkin pie!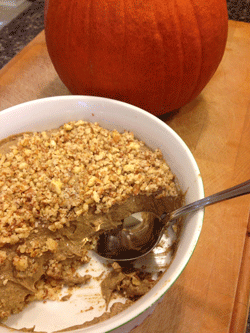 Start with the same ingredients above, but add:
¼ cup chia seeds, instead of the 3 tbsp
6 tbsp pumpkin puree, instead of 3
2 ½ cups of almond, coconut or other milk of choice
Crust:
1 tbsp coconut oil, melted
pinch of cinnamon
Directions:
Mix all ingredients EXCEPT coarsely ground almonds and coconut oil, in a high speed blend. Blend until smooth and fluffy. You should have a wonderful mousse-like consistency.
For crust: Mix the almonds with the melted coconut oil and cinnamon.
Press almond mixture into the bottom of an 8 by 8 inch pan, reserving a few tbsps. for topping.
Pour mousse mixture on top. Sprinkle with reserved almonds.
Place in refrigerator for several hours. Mousse should firm up a bit.
Enjoy!
Green Breakfast Smoothie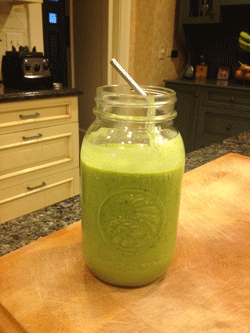 This makes a delicious breakfast smoothie! It contains healthy fats, proteinand fiber that will keep you satisfied all morning long. It has cinnamon and natural sugars so your blood sugar levels will stay steady and you won't suffer any sugar crashes during the day!Ingredients
1/3 cup of pumpkin mousse (or to taste)
1 cup almond milk (or milk of choice)
1 – 2 fistfuls of greens, my preference is one handful of baby spinach and 1-2 leaves of Romaine lettuce.
Directions:
Blend greens and milk until well mixed. Add mousse and blend until incorporated. Add more liquid to get the desired consistency, if necessary.
Sprinkle with cinnamon for garnish if desired.
To Roast a Pumpkin:
Preheat oven to 400 degrees
Meanwhile, cut your pumpkin in half, clean out the seeds. (save the seeds, you can roast them with coconut oil and pumpkin pie spices in the oven for 8-10 minutes.)
Place the pumpkin, cut side down on a cookie tray (I line mine with a silicone baking liner for easy clean ups!)
Make a few puncture marks in the skin with a knife tip.
Roast in oven for approx. 45 minutes (time varies with pumpkin size). Test for doneness when a fork easily punctures skin.
Remove and cool.
Scoop our meat and store in a container in refrigerator until ready for use. (Can be used for mashed pumpkin side dish, soup, etc.)
Yours in Health,
Evey