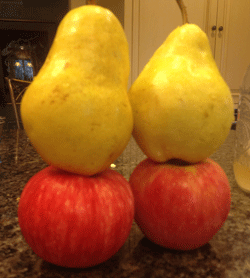 Skip to Recipe
Are you eating year old apples? I know this seems like a strange way to start a blog entitled Perfect Pear Chips, but hang in a minute and you'll see the connection.
I have given several talks recently about the health benefits of eating locally harvested fruits and vegetables. Produce has the most anti-oxidants and vitamins when ripened before harvesting, not to mention the best flavors and colors. So it didn't surprise me when I came across
this article
recently in a Food Renegade post about how conventional produce is stored and transported.
What did surprise me was that it stated that apples can be harvested and stored for as long as a year before they reach the consumer. I knew conventional fruit is sometimes harvested early so that it can be transported without being damaged, but a year?
Produce contains powerful antioxidants that keep our bodies healthy and youthful. According to
a study
by Rong Tsao at the Food Research Program, Agriculture and Agri-Food Canada, antioxidant activity in apples gradually drops off after three months of storage in the cold. An apple stored for nearly a year? According to the Food Renegade article, it will have almost no antioxidants remaining in it whatsoever.
The day after reading this article, I received my bi-weekly order of fruits and vegetables from my farm share filled with wonderful pears and, yes, freshly harvested organic apples! Honeycrisp and Gala, to be specific. Crisp, juicy and sweet. I know these babies will last for a while in my refrigerator (a week or two at most, not a year!), but unfortunately, the pears are ripe and ready to be eaten, all 12 of them! So what to do? Here's where the Perfect Pear Chips come in. I told you I'd get to them.
My first thought when faced with a lot of fruit is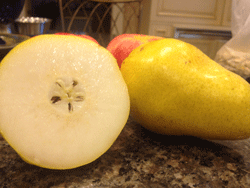 to either freeze them (I do this with berries quite often when they are in season), cook them or go to my Excalibur dehydrator. Dehydrating is a great way to preserve fruit while retaining nutrients and flavor. Pears taste great dehydrated, either as chips or as chewy pieces.
Here is one of my favorite recipes that help me use up all my pears, because I know they won't last a year, even under the best circumstances! And if you are interested in more ways to use pears, I have a Paleo Pear Tart recipe in my October newsletter. You can sign up to receive it in the column to the right. I send monthly information on health, recipes and wellness issues.
Perfect Pear Chips
Slice your pears using a mandolin to get nice consistent chips. If you want crispy chips, slice them as thin as possible (see following photos). If you want more of a chewy snack, slice them into slices about 1/8 to ¼ inch thick. You can use apples for this recipe as well. Either way, enjoy!
Ingredients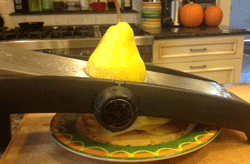 1 or 2 Pears
Cinnamon
Directions
Wash pears and remove the stem.
Slice pears using your mandolin or a sharp knife. The best chips are cut to a consistent thickness. These are less than 1/8 inch thick. If you would like a chewier fried fruit, cut them to about ¼ inch.
Place slices on your dehydrator sheets. I like to use a liner underneath to keep them from sticking to the tray.
Dust slices with cinnamon to taste (or try nutmeg, cloves, allspice, etc.)
Dehydrate at 115 degrees for about 4 hours. At this point turn them over and continue to dehydrate until they are crispy to your liking. (about 4 more hours). Dehydrating time will vary depending on thickness of slices. The thicker the slice, the longer time is needed.
Happy snacking!
Do you use a dehydrator? Have you made pear or apple crisps? Maybe another fruit? Send me your experiences, we'd love to hear from you!
Yours in Health,
Evey