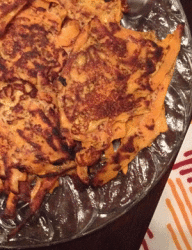 Jump to Sweet Potato Paleo Latke recipe.
We are lucky enough in our family to celebrate both Hanukkah and Christmas. I try to make this time of the year special by either cooking up a Hanukkah recipe using the requisite amount of (tons of) oil and buttery Christmas cookies! Since switching to a more Paleo diet though, this has become a bit more challenging.
Take potato latkes for instance. It wouldn't be Hanukkah without them! This dish is traditionally made with shredded white potatoes with a flour and egg binder. I upgraded the recipe by eliminating the potatoes and wheat flour. Both these ingredients tend to cause inflammation in the body that can eventually lead to health problems and weight gain.
Here is a wonderful, healthy alternative to the traditional recipe using sweet potatoes and either almond or coconut flour. Our whole family loves it. Let me know what you think!
Paleo Sweet Potato Latkes
Ingredients
1 medium sweet potato, peeled and shredded (about 2 cups)
½ medium onion, shredded (or more! I like mine with a lot of onion!)
4 eggs, beaten (see note below)
1 tbsp almond flour or coconut flour (Note: use almond flour, not meal, for better results! Also see note below)
1 tsp salt (or more to taste)
½ cup coconut oil or olive oil for frying
Directions
Stir potatoes, onion, eggs, flour and salt together in a medium size bowl.
Heat a heavy large skillet over medium heat. Add half of the oil for frying and heat until a drop of water sizzles when added to the pan.
Place a large spoonful of mixture in pan (approximately 2 tbsp) and flatten with spatula until about ½ to ¼ inch thick.
Cook for about 3-5 minutes until browned on one side.
Carefully turn and brown patties on other side.
Place cooked patties on a plate lined with paper towel to absorb some of the oil.
Add the remaining oil to skillet and heat as before. Repeat procedure until all of the mixture is used up. If necessary add more oil.
Serve with almond yogurt dollop on top sprinkled with chives. Or be creative! Here is a list of ten toppings to try. http://www.food.com/recipe/ten-toppings-for-potato-pancakes-or-latkes-432224
Notes:
I add paper towel between each layer of cooked latkes on the plate.
If your plate is oven safe, you can place it in a low oven (250 degrees) to keep latkes warm.
If your latkes aren't holding together, add one more beaten egg and 1 tbsp of flour.