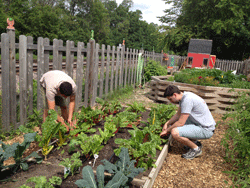 Did you know that the nutrition found in produce that is grown locally and organically is different than that of conventionally grown produce from other countries?
Which do you think is better? If you guessed locally, you are correct! There are many reasons for these differences, starting with the soil and the type of seed that is used.
Want to learn more?
Click here to register.
I will be talking this Tuesday, June 18 at the Women's Exchange, 630 Lincoln Avenue, Winnetka at 10 a.m. Come learn how to make a difference in your health with just a simple change to whole food eating.
Here is a sample of some of the topics I will be addressing:
In general, what nutritional benefits are found in vegetables and fruits, and why you should care!
What a farmshare (CSA) is and how to go about joining one
What and how much you can expect to receive in your farmshare box and how to store and use your produce
Farmer markets are in our area and how to talk to your farmer to get their best produce and price
Recipes to use all this wonderfully healthy food!
Hope to see you there!
Click here to Register
, I'll save you a seat!
Can't make it to the talk, check out these
other upcoming events
on healthy seasonal eating!