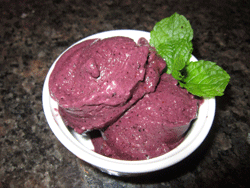 Skip directly to Purple Ice Cream recipe.
The last days of August always start me thinking about the pending routine of the Fall and all that it brings.
This time of year always reminds me of my years as a student and going back to school. Such a mix of emotions ran through my head! There were so many new things to look forward to: seeing my school friends again, getting new notebooks, pencils and pens, and a new uniform that I would be wearing for the entire upcoming year. On the other hand, going back to school meant following a schedule again: waking up early and walking to school in the early hours (sometimes in the dark), doing homework and studying for tests. Even as an adult, I still have those conflicting emotions and this time of year, I am reminded that change is coming again.
For those reasons, I can't help but cling to those last vestiges of summer. After all, the days are still long and the temperatures have finally risen to summer levels. How could it be ending?
I want to cherish these last summer moments! So tonight I am going to see The Beach Boys in concert and I am going to make Purple Ice Cream! Okay, it's not really ice cream at all, as my brother-in-law likes to remind me. (He is a true ice cream aficionado.) It's more like a creamy frozen dessert, but contains no dairy or added sugars so is a very healthy dessert or snack option. It is still sweet due to the natural flavors of banana and blueberries. Anyway , it's more fun saying "ice cream" than "frozen dessert"!
Skip to Purple Ice Cream recipe
I first made this treat from a recipe by
Emily Boller
that I found at
www.plant-power.com
I have since made it many different ways with different flavorings. The following is my favorite combination of ingredients. I like using blueberries because they add more flavor (and a fun color) than strawberries or raspberries, but these are good choices as well. Mangoes are good for flavor too. Definitely use frozen fruit: you will always have it on hand and it keeps the final ice cream from getting to soft.
It's good to have a supply of frozen bananas on hand too! Whenever the bananas on my kitchen counter start getting brown, I stash them in the freezer, peels and all. When I need one for this recipe or banana bread, I put it under running warm water for a minute or two and the peel comes right off!
The original recipe suggested using sunflower seeds, but I prefer to use cashews because they have a creamy consistency and a sweet flavor.
I hope you enjoy this treat as much as I do and make those summer moments last as long as you can!
Purple Ice Cream
Serves: 2
Ingredients:
1 cup of frozen blueberries
1 ripe frozen banana
¼ cup raw cashews (If they are soaked for at least 3 hours, you will get a creamier consistency, but it works with them straight from the bag too!)
1-2 tablespoons powdered cacao
almond milk to desired thickness
Directions:
Put all ingredients except almond milk into the Vita-Mix container. Start on a lower speed to get things mixing, and slowly dial up to high. Use tamper to push fruit down into blades.
Blend on high until you have the consistency you would like. Add almond milk if it is still too thick.
Consistency can be anywhere from the thickness of ice cream, to a soft serve cone, to a shake.
Enjoy!
Note: you can also add walnuts, pecans, macadamia nuts right at the end for some crunch and goodness of healthy fats. Or add cacao nibs. Cacao is rich in antioxidents and good for your heart!
Leave a message and let me know how yours came out!
Yours in Health,
Evey