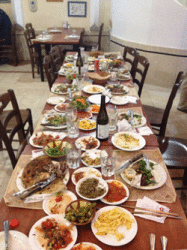 Jump to Baba Ghanoush Recipe
I recently had the opportunity to take a trip of a lifetime to Israel. We had a wonderful time. We marveled at all the history that is hidden in those ancient walls and got to experience the modern city of Tel Aviv, with its wonderful Mediterranean beaches. But what I truly loved was the food…
Every restaurant we went to started with this wonderful array of fresh salads, hummus, tahini and roasted veggie dishes. Yum! You can see the incredible array of dishes to the left (and the damage we did to them!) Since they were mostly veggie based with no dairy and very little grains, I took advantage of the opportunity to sample EVERYTHING!
I particularly liked the parsley salads (salads with mostly made of parsley! I never thought I would like so much parsley, but it was delicious). But that is the subject for another time...

4th of July appetizer
With the 4th of July upon us, I wanted to make a Paleo-friendly, Mediterranean-inspired dish to bring to the annual barbecue. I really enjoyed the smoky eggplant flavor of the Mediterranean dish
baba ghanoush
when I was in Isarael and, since eggplant season is in full swing here in Illinois, I thought I would try making a dish to bring. It combines a lot of my (new) favorite foods: roasted eggplant, tahini, cumin, parsley and black olives.
Added bonus? The black olive (I like the Kalamata) is a
fermented food
that contains healthy probiotics, a topic that
I have been writing about
. Try to avoid canned or jarred varieties that have been pasteurized for extended shelf life because this process kills off the beneficial live cultures. According to
Dr. Joseph Mercola
, a health professional dedicated to providing up-to-date natural health information to his many followers, "you can still find some healthy traditional varieties [of olives]. The stronger-flavored, traditional Greek olives you are most likely to find on olive bars are not lye-treated and are still alive with active cultures."
So, here is the
recipe
from food.com! I like starting the eggplant on the grill and then transferring it to the oven so it can get nice and soft without burning. I plan on serving this dish with endive, carrot sticks, celery and pita chips (for those that eat grains). I will also bring along some of my homemade Savory Crackers which are free of grains, dairy and add sugars, and will go wonderfully with the flavors of this dish.
Let me know if you get a chance to make it and what you think about it! I will do the same.
Baba Ganoush – The Best in the World!
Servings: 6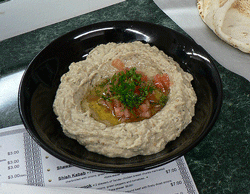 Ingredients:
1 large eggplant
1/4 cup tahini, plus more as needed
3 garlic cloves, minced
1/4 cup fresh lemon juice, plus more as needed
1 pinch ground cumin
salt, to taste
1 tablespoon extra virgin olive oil
1 tablespoon chopped fresh flat-leaf parsley
1/4 cup brine-cured black olives, such as kalamata
endive, carrotsticks, celery sticks, crackers for serving
Directions:
Prepare a medium-hot fire in a charcoal grill.
Preheat an oven to 375°F.
Prick the eggplant with a fork in several places and place on the grill rack 4 to 5 inches from the fire.
Grill, turning frequently, until the skin blackens and blisters and the flesh just begins to feel soft, 10 to 15 minutes.
Transfer the eggplant to a baking sheet and bake until very soft, 15 to 20 minutes.
Remove from the oven, let cool slightly, and peel off and discard the skin.
Place the eggplant flesh in a bowl.
Using a fork, mash the eggplant to a paste.
Add the 1/4 cup tahini, the garlic, the 1/4 cup lemon juice and the cumin and mix well.
Season with salt, then taste and add more tahini and/or lemon juice, if needed.
Transfer the mixture to a serving bowl and spread with the back of a spoon to form a shallow well.
Drizzle the olive oil over the top and sprinkle with the parsley. (Or you can add a bit of tahini and then drizzle all with olive oil.)
Place the olives around the sides.
Serve at room temperature.
Yours in Health,
Evey