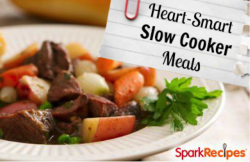 When the going gets tough, the tough start cooking - SLOWLY...
I don't know about you, but when the weather gets cold (and boy, is it ever!) my body starts craving warm-me-up foods.
Now, warm winter foods usually mean heavier fare for me, but that doesn't have to mean empty calories! It is our body's way of letting us know it needs a little bit more energy to keep warm and functioning at its optimal best. I decided to listen to this message and combine it with a new addition to our household- a slow cooker! I know a few of you have said you are looking for some new fun recipes for your crock pots too.
In my readings, I came across this great webpage from Spark called Slow Cooker Recipes that Care for Your Heart. It has
11 simple crock pot recipes
that use a small amount of ingredients, but have some wonderful flavors and are high in nutrition. They make good use of winter foods ingredients such as root vegetables and dried beans. Where white potatoes are specified, I would add in sweet potatoes for their added nutritional value. Some of the recipes include:
Let me know if you try any of the recipes and what you thought of them!
But wait! One more recipe!
I tried this one today with my own variations (because I can never just make a recipe without some tweaking, it seems!):
Slow Cooked Beef Roast with Vegetables
Yield: 6-8 servings.
Ingredients
1 beef rump roast (3 to 3 1/2 lbs)
2 tbsp olive oil
4 medium carrots, 2 inch pieces
1 large sweet potato, chopped in 1 to 1 1/2 inch cubes
1 parsnip, 2 inch pieces
1/2 of a large rutabaga
2 stalks celery
1 large onion, sliced
1/2 cup water
6 tbsp horseradish sauce
1/4 cup red wine vinegar
1/4 cup Worcestershire sauce
4 cloves of garlic, coarsely chopped
pinch of celery seeds
1/2 - 1 tsp salt
2 tbsp arrowroot powder
1/3 cup cold water
Directions
Cut roast in half. In a large skillet, brown meat on all sides in oil over medium-high heat; drain.
Place vegetables in a 5-qt. slow cooker. Top with meat and onions.
Combine the water, horseradish sauce, vinegar, Worcestershire sauce, salt, garlic and celery seeds. Pour over meat.
Cover and cook on low for 10-12 hours or until meat and vegetables are tender.
Combine arrowroot and cold water until smooth; stir into slow cooker.
Cover and cook on high for 30 minutes or until gravy is thickened.
Enjoy!
Yours in Health,
Evey